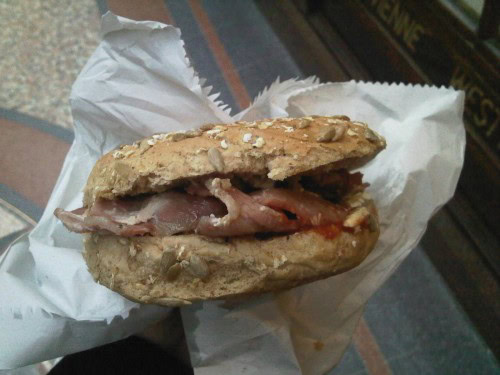 Apparently its British sandwich week. Don't ask me who invents these things. Well actually it's the British Sandwich Association (no I hadn't heard of them until today either), who claim that sandwich sales are on the up, in defiance of the recession, with the favoured filling being chicken.
Anyway, if you feel the knead to celebrate, you could raise your glasses and toast the occasion, however you don't (chicken) Cesar point of that you may find it more ful-filling just to follow some of my top sandwich tips!
If you find yourself in the Leeds City Museum or Art Gallery, try their cafes where the sandwiches are made with some fantastic locally sourced ingredients.  Both of the cafes have lovely interiors, especially the Tiled Hall at the Art Gallery which has a beautifully ornate ceiling.
Planning to go to Harvey Nichols to see the Willard Wigan exhibition? You could stop in their cafe for a snack where the average price for a sandwich is a rather eye watering £8.50. If you don't have that kind of dough you could try French Revolution in the County Arcade who make sandwiches to order at more everyday prices.
However if your looking for something really special, nip across to Queens Arcade off Briggate to Pickles & Potter, which is without doubt the best sandwich shop in Leeds.  Half the price of the Harvey Nicks offerings, they even have a cheese menu. If that doesn't convince you, I don't know what will. (Apart from the lovely rare roast beef they use in their sandwiches, and the wonderful home made salads and cakes).
If your not a traditional sandwich type person, what about a filled bagel from Bagel Nash (several branches across the city) or a delicious falafel wrap from Safran Persian restaurant on Kirkgate?
And if you want to make your own at home, try Salts Deli on Kirkgate for seriously posh cheese, meats and pickles or Anthony's in the Corn Exchange for fresh artisan bread and a chunk of cheese from their wonderful climate controlled cheese room.
Kirkgate Market is the best place in my opinion to get  hold of fresh salad ingredients, and it also houses a number of decent bakeries and delicatessens if you want to make your posh pack up without paying a fortune.
British Sandwich Week runs from 10th-16th May.