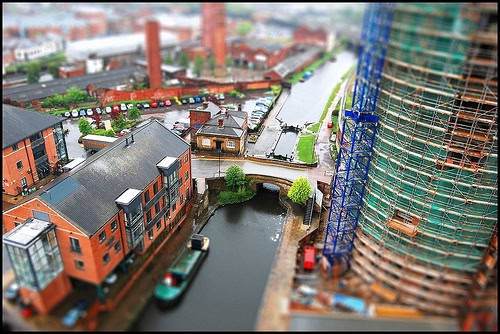 Phill Davison was one of three winners of our recent prize to visit the construction site of the new City Inn in Leeds, located near Holbeck. Phill is an intrepid traveller with his camera, delving into places we overlook or don't know exist, and luckily for us he is coming on board as one of our regular contributors to fox and amaze us with his delightful work. Here is a little bit more about him…
So Phill tell us a little more about yourself, what do you do by day?
I'm 42 and Leeds born and bred. I'm a joiner by trade but was a postie for 10 years also. Most of my photography is done at the weekend, although I do enjoy getting out there with my friends so we try fit it in whenever we can.

So how did you come to form the Historical Expedition Society?
I started the L.H.E.S as a bit of a tongue in cheek joke really.  I liked how historical places could be captured and recorded in an interesting way by using eye catching photographs. I try to use a mixture of detailed pictures, and special effect photography by using lights and long exposures to do this. There's a lot of planning and research goes into finding these places and most of the places can be dangerous too. By bringing the element of danger and adventure into the stories I"ve found it gets the attention of all ages from school kids to the older generation, who remember these places in their heyday. History needn't be boring, it can be as much fun as you want to make it.
You seem to discover lots of hidden gems, how do you find these places?
We find out about these places by doing lots of research. There are dedicated websites for derelict and abandoned buildings. There are also specialist websites for underground exploration, railway tunnels, mines, caves and more. I also get lots of messages and information about possible explores. And sometimes it's a case of reading old books and just going out there to see what, if anything, still survives of these places.
For the benefit of our readers could you pick out just a few places that you and your Historical Expedition Society have really enjoyed?
I  get invited to look at many 'behind the scenes' places, the parts of our well known landmark buildings we never see, such as clock towers, along the roofs or down the old cellars. A few of our favourites have been Leeds and Morley Town Halls, St Bartholomew's Church at Armley and the United Reformed Church at Saltaire. The Leeds City Varieties was most interesting too.
What's the most unusual place you have uncovered recently?
I would say a few of my most enjoyable and rewarding unusual explores have been 'Underground Manchester-A tale of two Cities' – a real hidden time capsule from WWII; 'The conquest of Gildersome Tunnel' and 'The Leeds Town Hall Terror Dome'
You can check out all of Phill's work on Flickr – we can't wait to see what he captures on camera for us here at The Culture Vulture…