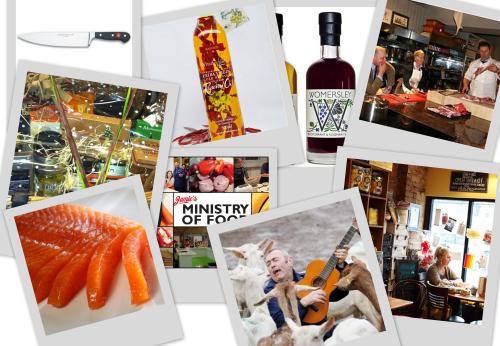 So, it's Christmas in a few weeks, a thought that fills me with mild terror and rising panic.
Gifts. Presents. What to get? Will they like it? What if they don't? The pressure, the pressure.
It's the nightmarish combination of a strict deadline, a lack of time and a complete mental block about the recipient's likes and dislikes that catches me out every time. There's always one for all of us, one person who proves impossible to buy for. Unfortunately for me, I'm married to mine, but this year I've been given a Big Hint and a link, so I'm alright. I think.
It's only as hard as we make it, though, and Yorkshire has plenty of decent options for great presents. This short guide covers generally food and kitchen related gifts, on the basis that everybody has to eat, and most of us like a decent bit of kitchen gear, too, so here goes …
Food itself is easy in Yorkshire. The range of first-rate producers and food businesses takes care of that.
Local delis like Cheese and Chutney in Saltaire are rich hunting grounds for hampers, starting at around £12 and packed with local goods. They also have up to forty cheeses available all the time, including some excellent Northern cheeses alongside stunning continental offerings.
I seem to remember a frantic dash late on Christmas Eve to pick up the very last of Cheese and Chutney's stand pies, thus saving the whole of Christmas. It was very good.
Another great deli is Salvo's Salumeria, which stocks a wide range of specially imported Italian produce, including olives, breads and tinned goods. The restaurant next door isn't half bad, either.
There's plenty more – Wharf Valley Farm's cold pressed extra virgin rapeseed oil is Yorkshire through-and-through and a worthy alternative to olive oil, and Yellison Farm in Skipton produces insanely good goats cheese, available all over. Farmer Stephen Akrigg is known to play guitar for his goats, just to keep them happy.
Yorkshire Organic Miller's flour, from Spaunton near York is a world-class product and a perfect small gift for any aspiring baker, and Bleiker's Smoke House near Ripon produce a range of smoked fish, from salmon to kippers, all available online. For vinegar, Womersley's range of fruit infused bottles are incomparable, and produced just east of Leeds.
Another great place for food gifts is Lishman's Butchers in Ilkley – their turkeys are as good as they get, but they also run regular butchery masterclasses, a real opportunity to get some hands-on experience in areas such as charcuterie and cooking with game, all delivered with Yorkshire flair under David Lishman's expert eye. Hugely enjoyable.
Courses and masterclasses like this are fantastic gifts. Another place to look is The Ministry of Food in both Bradford and Leeds, which runs regular short courses designed to give the novice or nervous cook some basic skills, a clutch of good recipes and bags of confidence. I've seen people transformed by a few weeks of enthusiastic tuition, and it's extremely worthwhile. £36 for a course of ten classes is a bargain.
One thing I don't get on with is useless kitchen gadgets, things of little practical consequence that just clutter up drawers and cupboards. It's better to stick to versatile things that do many jobs well. I want the things I give to last and to make people's lives better. This doesn't mean they have to be expensive, but they do have to be well thought through.
The single best thing I've bought all year was a cheap cleaver, a hefty blade that makes short work of everything. It has more weight and grunt than any other knife in my kitchen, and it cost about £7 from Wing Lee Hong in Leeds. It just makes a multitude of kitchen jobs easier.
While you're in Wing Lee Hong have a look at their woks. £10 to £12 will get you a wok that'll last a lifetime, and which will get better and better with age. A wok is something to love and cherish, and really, that makes one quite a sweet gift.
At the other end of the kitchen gear market is the brilliant Home, tucked behind the Diner in Salt's Mill. The Home carries a full range of Global and Wusthof knives, and plenty of Allesi and other tableware, along with lots of smaller bits and pieces that won't necessarily break any already struggling bank accounts. Factor on about £65 for a decent cook's knife, which again, will last a lifetime, but there are plenty of well-designed little bits and pieces below a tenner.
Another cheap gift that's gone down a storm in our house this year is a popcorn maker, about £20 from anywhere from Amazon to Argos. Add a quid's worth of popping corn from your nearest Asian supermarket and wet Saturday afternoons introducing the kids to the wonders of Raiders of the Lost Ark are transformed.
To finish off, I'm allowed one frivolous and impractical gift suggestion that nobody, not even me, will seriously consider, and this year it's a Cuisinart Professional ice cream maker, £175, from Peter Maturi's Alladin's cave of kitchenware in Leeds. This beauty of a machine will churn out a litre and a half of ice cream in about half an hour. Ice cream is easy to make, and this makes it quick, too.
If you've got the space in your cupboards …
Richard Ramsden writes the food blog them apples, and can often be found late on Christmas Eve frantically tearing round town looking for that last, elusive present, trying not to get distracted by either North Bar or Crash Records.