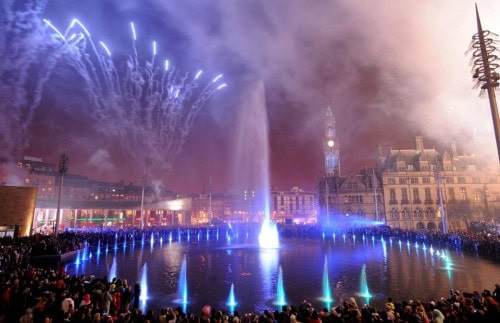 John Atkinson gets all giddy about the prospect of the Christmas Lights Switch On at Bradford City Park …
Not since I was about 8 have I been excited about a Christmas Lights turn on. Like most of the North, we used to pile into the car, drive to Blackpool and go up and down the Golden Mile. My sister and I would lay in the back of the car as we passed under the illuminations, spotting Disney characters and Santa & his helpers in a thousand different poses. We'd drive up and down half a dozen times then come home.
Thankfully, we don't do that any more.
However, this year, I am excited about a luminous Yule, and I don't have to spend hours squashed by a sibling on the M62 to experience it.
Bradford's amazing City Park will treat visitors to an extravaganza! For those of you who went to the Grand Opening, you'll know extravaganza is not nearly a strong enough word. Acrobats, trapeze artists and mythical jesters will wow crowds, with live music and street artists bringing a wonderful, exciting atmosphere to the throng.
From 5pm, as night falls, a magical chandelier of musicians and acrobats will rise 200ft over City Park, with an orchestra of harmonized bells as trapeze artists fly over our heads.
After the official switch-on, a fantastic fireworks display will light up the night. And if Bradford has learnt how to do anything recently, it's how to put on a fireworks display.
Some places have a C list celeb flicking a switch. Bradford has a mind-blowing show of light, music, art and imagination – we are truly blessed!
If you haven't been to City Park, especially for a big event, make sure this is in your diary. If you've been to the Grand Opening or The Garden of Light, I know I'll see you there.
Give yourself an early Christmas present this year: come and see Bradford at its very best.
This is a free event.
Saturday 17th November: 12.00 to 18.30 (main event from 5.00)