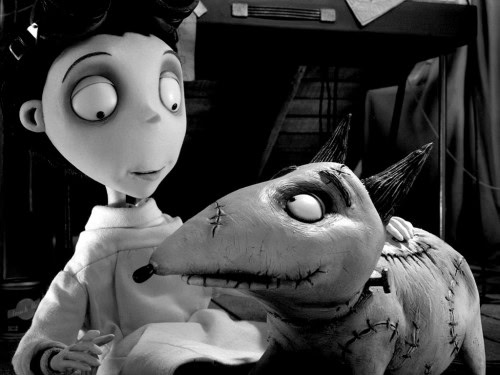 The Plaza Cinema manager Mike McKenny (@DestroyApathy) recounts his Friday evening family outing to the multiplex, as the McKennys caught Tim Burton's Frankenweenie at Cineworld Bradford.
Seeing Frankenweenie seemed apt ahead of an animation heavy month here in West Yorkshire, with the upcoming Bradford Animation Festival, along with the FREE event Bradford City of Film are putting on, setting up a 50 foot inflatable outdoor screen on October 27th in Bradford's City Park on which to project the sublime Coraline. Then there's the World Animation Competition of the Leeds International Film Festival's Short Film City strand and finally the family fun screening of The Nightmare Before Christmas at The Plaza Cinema on the evening of Halloween.
Expectations were unfortunately quite low after a few lacklustre Burton outings, all of which dominated by Johnny Depp, where both seemed to sleepwalk through their respective roles as director and star. Well even had my expectations not been so low, they might have been exceeded, as I found this to be a thoroughly engaging, heart-felt homage to an obvious Tim Burton obsession, 1950s B-Movies. Yes it is a postmodern regurgitation of aesthetics, but it is done for the right reasons, with genuine passion.
Frankenweenie tells the tale of Victor Frankenstein, a charming young lad living in a very typical 1950s suburbia, depicted by Burton with his trademark gothic flair, and the wonderful stop-motion animation presented in monochrome. Victor is a lover of science, and when his dog – and best friend – Sparky meets an untimely end he takes inspiration from his eccentric, Eastern European science teacher, erecting a device to reanimate his little buddy. As is often the case with such scientific meddling with nature, there are some disastrous consequences, especially when others find out about, and try to recreate, his experiment.
This film has clearly been made with passion, heart and commitment. A telling contribution to the resulting tenderness could be that compared to other recent Burton offerings, this was personal from the outset, not being based on a pre-existing source material other than his own short film and initial concept. It was this heart that made the film stand out from his recent filmography. The blatantly lifted aesthetics of the 1950s B-Movie were applied because the creator adores them, not because they are likely to sell well or are based on an easily saleable concept or existing brand (a la that Willy Wonka film or Alice in Wonderland).
Due to Burton's clear admiration of these aesthetics, it is evident that he mourns their loss. This is where the aesthetics marry up with the narrative, as this is precisely the predicament that young Victor finds himself in. Victor revives his dog in a manner very similar to how Burton revives the monochrome depiction of suburbia, the beeps, whistles and hums of the soundtrack or the stop-motion animated giant rampaging monsters.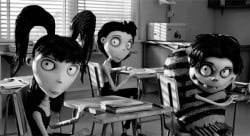 There is a divergence though; Burton's effort will always be a superficial resurrection. In contrast to the way that the wish fulfillment of Sparky's resurrection shows him physically diminished but with pretty much the same temperament, the film revives an aesthetic, actually physically enhancing it, but with a fundamentally different temperament. Where many old B-Movies, of which the film homages with care, there was some underlying societal subtext, either subtly implanted by crafty writers and directors, or captured as subconscious snapshots of their socio-political era, Frankenweenie simply – albeit lovingly – recreates what has been. A telling line in the film lays out Burton's achievement: Victor's science teacher – and mentor – tells him that his initial experiment was a success – where the ensuing imitations were disastrous – because it was conducted with love. Hence, this film, so clearly made with love, is to me at least, a success.
Always an important contributor to my enjoyment of a family friendly feature is how my five year old son responds to it. Although I recognised the film as homage, Corey was delighted by what was presented from a fresh perspective. He sees and enjoys quite a number of films at home, but there is no alternative for the big screen, especially for a film as well crafted as this; it is nice to know that he enjoyed the spectacle in as grand a fashion as it deserves, and experiencing it on the big screen ensures a much greater chance of it sticking in the mind. He was completely sucked in, laughing when prompted and letting out gasps of wonder at certain spectacular moments. One of the best moments, as pointed out by my wife, was that during a section that mimicked the familiar horror film staple of the suspenseful 'jump' build up, entirely predictable to such seasoned veterans as my wife and I, but to see the craft working as intended on someone uninducted was a pleasure to witness, and prompted in Corey that common thrill and ensuing laughter as the suspense bubble is burst. Seeing him experience these thrills of the cinema in such a raw form is a pleasure.
I'm afraid I can't unveil his favourite moments as they all approach spoiler territory, including the extreme levels that the film reaches throughout the final third.
Having so movingly captured the feeling of loss when a child loses a pet, I did wonder how he would react. Rather than being particularly disturbed by what had happened, he asked: "If Sofia dies [one of our cats], can we do that to her?" So I'm not sure therefore that the film is so strict on the 'don't play god, as bad things will happen' message that is so common in such fantasy science fiction.
In summary, it was refreshing to see Burton produce something with heart, and it was a relief that Frankenweenie bears very few fundamental similarities to what I had assumed would be the easily comparable Paranorman, released last month. Both animations are of top quality, with their own strengths, but ahead of an animation-full month, Frankenweenie joins Paranorman in showing the form to be in great health.
Mike McKenny is former director of the film society Minicine, and is currently restoring The Plaza Cinema in Bradford. He can be found on Twitter @DestroyApathy and you can follow The Plaza @ThePlaza_BD7 on Twitter or 'like' the Facebook page at facebook.com/ThePlazaCinema.