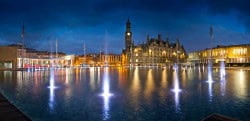 @BD_Angry takes a look at what City Park is offering this winter. It's not what you might think…
City Park – the multi-award winning fountain spectacular in the heart of Bradford – is a joyous place to be any day. In the summer, it's like a lido with kids splashing and paddling in the sun; in winter, its lights emit a warming glow throughout the coldest months. For me, as we trudge from summer, briefly flitting in and back out of autumn, before getting a cold, wet smack from winter, it's this time of year when City Park comes into its own, giving us reason to brave Bradford's weather, make our merry way into the city and be excited, entertained and enthralled by our magic fountains.
Muaré: Christmas Lights Switch On – Saturday 16 November 2013
"Not your ordinary Christmas lights switch on," is how Visit Bradford bills it. Full marks for understatement.
An airborne rock spectacular will take to the night sky, wowing visitors as 12 Voalá acrobats whizz about above City Park, dancing to the beat of British rockers Duchamp Pilot.
Those bowled over by last year's festivities will know how spectacular such an event will be. Bradford's unique blend of the finest Victorian architecture, early 20th Century buildings and open space, married with 21st Century technology, a penchant for a firework or three and the overriding desire to be delightfully different, and wonderfully so, means it is the place to for festive fun.
The Children of the Snow and the Boy with the Little Idea – Saturday 21 December 2013 (until it melts)
Last year, local artist Jamie Wardley told a wonderful story through a series of ice sculptures… and I'm very pleased he's coming back to entertain us again. But, after a little white fox searching for Santa, what could the Sandinyoureye team do to top it?
A little boy visits the North Pole and is befriended by the magical Children of the Snow. As they play, he has a little idea – to make children happy on Christmas Day.
The fantastic sculptures will be in Bradford city centre for a limited time only – and are completely dependent on the weather, so get there before they melt!
Bradford Science Festival – Saturday 19 October 2013
There are a number of fab, free activities on the day, geared towards showing off what Science can, has and does achieve.
There's a 'Where's William?" trail around the city, searching for Forster's Bistro resident gnome and learning about the amazing history of our fair and fine city. The Beast of Bradford will be built and take a turn around City Park. Fab Lab Airedale will create a huge Strandbeast before unleashing it on the Bradford public. There will be a ton of other activities, experiments and things to enjoy throughout the day.
But, at night, Forster's Bistro is the place to be for Gastro Magical. Inspired by scientist-cum-chef Heston Blumethal, I'll be dining out on a delicious meal with experimental cocktails – EUREKA!
City Park has made Bradford the place to be to experience great live shows, fine acrobatic performances and unique evenings of entertainment which you simply won't see anywhere else in the north – or south, for that matter.
Of course, if you prefer less exciting, less imaginative, less daring winter fare, I believe there's a C list celeb switching on some lights, well, everywhere else… just not in Bradford.