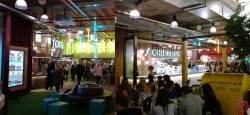 Leeds' newest shopping complex continues to generate interest with the opening this week of Trinity Kitchen. Leo Owen went along to sample its delights
Seven months ago, there was an enormous buzz surrounding the opening of Trinity Shopping Centre. Having been rather disappointed with the city's new addition, I'm curious what its latest offering holds.
If, like me, you're not exactly Trinity's target clientele, after dark is the best time to appreciate its charms. Mercifully quiet, its walkways are illuminated by tiny fairytale lights like stars, picking out the best of Leeds' skyline while accentuating its architects' ability to cleverly marry its impressive domed glass ceiling with older surrounding architecture, such as Holy Trinity Church.
The development's latest instalment is nestled high up on the corner of Bond Street and Albion Street. Playing on the recent vogue for pop-up bars/restaurants and growing popularity of street food vendors, Trinity Kitchen offers a trendy twist on your average food court that's a far cry from the likes of other shopping complexes, such as White Rose.
Stylish inside-out décor gives the feeling you're still outside when you are indeed safely protected from the extremes of Leeds' weather by huge glass windows, offering an interesting vantage point across the city's shopping quarter. Industrial-themed graffiti covers the walls and exposed piping combines with lots of neon, concrete and metal to create the "street" almost cyberpunk effect.
Seating is tailored in order to suit permanent eateries, mostly comprised of picnic style benches, colourful plastics, decorative drums and long metal beer hall tables. The six regular fixtures offer international flavours with Chicago Ribshack catering for fans of American cuisine, Pho representing Vietnam, Tortilla offering Mexican fare, Pizza Luxe serving up Italy's greatest export and Notes/Chip & Fish, ensuring British favourites are covered.
Aside from the the big six, Trinity Kitchen aims to promote excellent smaller businesses from around the country with new pop-up street stalls appearing each month. Manjit's Kitchen and the rather funky Gurmetti Italian moped van are two of the first, alongside Bristol-based Katie and Kim's Kitchen that serves up delicious Portuguese style egg custard tarts and Leeds' own Marvelous Cakes who do a range of devilishly rich and delightfully glittery brownies.
Preview night is surprisingly quiet, allowing me to sample food from Ribshack, Pho and Tortilla; All is tasty and reasonable priced, giving shoppers and cinema-goers a quick alternative to Trinity's pre-existing sit down affairs.
Unlike other food courts, Trinity Kitchen has the added appeal of offering diners the chance to sneak in a boozy refreshment and even has its own central champagne/cocktail bar. As tasty as Pho's meatballs and pork spring rolls are, I'm still undecided as to whether this new opening is enough to lure me back to Trinity; I am certain, however, that come tomorrow's opening this spacious food hall will feel less roomy and as winter progresses Trinity may well become a wind trap.
Trinity Kitchen opens Thursday 17 October.