Richard Claxton (@MaraidDesign) goes to hear David Shrigley at Bradford 1 Gallery and recommends some upcoming artist's talks in Bradford …
I like to talk. I like to listen to people talk. I will travel to hear someone talk. I've even paid for the privilege of going to see someone talk, and I don't think I'm alone. With the rise in popularity of the TED talks, Do lectures, and locally Bettakultcha events, hearing others express their wisdom is becoming more and more fashionable and is seen as a legitimate way to spend your spare time.
Recently I had the chance to go and see a talk by someone whose work I've admired for almost a decade and luckily I didn't even have to travel far to see him. The speaker in question is the contemporary artist David Shrigley and he was appearing at Bradford 1 Gallery, to support his current exhibition 'David Shrigley: Drawings' that runs until Jan 2013.
David is known for cryptic drawings, regularly containing text that tries to add context and humour to the piece. He is a fine artist who appears to operate outside of the regular art world, but is represented by a major London gallery and sells work at a high price to international collectors, as well as being loved by those who don't regularly visit galleries. Even though he has become famous because of his success there is a sense of mystique about him it feels like a definite coup to have him speaking at Bradford. To make it even better, because Bradford 1 Gallery is run by the Council, with their inclusive attitude towards the arts, the talk itself is totally free.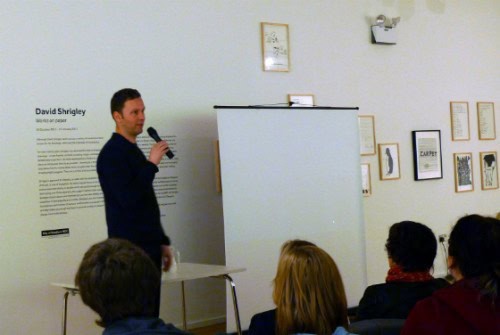 David has declared himself to be a naturally shy person and as he entered the gallery I felt myself getting nervous for him, but I was pleasantly surprised at how relaxed and amusing he was. He has a wonderful ability to digress and journey off at tangents and at one point spent five minutes talking about this 'lack of microphone craft' which involved him doing an impression of a human beat boxer. With his quirky chilled chatting style he easily relaxes the audience and entertains as he takes you through his artistic journey from trying to sell books of his drawings round Glasgow pubs to having a work called 'Crushed Ladder', bought by a New York collector. 'So how did you make the piece 'Crushed Ladder'' he mimicked the collector asking. 'I got a digger and crushed it' he simply replied.
There were several times during the talk that I felt David revealed more then he would do in a formal interview about his work or his relationship with the art world and this one of the best aspects about an artist's talks. Their candid nature and the direct connection which you as an audience member have to the artist means you find out so much than you could through any other means. It is somewhat of a worry in these times of social media and digital technology that in the near future maybe these talks won't be so revealing because of the risk of out of context comments appearing on the internet.
When writing this post I realised that this very idea was now a problem for me and I questioned how much I reveal of what David actually said. I believe the important thing is that the event was entertaining and interesting and I feel I gained my own personal insight in David Shrigley's work. I would encourage people to go to see other artist talks because they offer so much.
Other upcoming talks in Bradford include:
The sculptor Sophie Ryder – 16 Dec 2012 at Cartwright Hall, Bradford
The painter Ken Currie – 2 Feb 2013 at Bradford 1 Gallery
Rita Marcalo from Instant Dissidence – 19th Nov 2012 at Theatre in the Mill
Impressions Director Anne McNeill – 8 Dec 2012 at Impressions Gallery