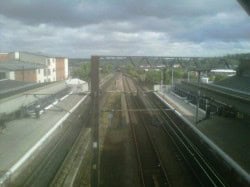 Wakefield is a curious place. The first thing you see when you leave the Westgate train station is the Elephant & Castle pub. On either side of the railway line are streets named Piccadilly and Cheapside; the Theatre Royal meanwhile sits on Drury Lane.
It is either proud of its enduring link to the capital, perched on the main line between London and Leeds; or it is making desperate pretences about a link when in reality it has none.
Wakefield today is best known (by my mates at least) for its dirty pub crawls and even dirtier take-aways. But its potential is huge, given how it finds itself implausibly located en route to King's Cross.
One way or another, today was all about crafts.
First of all, Freya and Steve invited me to Ella Riley's Toffee and Traditional Sweet Shop in Horbury Bridge. With a small staff, they make the famous Riley's toffee sold in shops like theirs all over the country. The moment you enter, you are greeted with a welcoming sweet smell (Steve makes sure the fans are well located so that no passer-by misses the fragrance!). Jars full of all the old favourites such as pear drops, cola cubes and more, line the shelves. Kids from the local area come along by themselves for a small bag of something; their big-kid mums and dads (even grandmas and granddads) turn up for their own sweets too. It is an old-style sweet shop of the kind that has fallen by the wayside for long (replaced by supermarkets where youngsters pick big bags of Jelly Tots and Haribo off the shelves at leisure), but which has lately seen a resurgence.
The Riley's story goes far back. Freya's grandmother Ella was the one who wrote out the recipe for their special toffee made by the two Riley brothers. Through the years the original recipe came to be lost; that is, until one day recently Freya discovered an original copy in her grandmother's writing in a recipe book she had kept.
When Freya told her usually taciturn, mild-mannered father what she'd found, he simply declared: "Burn that recipe!" Why? Because it ruined his teeth! As he puts it, "they went the way of the union" – once one was out, they were all out!
For years, the toffee was made in a factory in Halifax which was taken over by McVities (the original Riley family name is still there, however). But when McVities tried to put the toffee onto their biscuits, they quite simply failed (thank goodness – a toffee-coated digestive sounds dreadful – and in some fit of pique they shut down the factory). The Riley's recipe fell into the hands of Kraft, who sat on it for fifteen years before at last Freya took the rights, and set up shop with Steve.
Nowadays business is thriving. Soon they'll be moving to South Wales to open a factory where they'll make toffee and distribute to similar shops around the country. However it's not because of Steve's Welsh blood that they are leaving these parts (his Bridgend RFC mug testifies to it), but because of the lack of support they've had as a business in Yorkshire compared to the benefits they will receive in the deprived but EU-funded Valleys.
But with the Horbury Bridge shop (for which Freya has big schemes in mind including a milkshake bar and a drive-thru), they will always have their local connection. They both enjoy the shop life: they always talk to the youngsters who come in before their parents, and talk to the parents just the same way.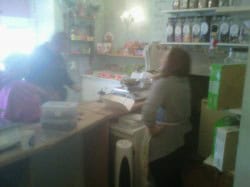 As Steve taught me how to make their sublime cinder toffee (like the inside of a Crunchie), piling sugar, syrup and butter into a bowl and mixing it together, adding bicarbonate of soda, heating it up and allowing it to expand, I knew I was watching a master in action. Steve and Freya are like the shoesmiths or the ironmongers of old, dedicated to their craft, so familiar with it that they know exactly when their product is done, and so comfortable that they can play around and create something truly unique.
It was a joy to be in their company, and to try my hand at their craft whilst watching all the kids and the mums and dads passing through, greeted warmly and leaving with bags of sweets in their hands and smiles on their faces.
Freya kindly drove me back into town as I headed off to the Hepworth Gallery. Wakefield's signature cultural achievement, it is this more than anything that gives the area some right to be competing with the big boys two hours down south on the train line.
Barbara Hepworth has inadvertantly earned a place in my heart: her 'Achaean' sculpture stands on the walkway into the main quad of my painfully modern Oxford college (when I say 'modern', I mean 'nearly fifty years old'). It is easy to disparage the gallery's striking facade as a monument to concrete chic, but go close enough, watch the water gliding by, and stand beneath the afternoon sun, and the sight is other-worldly. Inside, the works are shattering. Unlike a Renaissance painting or an Impressionist landscape, I can't look at a sculpture and simply enjoy its colour and its shape, passing through the gallery offering most of the works a mere glimpse. Every single shape and structure is a challenge, a confrontation almost, demanding something of you. It is aggressive, so much so that it seems wrong to confine this work to a bare, hushed, whitewashed room.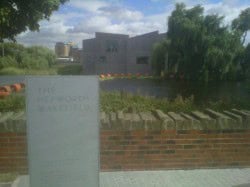 Eva Rothschild's work is on show until October. A particular treat is her collection of photographs entitled 'People with Snakes', showing (hardly surprising) a series of people captured with snakes around their arms or beneath their feet – and comparing and contrasting the multiciplicity of reactions. When you look at the mixture of emotions and feelings made visible on their faces, you see quickly how ultimately we are all sculptors and craftsmen of sorts, our materials our own bodies.
As I walked through Westgate station for the journey back to Leeds, an East Coast Main Line train was just heading off, destined for King's Cross. So many people who make that journey see Wakefield, but too few see the potential. It is a place, I think, where more can be done. Where more can be crafted.
In Leeds meanwhile, I spent the evening with Michelle and her Craftsville gang at The Arcadia on Otley Road. In peace and quiet, far from the red eyes of the Headingley Milers, they gather here once a month to knit patterns, practise their origami, and generally try out whatever they can with their hands. This month they are preparing for a big show as part of Light Night in October, so expect more to come.
With Laura's help I did my first stitching – not quite a full garment, but I'm working on it. She tells me I was doing some very advanced stuff (by accident of course) – but I've always been one to run before I can walk. Kirsty meanwhile took me through the basics of origami, making a neat penguin and a rather less neat crow (it may not have looked right, but it had character).
When I want to kiss a girl, occasionally I'll tell her that I find hands the most beautiful part of the body – since their every gesture and contortion is laden with meaning, their utility unmatched, their touch profound. Given how crafty we can be, it seems that Yorkshire hands are very good hands too!
For further background as to Mark's challenge check out '28 days later'