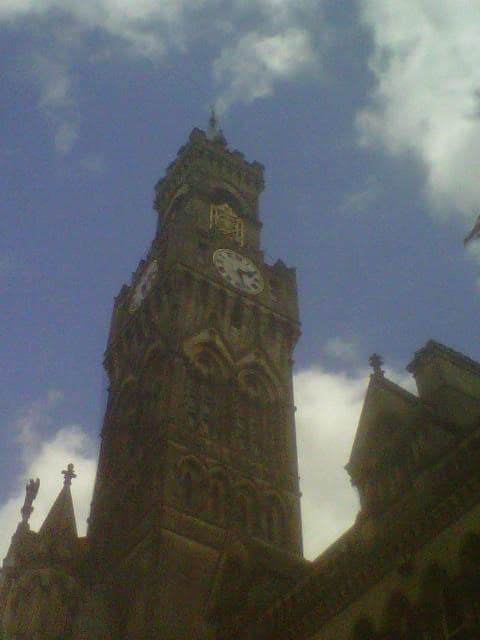 The "poor relation"; "not a place you'd want to live"; or simply, a "sh*t-hole".
I've heard Bradford described as many things – by the press, by Leeds United fans at Elland Road, even by its own local folk. Very rarely is it complimentary.
But Bradford is a beautiful place with a great history, and – if some of the people I met on Day 7 of my travels have their way – a promising future ahead. Its sandstone townscape blesses the city with an exotic, dreamlike panorama, especially on a sun-kissed day like that on which I turned up.
Despite the best efforts of councils and developers in recent years to destroy all that, it remains a special place.
If you arrive at Forster Square station, head straight to the old post office building and you'll see why. This was my first port of call on Day 7: I stood on the junction at Canal road trying to navigate my way. I fell back on my phone to find the website of the organisation based there, on the frontpage of which is a picture of the grand old building, sprawled in front of the cathedral. I looked up, and there it was in its splendour – like so much else in Bradford, a monument to a time when this region made things and and also made things happen.
Helen from Kala Sangam, based in the building, was kind enough to invite me for lunch, telling me not only about Bradford but also about the work they do. Kala Sangam describes itself as a South Asian and collaborative arts organisation bringing people together with performances, workshops, and all manner of educational programmes with partners and creatives in the region. As well as a creative space, the building is now home to Daisies Cafe, where we shared a good quiche.
Helen herself is from Beeston, and still lives in Leeds – so she sees daily the divide between the two cities even on her commute to work. Less than half an hour by fast train between one another's city centres, and separated at the middle by the suburban spread of hard-to-define residential areas such as Pudsey, Calverley and Thornbury, Leeds and Bradford have an awkward relationship: sometimes rivals, but often the balance is tilted strongly in one direction more than the other.
However Malcolm, who works at the old post office building on Forster Square, took me on a tour and talked about some of the history of the city.
Its modern story is a sorry tale: shambolic failures such as the Forster Square shopping centre development, old edifices torn down and replaced by ramshackle in-vogue concrete blocks.
But historically, Bradford was a big name, and its relationship with Leeds at the heart of the entire county's prosperity. This was where wool was imported from all over the world, the raw material made into a product before it was taken on to Leeds to be transformed and tailored into garments.
Industrialists – Salt the lead star, but joined by a large supporting cast – brought money and jobs, and also often would return and invest in the community, working to secure the health and basic education of their employees. According to Malcolm, it's been said that at one point there were more millionaires per head in Bradford than anywhere else in the country.
But even then Bradford had a bad press. I visited Lumb Lane, which I was told Engels once described as the filthiest street in Europe. Having already had my lunch, I didn't stop off at any of the kebab shops which now line the kerb, but these days that's all that could possibly give it the same sobriquet.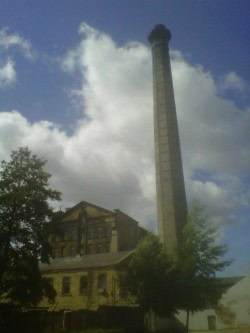 In the heart of the city, Centenary Square is bordered on one side by the impressive City Hall and on the other by a new development of bars and flash restaurants. Looking around at the latest developments around the county, finding old building societies or banks or political and social clubs now occupied by chain wine bars and upmarket Indian restaurants, I can't help but think that if these old mansions and houses hadn't been bought up by the leisure industry, they'd have been knocked down and our city centres left derelict.
Thank goodness then for the likes of Waterstone's, who now occupy the old Wool Exchange, and who have kept the vast blackboard which was once used to display prices to traders on the floor. Thank goodness for Kala Sangam too, bringing new life into a building which could have been left to rot but which now stands as a bond between the city's great history and a future which – if enough of its locals work hard for it – could yet transcend its past.
In the evening, Leeds United hosted Bradford City at Elland Road in a League Cup match. To some, the Leeds-Bradford match is the one that really counts: nobody likes Leeds United and even clubs we don't care about will be heard singing 'We All Hate Leeds Scum'. But Bradford is the local derby that counts for something, it seems.
And ultimately perhaps that's a good thing: it shows that we still care about each other, that we still pay enough attention to one another. The potential – culturally, creatively, economically, politically – that towns and cities across West Yorkshire have by working together is huge, and nowhere more so than in Leeds and in Bradford.
Then those beautiful old Bradford buildings will be palaces again, and Malcolm's elegiac stories of a city long past its prime will themselves return to the drawer of history.
For further background as to Mark's challenge check out '28 days later'