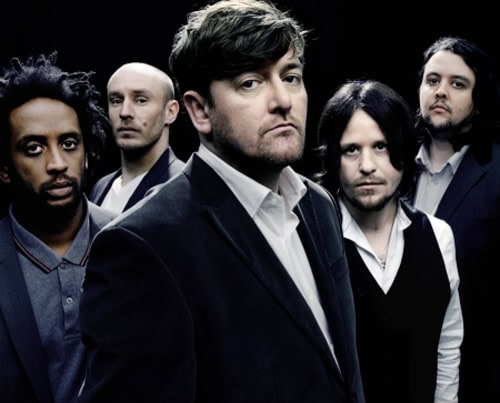 It's fair to say that Elbow have been doing rather well for themselves since The Seldom Seen Kid was released in 2008. Rave reviews, a Mercury Music Prize, a supporting gig for U2 and a massively raised profile for the band (partly thanks to the fact that TV producers seem to adore using both 'Grounds For Divorce' and 'One Day Like This' on highlights packages) have seen the lads from Manchester enjoy the biggest success of their career since their their debut album Asleep In The Back was released in 2001. But all good things must come to an end and, after 144 gigs since 'SSK' was released, Elbow have decided to get off the road and get back in the studio to work on new material. But if you've gotta go, then go with a smile as Elbow said a triumphant farewell in front of 20'000 fans at the MEN arena.
After fine support from The Fiery Furnaces (who were great, but seemed to be slightly lost in the large venue) Elbow and lead singer Guy Garvey galvanised the audience with opening number 'Starlings' and it was made immediately apparent how Elbow have become comfortable with playing large venues. The band – and Garvey's vocals – shifts between the epic and intimate and there's a light show and backdrop that adds rather than detracts from Garvey'commanding presence.  Indeed, Garvey managed to charm all with subtle self-deprecation (when he messed up the guitar introduction for 'Mexican Standoff' he deadpanned: "It'll be alright. There's not many in,") and a genuine joy in performing (magnified by the fact that he and the rest of the band were performing in front of a large number of family and friends). But with songs such as 'The Loneliness Of A Tower Crane Driver' and 'Newborn' he also showed how he could connect with an audience with a passionate and committed performance and lyrics that are both fragile and beautiful. It would be hard to think of another band who could get away with enrapturing a large scale audience with a song such as the fractured 'Weather to Fly'. Of course they could also provide plenty of bombast, with songs such as 'Grounds For Divorce' and 'Forget Myself' proved to be immensely popular and worked extremely well in a live environment whilst a guest appearance from Richard Hawley (who almost out deadpanned Garvey with "Can we get a move on, I've got a bus to catch.") for 'The Fix' provided some light relief.
By the time the gig had finished with the perennial closer 'One Day Like This' (which looks like becoming their version of 'Creep' which is either a good or a bad thing depending on your point of you) it was clear that Elbow are a band at the absolute peak of their popularity and talents. Whilst they are a few who may miss the time when they performed in more intimate venues – as their often are when bands finally hit the big time – but Elbow have shown that their songs about love, relationships and – erm – fixed horse racing can work amazingly well in front of big crowds. Yet, as the crowds increase, one feels that Guy Garvey and the boys will still manage to stay true to their roots. One waits with interest to see what they do next.