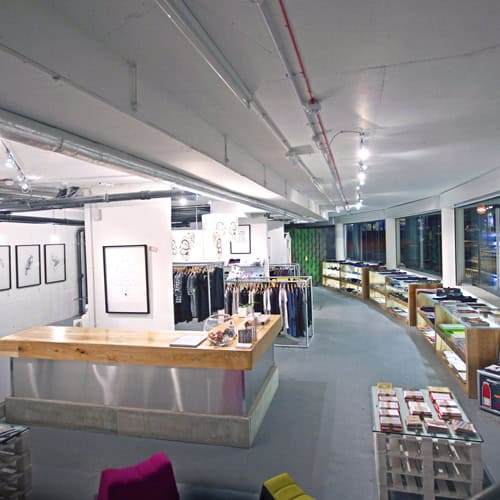 Location: Paper Scissor Stone, 38 New York Street, Leeds LS2 7DF (nr bus station)
Time: After work (details supplied on rsvp)

Our wings are a flap with the exciting advent of a drinks party exclusively for readers of The Culture Vulture at the unique concept gallery store Paper Scissor Stone.
Not only are readers of The Culture Vulture invited to quaff a few glasses of complimentary prosecco in style, but you lucky lot are also in with a chance of winning an amazing signed, limited-edition print by Si Scott to adorn your office walls.
This is an invitation only event, and numbers are strictly limited so please  sign in if you have already registered or register here to rsvp. We will then  supply you with the finer details about the event (it's after work).Menswear label 'Electronic Poet' has teamed up with artist Si Scott and art curator Jules Balchin to open a concept store and art gallery in Leeds called Paper Scissor Stone.
The store and gallery which opened in November is housed in a stunning goldfish bowl-like unit and showcases the trio's inspirations, like-minded artists and fashion labels and their favourite products from furniture designers through to books and music.
Original art works and prints from Anthony Burrill, No Days Off, Revenge Is Sweet, Si Scott, Rose Stallard, Alex Trochut and Steven Wilson will sit alongside a fine mix of men's and women's apparel from contemporary brands such as Wood Wood, RittenHouse, Steven Alan, Sixpack, Edwin Jeans, Something & Something Else, Paul & Joe Sister and Electronic Poet.
Paper Scissors Stone presents its opening exhibition of limited edition prints, publishing new prints from Breed artists; Rose Stallard, Steven Wilson and Si Scott, with five exclusive prints from Anthony Burrill. Selected prints from Alex Trochut and the No Days Off and Revenge Is Sweet collectives will also be available. Small runs of limited edition prints of Si Scott's animal series taken from the original hand inked drawings are also available exclusively at the Paper Scissor Stone Store.
Swan and Ram by Si Scott