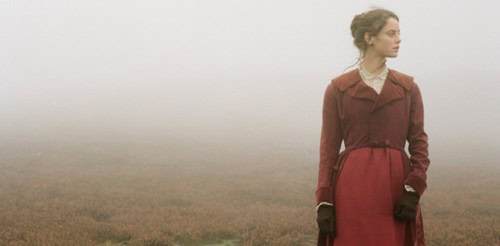 Casting non-actors in a feature film may be a high-risk strategy for some directors; for Andrea Arnold (Red Road, Fish Tank) it is becoming a trademark.
Her retelling of Wuthering Heights, Emily Bronte's classic tale of obsession and revenge, features debut performances from Solomon Glave (young Heathcliff), Shannon Beer (young Cathy) and James Howson (Heathcliff), alongside E4's Skins actress Kaya Scodelario (Cathy).
The story presents the arrival of orphaned Heathcliff into the Earnshaw household, the development of his obsessive romance with his foster-sister, Cathy Earnshaw, and the brutal treatment he receives from, amongst others, her brother, Hindley Earnshaw. Eventually the prejudices of class force Heathcliff and Cathy apart and Heathcliff disappears, returning three years later to seek a bitter revenge for his tormented, broken heart.
Newcomers Beer and Glave give strong performances as wild-spirited young Cathy and feral young Heathcliff; the intensity of their relationship beautifully constructed through minimal dialogue and skilful direction.
It's an unconvincing leap to their older selves that marks a weaker second half to the film. James Howson's wretchedness is painfully credible but much else of his portrayal of Heathcliff falls flat. Whereas Kaya Scodelario's Cathy is such a gear change from Beer's that, however good her performance, it is ultimately unsatisfactory. Crucially, the chemistry between them is lost and along with it Arnold's command of attention. The film begins to feel every minute of it's two hours.
Instead of creating a conventional period drama Arnold distils the essential elements of Bronte's story into raw, visual poetry with the help of Robbie Ryan (Red Road, Fish Tank).
Ryan's Venice Film Festival award for Best Cinematography is well deserved. In obsessive detail he creates a moor as intimately known, as it is to Cathy and Heathcliff. Accompanied by a score of stinging sheet rain, howling winds, squelching bogs and sodden heath, it becomes vividly alive.
Though often off-screen or cloaked in darkness, at times the violence is difficult. Each blow is heard, and thus felt bodily. But for all it's bruising brutality, Arnold's Wuthering Heights also a very sensual film and in every sense, one to endure.
Rated 15, 129mins.
Wuthering Heights is showing as part of the 2011 Leeds International Film Festival before general release on November 11th.
For more information:
The official website for the Leeds International Film Festival is wwww.leedsfilm.com. The box office number is 0113 224 3801. The LIFF25 Box Office is located in The Carriageworks, located on Millennium Square, Leeds. The box office is open from 10am – 6pm Monday to Saturday and on Sundays when there is a performance at The Carriageworks. Advance tickets and passes can be purchased either online, by phone or in person.
Josephine Borg is a newly northern, back-rubber extraordinaire. She offers Hawaiian Lomi Lomi massage to the good folks of West Yorkshire, along with a brew and a slice of homemade cake. You can find out more at www.lomimassageleeds.com or by following her on Twitter @ilovelomi or Facebook.