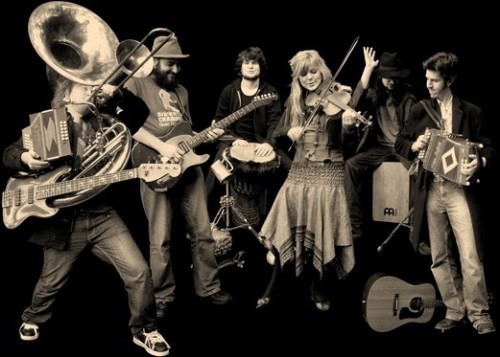 A ceilidh (pronounced kay-lee) is a social dance event which is also loads of fun.
Thursday 10th November, 7.30pm-10.30pm, Left Bank Leeds, Cardigan road, LS6 1LJ
You might have been to a ceilidh before at a wedding reception or you may have never even heard of one before. Its a bit like a barn dance, but its not line dancing, or morris dancing (so don't panic!).
But I can't dance/ won't know what to do….
It's ok, the band has a caller, a guy who teaches each dance and then shouts out the moves as you dance. The steps are really simple.
If I come I will be forced to dance…
Maybe by your mates but not by us, if you want to sit at the side with a beer that is fine, you wont be picked out by the band or pressured to get up and dance.
But I will look stupid if I get it wrong…
Everyone gets it wrong at some point- I do all of the time, its part of the fun.
Its only £6 a ticket, there is a bar, £2-£2.50 a drink. The band are the awesome Blackbeard's Tea Party, a really young, lively fun band, worth coming to listen to even if you don't want to dance.
Great as a work or club social, and also enjoyed by older kids (who are welcome 1/2 price).
Any profits will be donated to 'Life for African Mothers' a fantastic worthwhile charity that provides life saving medications to pregnant women in sub Saharan Africa.
More details can be found on the Facebook group or by emailing leedsceilidh@hotmail.co.uk