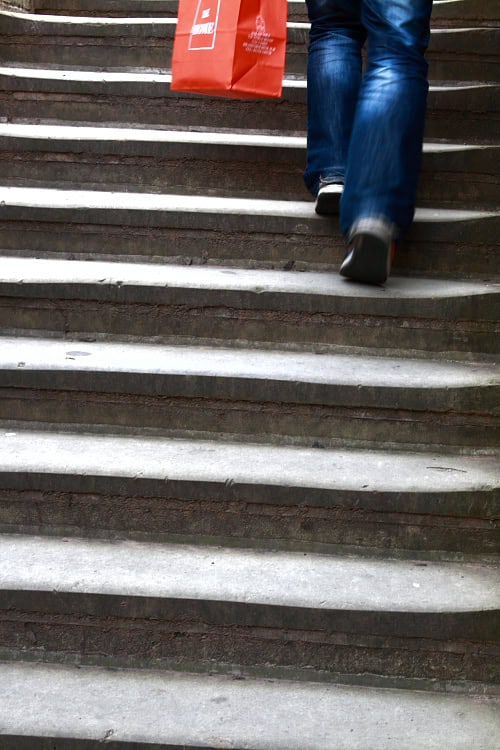 People know Saltaire as home to Salt's Mill and its huge collection of David Hockney's work, but the imposing sandstone mill and the rows of well organised streets and modest- but-practical houses are also the centre of a growing culinary hub.
There's a lot of food to be eaten roughly within sight of Titus Salt's mill.
Salt's Mill itself, first stop on any day-tripping art or book-lover's itinerary, houses three places to eat. The central Salt's Diner is a laid-back, airy space where the chairs wobble on the uneven stone slabs and the food is stylish and accomplished, Cafe into the Opera is a third-floor fish restaurant guarding the entrance to a darkened gallery of Hockney's magnificent opera sets and the small Espresso Bar, hidden away behind an outdoors shop, serves superb coffee and massive, freshly baked scones.
The Mill has been serving food since it first opened – food was always part of the late Jonathan Silver's vision of regeneration – and it gets better and better as the years pass. The Diner serves the best salade nicoise in Yorkshire, in my opinion, and turns out some remarkably good pizzas, too. Everything is very relaxed, but the kitchen is razor sharp.
Down the street from the mill, heading towards the genteel and recently renovated Roberts Park, is The Boathouse, a new bar and restaurant perched on the edge of the River Aire, born from the ashes of a neglected and burned out hulk. Big, wide doors fold back in summer, bringing the park right into the bar. Saltaire Brewery's Blonde is on tap and perfect for leisurely drinking, watching the river meander quietly past. Go on a summer Sunday, and you'll hear a brass band playing at the new bandstand across the park, interspersed with the thwack of leather on willow as Saltaire Cricket Club play on.
It can all be terribly English.
Saltaire Brewery itself is a short walk along the canal towpath towards Leeds. They hold a monthly open evening for people to come and see the brewery and sample their beer.
Back up the hill is Don't Tell Titus… , a bar and restaurant owned by the same people who've breathed new life into The Boathouse.
The name is a play on founding father Titus Salt's most famous rule – that his village should be dry. During his stewardship, there were no licensed premises allowed in Saltaire village at all. Things have changed, but only relatively recently. Titus would have deplored a bar on his beloved main street, but he'd have come round to the idea of a nice, modern place with a good restaurant upstairs.
Eventually.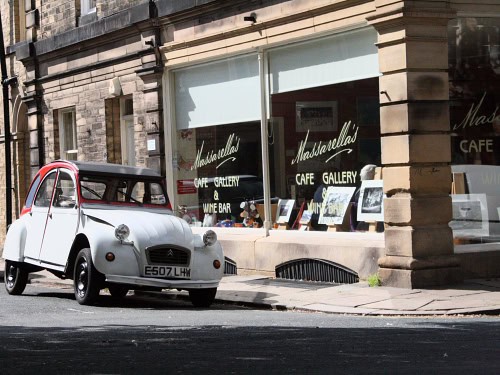 Further on is Massarella's, an art gallery stroke coffee shop and across from that is Vicar's Bistro. Vicar's is interesting. It's owned and run by a Church of England vicar, with an ethos based on fairness, equality and social justice. Vicar's is far from preachy – you won't get a sermon with your dinner, or even anything overtly religious at all, for that matter. Vicar's mission is simply to be part of the community, and it hosts a range of groups and activities during the week to become just that.
Diners are seated at long wooden tables and encouraged to chat amongst themselves. It's not the place for a quiet, romantic meal for two, but its fun with a larger group. The food is solid and dependable home cooking, fair trade, locally sourced, free range or organic where possible.
Round the corner is Fanny's Ale House.
Yes, I know. Get the sniggering out of your system now.
Fanny's is a real ale pub with at least ten beers on tap at any one time, gaslights, open fires and a welcoming atmosphere. It's rightly loved and respected by both the village and the wider real ale fraternity.
On the main roundabout sits The Old Tramshed, a large bar housed in a beautiful building, former home to the city's fleet of trams. The food is a bit hit and miss, but the bar is well worth a look – a large, imposing glimpse into the area's past.
Close by is one of Saltaire's greatest treasures. Tucked away up the side of the Co-Op, Webster's serve the village's best fish and chips.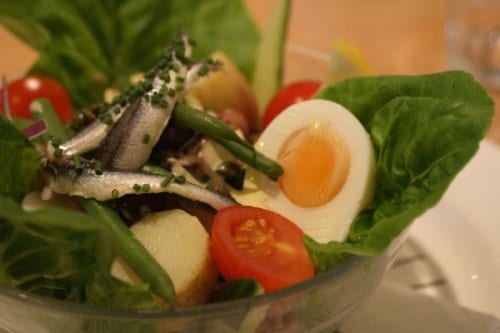 Gordon Terrace is home to Gourmet Corner, perfect for toast, coffee and gossip after dropping the kids off at school, The Terrace, a daytime café and evening bistro and La Rue. La Rue's generally French food is consistently good and the service excellent. It's a superb example of a proper neighbourhood restaurant.
Also on Gordon Terrace is Coxon's Kitchen, run by the enthusiastic Matt, seller of gourmet cheese, ham, olives, kitchenware, etc. Matt keeps me supplied with Alex James from Blur's outstanding cheeses – top of the list must be a beautiful goat's cheese, Little Wallop, soft and creamy, wrapped in brandy soaked vine leaves. Pure class.
A little further away are a clutch of excellent Indian restaurants – Zaara's, recently listed by Michelin and described as serving 'tasty, authentic Indian cooking, with an emphasis on Punjabi dishes', Shimla Spice and the Aagrah's mothership restaurant. The Aagrah is one of the benchmarks of Asian cuisine in the Bradford area, if not the whole of West Yorkshire. Their food is authentic, exciting and delicious.
Anybody who comes to Saltaire is bound to head straight for Salt's Mill, but there's more to the village than just this brilliant example of urban regeneration, especially if you're hungry.
Look slightly further afield, and you'll eat well, very well indeed.
Richard Ramsden writes them apples, a Saltaire based blog about food, drink and general gastronomy related nonsense.  He aspires to take a photograph of a plate of food where the white plate actually looks white, and  strongly dislikes the word 'foodie'.