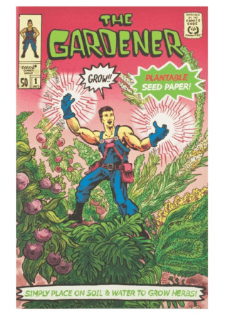 Guest post by Liz Holdsworth @MargotBarbara aided by Jo Borg @ILoveLomi (who together have created the lovely 'Sage and Thrift)
Christmas shopping for the gardener in your life can feel intimidating. Before you panic and reach for another themed hand cream gift set, take a moment. At this time of year, we're putting our plots to bed for the winter, leafing through seed catalogues, and forming plans for the spring. Keep this in mind and you'll be on the right track to the perfect gift for us.
We're an optimistic bunch so anything that helps makes next year the best growing season ever will always be appreciated. We're patient too – gardens take time – so don't be afraid to give us something with a delayed gratification factor.
New tools to cherish forever always go down well (buy from local garden centres, such as Langleys, Whiteleys or Stephen H Smith), as do inspiring books ( I've enjoyed Laetitia Maklouf this year) and journals in which to record our successes and failures. Or, at least remind us what we planted where…
From traditional allotment gardeners to urban grow-your-own-ers, there is a gardening gift to suit everyone. Here some of my favourites:
First up, a fun stocking-filler for budding young and young-at-heart gardeners: comic-book seed paper from  The Balcony Gardener (pictured above) . It has huge novelty value and the easy-to-follow instructions will produce an explosion of herbs in a few weeks of planting. The Balcony Gardener is a great source of gifts for green-fingered city-dwellers. After all, the smallest sprig of home-grown mint will taste wonderful in a Caprihiana… I think the strength of The Balcony Gardener lies in their modern, sleek products which are affordable and look impressive.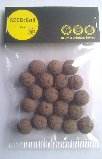 Next on my go-to-for-gifts list are SEED-Ball. Made from clay, compost and wildflower seeds – with a tiny amount of chilli added to deter pests – these seed balls are an easy way to increase biodiversity in urban places. Ideal for a spot of spontaneous guerilla gardening! Plus all the profits go to a social enterprise so you can feel doubly good about buying these.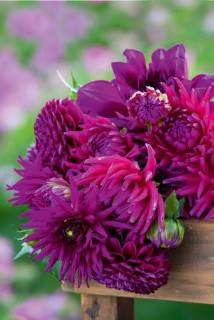 Traditional allotment favourite made fashionable again, the dahlia is one of my own best-loved flowers and this Best Purple Dahlia Collection from Sarah Raven would make a striking display in any garden. Your lucky recipient will get a card at Christmas, followed by corms to plant once the frost has gone.
Since the the wonderful Harlow Carr is in Harrogate, a membership to the Royal Horticultural Society would be an inspirational and educational gift for any Yorkshire gardener. Not only does it give the holder and a guest free entry to RHS gardens, it also reduces entry to many other partner properties around the country too.

Finally, my last recommendation is based on a Christmas gift I received a few years ago. Felco secateurs are a guaranteed welcome gift for novice and experienced gardeners alike. I love mine and don't set foot on the allotment without them. Okay, they aren't cheap, but they're made to last forever and come in several different sizes and shapes and there's even a range for left-handed folk. Buy from either a local garden centre or online.