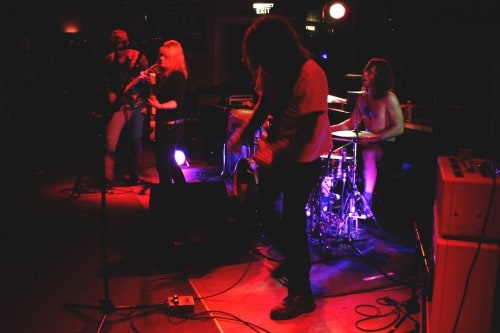 Tuesday 21st February – The Men at the Brudenell Social Club had been on my gig list for ages. What initially intrigued me about The Men was indeed their name – so common yet so particular… and in case you're wondering, no they're not all men, at least not now that they've replaced their bassist.
At the time I listened to their first single "Bataille" I was in a state of complete apathy with the condition of contemporary music; all those bands playing dream-pop, cheerful sunny tunes – I honestly had enough! So listening to a raging and angry song like "Bataille" gave me hope that this band was doing something different at last. Not long after, I listened to the whole album – "Leave Home" – and I was completely blown away. Getting to know them from this album made me overlook their previous stuff (even angrier and noisier apparently) so when I went to the gig I didn't know what sound to expect.
When I arrived at the Brudenell I immediately spotted one person in the crowd wearing a Spacemen 3 t-shirt. Despite it being just a pale orange Spacemen 3 t-shirt, this made me realise I was in the right place with the right crowd as basically nearly all the bands on the bill have paid tribute to this amazing band in some way, not to mention the explicit reference to "Revolution" in The Men's song "()".
First on was Leeds' own Broken Arm: they established the right premise to what would be a full-on noisy and reverb-filled night. Then it was Hookworms' turn, in an explosion of psychedelic delayed noises which nearly left no time for the crowd to clap. They performed some new songs from their upcoming record as well as the 'old famous' melancholic "Teen Dreams" from their now (nearly) completely sold-out debut EP.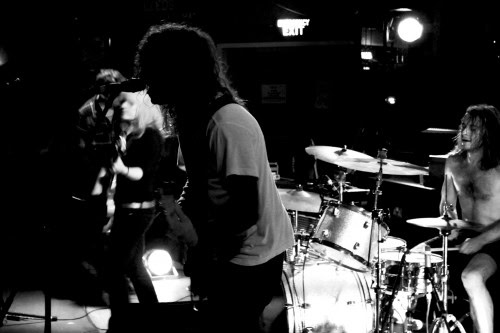 My ears were already ringing after the Hookworms' set, but when The Men came on stage the volume was so loud that I thought the Brudenell's floor was moving along with their powerful vibes. Their set consisted of a mixture of old and new songs from their upcoming album (to be released in March 2012) and introduced a more folky and melodic aspect to the rougher and lo-fi sound of their older songs. The intensity of their melodies was hypnotising and intriguing. What really struck me was their great ability to improvise during the songs, creating a garage-y and authentic passion-driven atmosphere. The spontaneity of their fast-paced set marked by loud and precise drums matched with messy psychedelic fuzzy guitars and strong bass lines, guaranteed an effective outcome that left no space for disappointment. Despite a persistent 'hiss' ringing in my ears (and brain) even the day after the gig, it was absolutely worth it. And if there will ever be another Leeds date soon, I'll make sure to add it immediately to my future gig-list… again.
Nicole Paciello