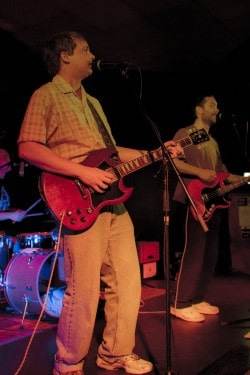 Guest post from Sam Monk (@smonk78)
The Wave Pictures are a welcome and refreshing anomaly in today's overcrowded indie guitar market. For one thing nobody could ever accuse them of being pretentious hipsters – with his baggy jeans, tucked-in shirt and white trainers singer/guitarist David Tattersall arrives on stage dressed as if he is attending a school disco in the late eighties. For another thing, Tattersall and bassist Franic Rozycki come across as music nerds of the kind that could be found in school music rooms at lunch times perfecting the riff to Sweet Child O'Mine – Tattersall in particular is a highly accomplished technician of the 'why play less when you can play more school' – where most guitarist these days seem to be in thrall to the skinny-jeaned, stripped down, wiry playing of the Strokes. And while the first few songs suffer a little from enervating extended instrumental breaks, in the main this is no bad thing, especially as its carried off with such unassuming, diffident charm. At one point Tattersall even shyly and profusely apologises for turning down a request from the crowd on the grounds that he can't remember how the song goes, but so keen is he to make amends that he vows to play the first song suggested from the floor that he can actually remember – which turns out to be a blistering version Sweetheart EP cut, Cinnamon Baby.
The bulk of tonights set is taken from newly released album Long Black Cars which represents a partial shift away from the angular, arch, Go-Betweens/Jonathan Richman-inflected pop of previous LP Beer In the Breakers, in favour of a cinematic, noir feel with some Tarantino-esque surf guitar and a predilection for lyrics with a large dollop of black humour bolted on for good measure.
They start in slightly hesitant fashion, the guitar noodling not quite igniting the crowd but they quickly hit their stride with a stomping, raucous slice of 1950's rockabilly in the form of Eskimo Kiss, sung in an appropriately rough-hewn fashion by charismatic drummer Jonny 'Huddersfield' Helm, who also sings the equally excellent, rambunctious, pleading Give Me A Second Chance. Never Go Home Again has an incongruous yet alluring calypso flavour, whilst Spaghetti has a suitably Tex-Mex ambience and Little Surprise is infectiously jaunty, built as it is around an intricate guitar riff of the sort that Tattersall seems to be able to reel off with frightening ease. The humour at the heart of the band is highlighted when Seagulls, a Vampire Weekend-like reproduction of afro-beat, replete with a cowbell-dominated drum solo, is introduced as a song about a once close friend turning into a complete ass after joining the police force.
Absurdly-titled Stay Here & Take Care of the Chickens closes the set with a sardonic, filmic tale which somehow ends ups sounding, to these ears anyway, like the aural equivalent of Humphrey Bogart starring in a sequel to Pulp Fiction, and if that were not odd enough, at the midpoint of the song Tattersall essays a solo the like of which hasn't been heard since Dire Straits' Brothers In Arms. It typifies the entire set: simultaneously ludicrous and brilliantly inspired – a delicate balancing act that few bands can pull off. It's just a shame that their stage craft (the static nature of both Tattersall and Rozycki doesn't offer much in the way of visual stimulation) isn't quite as effervescent as their musically chameleon songs.
The Wave Pictures, Brudenell Social Club, 22nd March 2012