A few years ago, the (should have been Taste Master, robbed robbed robbed) ever fabulous Lisa Farrell wrote an incredibly flattering blog about my predilection for lavender. One of my brothers describes my mental state as "a consistent haze of lavender" and it's pretty apt. I love it, simply cannot get enough of it. So when deciding where to drink myself stupid on New Years Eve this year, nope bugger it LAST YEAR, it's a safe assumption that a lavender based cocktail would be my first choice.
Behold. Yorkshire's Orchard. Rhubarb infused Absolut vodka, homemade pear and lavender jam, Bramley apple juice, fresh lemon and a Rosemary rub. Finished with a sprinkle of lavender chocolate.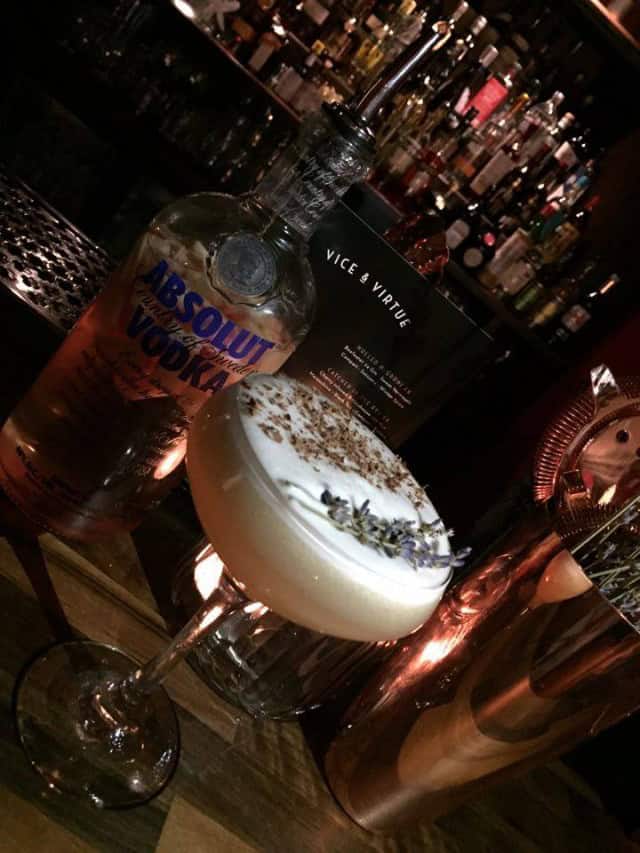 But let's put my lavender lust aside for a moment whilst I get you up to speed.
The lovely Luke Downing, long considered Leeds' most spectacularly innovative young chef has branched out from Dough Bistro at West Park and Nineteen at Wike Ridge to open Vice and Virtue, a bold new cocktail venture in the city centre.
Another cocktail bar? Surely there can't be anything new to bring to the table you may wonder… but you'd be dead wrong. Famed for his incredibly beautiful French food (all locally grown or sourced) which is just saved from being too pretty to eat by being far too delicious to go to waste, he has turned his considerable talents to food based cocktails the like of which even The Maven, my favourite cocktail bar, has never dared to dream.
With a nod to the location's previous incarnation as a gentleman's club. Vice and Virtue on New Briggate (just down the road from The Greedy Pig – this area is fast becoming the culinary capital of Leeds city centre!) is all seductive leather booths, muted lighting and a not too subtle podium which is currently inhabited by pole-inspired tables and will soon feature live music.
And the menu, oh the menu. Having set myself the challenge of sampling every single cocktail on both the special New Year's Eve menu (oh the avocado margarita! More drinks should be jalepeno based) and the regular menu (which was no mean feat considering I obviously had to have three of the Yorkshires Orchard…) I can tell you that the drinks are nothing short of sublime. From caviar and seaweed martinis to jasmine and dandelion sake, these are flavour combinations that boggle the mind and ensnare the senses.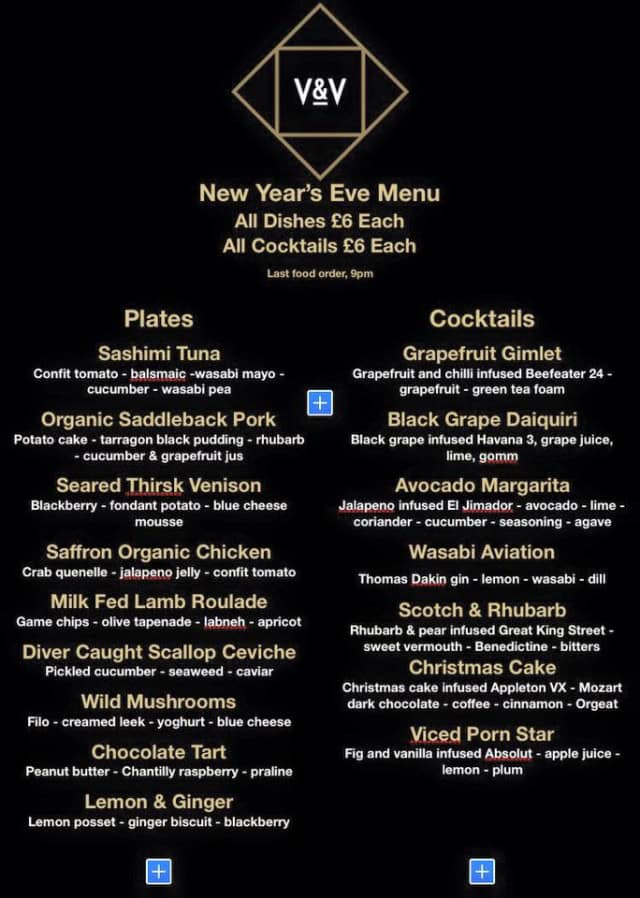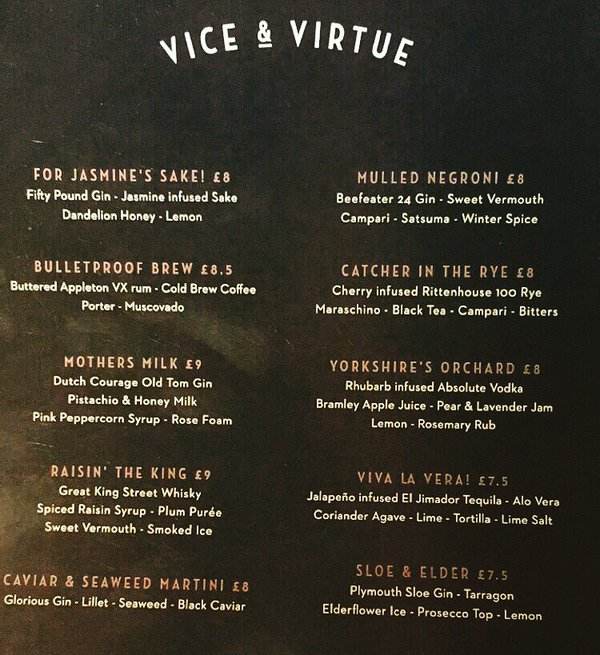 What are you waiting for? The bar is open Monday to Sunday from 5pm until late and I don't know about you but I certainly won't be waiting for their upcoming Valentine's Day event to go back!