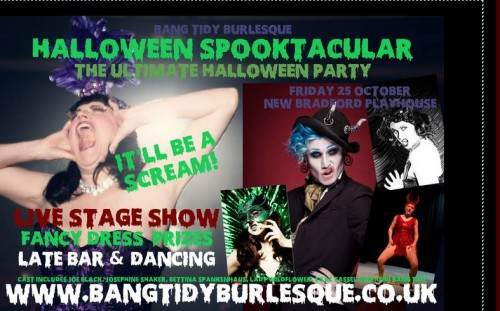 Heidi Bang Tidy has been staging shows at the New Bradford Playhouse in Bradford's Little Germany for almost a year. She announced this week that her "Halloween Spooktacular" this Friday (25 October) will be her final show in the venue.
Here, we preview what will undoubtedly be one of the most spectacular Halloween parties Bradford has ever seen, with not one, but FOUR big stars of neo Burlesque and Alternative Cabaret on the same stage. And you might be surprised (as we were) to learn that Burlesque is not just about girls in sparkly things prancing about waving ostrich feathers.
JOE BLACK has established himself as one of the biggest names in Burlesque and he rarely sheds even a jacket. Famed for his darkly comic macabre songs (he is an accomplished pianist, accordianist and ukulele player), he has carved out a career as the villain of vaudeville. If you're the kind of person who enjoys watching a guy in full make-up sing a mournful rendition of Bring Me Sunshine, you're going to love Joe Black. All the freakiness of Marilyn Manson mixed with an impish, cheeky charm that only a British Vaudeville star could pull off.
JOSEPHINE SHAKER is not what you might immediately think of when someone says the word "burlesque". For a start, she's not what those in the know call a "peeler". Josephine's acts are an homage to classic Hollywood dance epics with a modern twist. One of the acts she'll be performing in Bradford on Friday sees her begin by lip-syncing to an original 1940s track whilst throwing some impressive tap moves. What comes next is both surprising and hilarious. Suffice to say, not a nipple tassel in sight. Watching Josephine Shaker perform is like being sent back in time to a black and white movie – if Fred Astaire had been on acid.
Josephine Shaker – 'Horny Devil' Act. from Daniel Callis on Vimeo.
At first glance, LADY WILDFLOWER does look like what you might consider a "traditional" burlesque dancer: she's a beautiful, slender pin-up with a classic 1950s look and heavily-rhinestoned costumes. But this tattooed temptress is known for acts that have a darker side. This Friday Lady Wildflower will be unleashing a new act on Bradford – a creepy re-telling of the folk tale Jinny Greenteeth where she'll play the devilish nymph who lures people into swamps and pools, only to drown them. For those who like a bit of good old fashioned bump n grind with their Burlesque, she will not disappoint. She's a fearless and fierce performer with a loyal female following – living proof that strip tease is so much more than cheap entertainment for old men in mucky macs.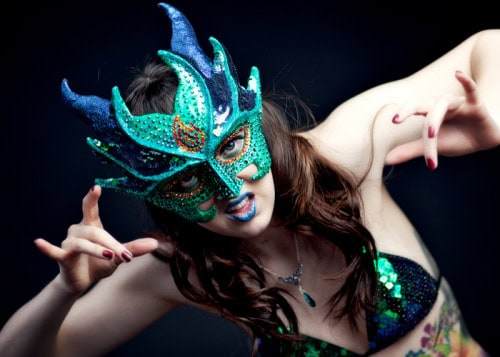 BETTINA SPANKENHAUS is one of the country's best-loved comedy Burlesque performers – when this lady takes her clothes off she WANTS the audience to laugh. And laugh they do. She recently stormed the London Burlesque Festival with her Phantom of the Opera act, which she will perform in Bradford on Friday – a reworking of the music-hall half and half routine. Comedy gold.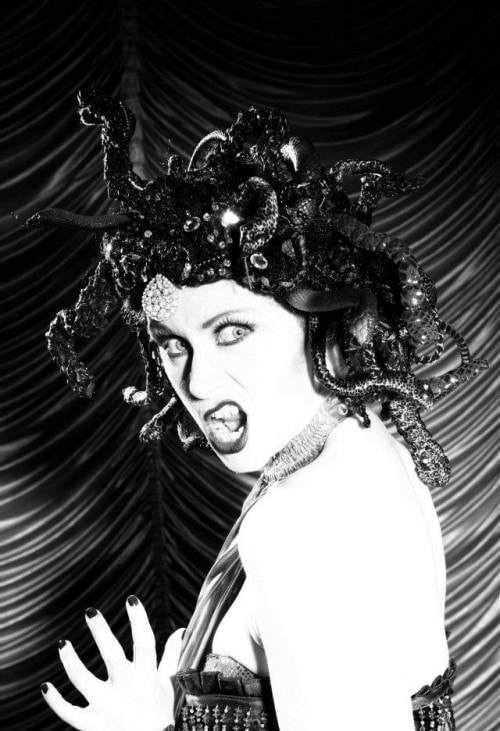 Host for Bang Tidy Burlesque is – as ever – the inimitable HEIDI BANG TIDY. Considered one of the finest female MCs on the alternative circuit, her chatty, amiable style combined with sharp wit make for some hilarious asides and hilarious audience banter. Our reviewer had this to say when they experienced Bang Tidy Burlesque earlier this year: "Heidi Bang Tidy paces up and down like a furbelowed lioness…like a cool older sister who teaches you how to behave at your first rock concert….an evening of fun and frivolity."
Bang Tidy Burlesque – Halloween Spooktacular, Friday 25 October, The New Bradford Playhouse, Little Germany, Bradford
Tickets £13 (inc bkg fee) from bangtidyburlesque.co.uk or on the door (doors open 7.30pm for and 8.30pm show)
Prizes for Best Halloween-themed costumes and dancing 'til late with DJ Dapper Dan