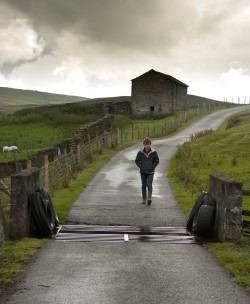 Lad: A Yorkshire Story, The Lonely Road
Two of the most prominent locations in the Victorian spa town of Ilkley will be converted into working cinemas to produce a current and diverse programme showcasing some of the UK's biggest talents, international festival firsts and live events. 22 screenings will take place over 3 days from 14th February – 16th February in a festival packed with exclusive previews, Yorkshire film talent, live music from critically acclaimed musicians and award-winning documentaries.
A number of films will preview at Ilkley Film Festival including indie director Jim Jarmusch's Only Lovers Left Alive, an international festivals' hit starring BAFTA nominated Tom Hiddleston and Academy Award winner Tilda Swinton. Having previously appeared at the Cannes Film Festival and the Toronto International Film Festival this biting vampire romance, will screen in Ilkley on Valentine's Day, before hitting the big screens of the UK later this year.
The festival opens by honouring its official patron, Dame Judi Dench, with a screening of the critically acclaimed feature Philomena Friday 14 February. Screened on Sunday 16 February is Bradford based feature The Selfish Giant Directed by award-winning Otley-born Clio Barnard
Film history will be made in Ilkley as an extended edition of the German sci-fi film, Metropolis, is screened including an extra 25 minutes of footage later discovered in a factory in Argentina. Metropolis is one of three trailblazing films presented in partnership with Eureka! Films under the heading 'Masters of Cinema' and will be screened on Sunday 16 February, accompanied by renowned BFI pianist Stephen Horne. Amongst the most important films in cinema history, other 'Masters of Cinema' include Harakiri which inspired a generation of film-makers, notably Quentin Tarantino in Kill Bill and Tokyo Sonata by Japanese director, Kiyoshi Kurosawa.
Live events make a significant contribution to the programme and include several previews such as the documentary, Tim's Vermeer on Sunday 16 February, with writer Colin Blakemore and Vermeer scholar Philip Steadman in conversation. Presenting a live music event is Paul Merton with his Silent Clowns. The Have I Got News for You presenter will introduce the best silent comedians of the 1920s in some of the funniest films. The screening, Friday 14 February, will include a live musical accompaniment composed by BBC regular Neil Brand.
The diverse programme offers a series of documentaries including a preview of Plot for Peace, Saturday 15 February, and The Armstrong Lie on Sunday 16 February, as the entire region gears up for the Grand Depart of the Tour De France.
Celebrating Cinema Classics the festival will host several anniversary screenings including the comedy genius of When Harry Met Sally. 25 years after its original release the audience can once again experience the magic that was created when Meg Ryan and Billy Crystal joined together to battle the age old question, can a man and a woman really just be friends.
For details on the full programme, buy tickets or sign-up to receive all the latest news about the Festival – go to www.ilkleyfilmfestival.co.uk