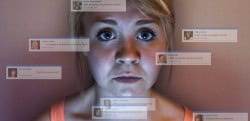 The West Yorkshire Playhouse Youth Theatre are to perform on Monday the 20th of January at the Houses of Parliament, organised by Young Minds in order to raise awareness of sexuality, body-image and cyber-bullying…
Last year West Yorkshire Playhouse's Youth theatre performed Girls Like That, a new play written by Evan Placey in collaboration with the young people involved. In it teenagers and technology collide with perilous consequences and the show explores sexuality, body image and cyber bullying. A section of the play will be performed at the Houses of Parliament on Monday 20 January at an event organised by charity Young Minds.
Young Minds is the UK's leading charity committed to improving the emotional well being and mental health of children and young people. Next week they launch their biggest campaign calling for change around mental health issue affecting our young people today, such as sexual pressures, bullying, unemployment, school stress and access to counselling. GIRLS LIKE THAT deals with some of these issues head on and plays an important illustrative role in Monday's event. www.youngminds.org.uk
Girls Like That tells the story of Scarlett, a young girl whose naked photograph is sent around school, and honestly examines the pressures facing young teenagers today.
Playhouse Artistic Director James Brining comments:
"Our Youth Theatre is very much in its infancy, but it is already creating an outstanding reputation for making work dealing with matters of real importance to Young People"
Youth Theatre member Mabel Goulden said:
"I think it's great to have teens share their opinions at parliament – not only so we can feel heard and listened to, but also because everyone can hear what we have to say about a world which belongs to us just as much as it belongs to adults and politicians."
On Monday morning Youth Theatre director Gemma Woffinden and the cast will head down to London to play their part in an vital campaign launch which safeguards the well being of our young people. Gemma comments:
"We are very proud to be part of this event, and that the high quality performance work of our Youth Theatre is to be celebrated in such a way that we can support a valuable campaign that acknowledges the challenges faced by young people today."