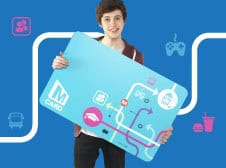 James Blythman and his insightful views on West Yorkshire travel have returned this 2014 – this time on the introduction of Metro's new payment system.
It feels strange. The 1st January 2014 was the first day in 3 years that I haven't been a Metro West Yorkshire customer. Now I am just a ticket.
I signed up for a Metro pass 3 years ago due to the location of my new employer and because I couldn't drive! My new commute required train and bus travel so a Metro zonal pass was what I required.
I knew about Metro passes as an old housemate previously used one. Finding out what pass I needed was easy enough by using their website. So off I popped to Leeds bus station to get my pass.
It consisted of two parts: A photo card element with my customer reference and my postcode and a ticket which highlighted the expiry date and what zones it covered. Each month I would get a new ticket. My photocard remained constant, it was just the ticket that changed. I soon learnt it best to renew it in a train station as their tickets worked in ticket barriers.
This continued for some time. My photocard being the one constant. I inadvertently became a bit of a walking advert for Metro eulogising about how everyone should have one of these cards. "We should have Oyster Cards like they do in London", I would say. Arguments started with the wife on what modes of transport we should use to get to town in our leisure time. Annoyingly, a stay of less than 3 hours was cheaper by car than for the wife to get a day rider on the bus (We really need return tickets brought back!).
As time rolled on, the company I work for decided to join the corporate Metro card scheme. For me this meant a 15% reduction in the cost of an annual pass (on top of an annual pass being cheaper than the monthly pass too). My photocard remained constant, the ticket changed.
Now Metro are rolling out their equivalent to the Oyster Card – The M Card (which sounds like Dame Judi's personalised Morrisons loyalty card). It was rolled out with senior citizens last year and now, amongst others, it has been rolled out to annual pass holders.
So why do I view myself as a ticket holder and no longer a customer? The new smart card combines both elements of the old system – the photocard and the ticket. There were two ways of skinning this cat:
1. Providing a photocard with the ticket information loaded onto the card.
2. As above but with the ticket information actually printed on the card too.
The benefit of the former is that the pass holder retains the card with new ticket data loaded to it as required. This negates the cost of reissuing new cards when the ticket expires or a different pass is required. Like with the old system someone can become a lapsed customer, but has the ability to quickly re-engage when required.
It creates a sense of membership which can manifest itself into a walking, talking brand ambassador. This could be a zero cost, trusted marketing source to support the take-up of the pay as you go cards when they are introduced.
Anyway, Metro pursued option 2.
Where previously they issued me with a new piece of card with ticket information on each year, they now have to produce a whole new plastic card.
"But the new technology isn't all about fancy looking cards?"
It can help track journeys too to help the Authority understand what methods of transport people are using to get from A to B. Except, there is no compulsion to actually scan your card on bus journeys. The very useful leaflet that accompanied the new card explained it's at the bus drivers discretion.
"If Metro know where you live and where you work then it shouldn't matter?"
Partly true but surely they'd like to know where I am travelling and there are often a few ways of getting from A to B – my return journey has at least 8 route permutations. If you ever use public transport you may have come across the researchers asking where you got on the bus or train and where you are getting off. It's been a while since I met one. I asked him why they only ever ask where I'm going to on this leg of my journey, not where I've come from and where I'm going. He replied that wasn't what the companies were asked to collect. He also told me their jobs were being phased out because the new smart cards would capture the information they collected. However, at present the public transport network isn't fully ready for smart cards. You can still walk onto trains in most areas without a ticket. I guess this will change in time.
"Aren't London are planning to dispense with Oyster Cards?"
True. In 2012, Transport for London began accepting payment from contactless banking cards, which in the long term sort of means that producing their own contactless card is a bit of a waste of money.
The Oyster Card has been a resounding success in London. Will the M Card have the same success in West Yorkshire? Well, it's like comparing apples with oranges as the transport networks, levels of investment, existing transport usage, and geography are totally different.
Part of what Metro require is an effective relationship marketing strategy, building on their existing customer base to sell the benefits of this new technology.
As a long term customer I feel a bit disengaged.