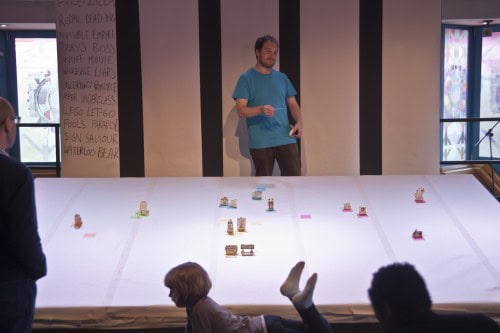 Don't worry, I'm not about to go all Max Bygraves on you, here!  And before I make myself sound waaaahaaaay older than I actually am, I'll quickly follow that up by telling you about one of my favourite telly programmes as a kid in the early 80s.
The theme tune went something along the lines of "I am a story-teller, and my stories must be told…" and then went on about this chap who was a travelling minstrel type who went by the names of John, Johann and Jan depending on where he was in the world. Do you remember it?
I suppose I just wanted to set the scene before I started to try and tell you about the 14 incredible hours I spent at the West Yorkshire Playhouse yesterday for the 'middle Saturday' of its Transform season.  Yes, 14 hours.  In one place. One theatre. But a theatre that feels like a very different place than it did to me a few hours, weeks and months ago…
Part of the reason for that is that I'm one of the 21 Writers who had our short plays performed as part of Transform in the Courtyard Theatre at the WYP last Tuesday. It was the end of this year's 'So You Want To Be A Writer?' course that started in March and during which we've been tutored and supported by some wonderfully talented writers, producers, directors and actors.
My answer to the question in the course's title is most definitely a big fat YES. Well, I always was a writer, of varying sorts, but it's given me some great experience(s), taught me an awful lot and helped increase my confidence to say "I'm a writer" when I meet new people and they ask me what I do.
And I met a lot of new people yesterday, and had the chance to catch up with people I know already. All of them interesting, talented, funny folk, and each with their stories to tell.
I can't even start to do justice in one article about each individual performance, experience or event that I saw or took part in yesterday's 'theatre-thon'. For me the only very, very slight downside to Transform is that each day's programme is unique and you won't get the chance to see it again.
But even if they did have the same line up on another day then you'd experience it in a very different way to me, anyway, wouldn't you? And the day would be completely different because different people would be watching and taking part, each with their own life experiences, frames of reference and, of course, stories to tell.
I will do a quick recap, and explain my choice of pictures, though, if that's OK:
First up for me to experience was Story Map: What I Heard About The World, from Third Angel  and mala voadora – aka Chris, Alex and Jorge – and you can see the early stages of their production above. They were there to create a world map of stories. One for each country in the world, which either they would tell us, or we could contribute. The only criteria was that it had to be about something fake, a replica or a substitute. It's a project/piece of work/production based on a story they heard about 'Flat Daddies' in America. You can just search for that to find out more – I've checked!
So, this was a chance to tell stories – my favourite thing in the whole world that I no longer get into trouble for doing – and a chance to listen to stories – a dead heat in the 'my favourite things' race.
It's a tough call from such a fantastic line-up, but Story Map was also my favourite 'thing' of the day. Not least because they let me break the rules by adding a second story to South Africa. I told a story about District Six in Cape Town, where there is essentially a miniature replica of the multi-cultural, thriving community that was literally bulldozed by the apartheid regime because they didn't like it and what it represented.
It's a replica for remembrance, a museum of memories, brought to life by the people who visit it – many of whom used to live there – and features the original street signs that were kept safe by the foreman in charge of the destruction of the area. He knew it was wrong when he was told to destroy everything. He was obeying orders, but knew he should keep the street signs so that he could rightfully return them to the community when things got better. This is a simplistic view of a highly complex situation, but that's the only way I can tell it here and now – I hope you understand.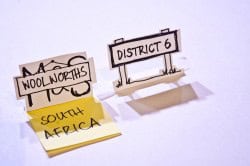 So, anyway, I got 'my' District Six story on there – a story about District Six from my perspective, my version of the truth – and many, many others contributed throughout the day. Chris, Alex and Jorge were there for the full 14 hours too, and they only took two ten minute breaks. Phew. And every time I went off to watch a performance or take part in an event I kept returning to a creation that just grew and grew and grew with more and more amazing, incredible and just downright weird or messed up stories. Completely compelling.
Completely compelling is how I'd describe most of what I saw yesterday, whether the symposium about personal biography and story-telling or 'Handbag' – a story involving dancing and handbags but told without words.
And it can also be used to describe the first three of the evening performances – The Tin Ring, The Tagore Project and The Mamba, which were the result of five days work – ie the previous five days of Transform.
And then I'd have to go dial it up a notch or two and plump for 'utterly captivating' to describe Lemn Sissay – him, his story and the production of Something Dark – the headline act of the day.
I just urge you to look up all of the artists and events who were on the Transform programme yesterday – there are others – but I'm only able to tell you what I experienced, of course.
And that pretty much sums up for me what the theme for yesterday really was. It was about story-telling, from many different perspectives. A story can be your own, or one about others. It can be told in many different ways, by many different people, whether you're John, Johann or Jan.
It was also about truth. The whole truth. Nothing but the truth. The many different versions of truth. Having the courage to tell the truth.
And it was about love. Love within the stories. Our love of stories. Loving stories that are truthful – on whatever level – and how that can bring us together, or set us apart.
Lastly, Transform is making me think about what theatre is, and what 'a theatre' is, or what it can be…
I'll finish by telling you a little story about my wristband – which you buy for just £15 and it gives you access to everything on as part of Transform for that day. I've only just taken it off – 24 hours after I arrived at the West Yorkshire Playhouse and nearly 12 hours after I left. I'd have kept it on longer if things like showering didn't need to interrupt my day. I wanted to keep it on. A bit like when you leave a festival and don't want to take off your wristband because then that means it's over and you just don't want it to end. No, exactly like that.
Transform is on at the West Yorkshire Playhouse until Saturday 18th June. For the full programme – including yesterday's line-up – go to www.wyp.org.uk. Enjoy!
Clancy (@clancywalker)