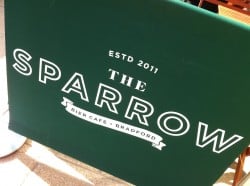 Bradford has a new place to nest if you're thirsting for a relaxed pint. After missing the official launch, myself and a couple of trusted drinking buddies (Dean Pugh, Bar Manager of Mr Foley's, and Rob Derbyshire of Hopzine) headed over to The Sparrow Bier Cafe, to see what Bradford's newest drinking den had to offer.
It's a tidy little joint; bare floorboards underfoot, gig posters on the wall, and a huge chalkboard next to the bar advising what's on. Casks of beer lined the walls on our visit; a sign that there's simply too much good beer to put on the bar at any one time. As we unwound and tucked into our beers, the place slowly filled up and by the time we left there was a great, relaxed Monday-night vibe about the place.
Beer-wise, I was impressed. Owners Les Hall and Mark Husak clearly know what they are doing and have passion for beer –  in all its forms. The fridges are well stocked and varied, and the bar offered beers from local heroes Saltaire and craft-brewing demigods Thornbridge, as well as beers from further afield brewed by the likes of BrewDog and the excellent Camden Town Brewery. All beers were in decent condition and incredibly well-priced, too – Continental-style Bier Cafe this may be, but that no-nonsense, eminently Bradfordian accent shines through; you aren't going to get overpriced beer here.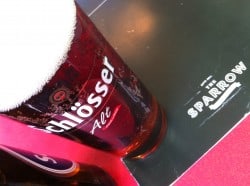 With the formica tables, sage-green walls and retro light fittings, The Sparrow kind of reminded me of a 60's chippy (bear with me on this one), but in a good way. There's a homeliness to it, and an absolute lack of pretention that can often leave high-end beer bars to be intimidating places for the non-hip. Laid-back, pleasantly scruffy, and with pleasant, knowledgable staff, The Sparrow is one to watch out for. The place can only get better as Mark and Les find thier feet. Plus, any place where I can sip a glass of Bernard Dark and listen to Lambchop gets my vote.
The Sparrow Bier Cafe, 32 North Parade, Bradford, BD1 3HZ
You can follow the Sparrow on Twitter @thesparrowbd1
– and on Facebook www.facebook.com/thesparrowbradford