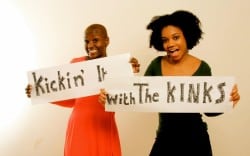 On Saturday the 25th of January from 4.30pm at The Ukranian Club in Chapeltown, join presenter Mundia Situmbeko and artist Selina Thompson at a film screening and discussion of the documentary Kickin' it with the Kinks.
Kickin' it with the Kinks came to life as a self-funded documentary with a focus on the increasing trend amongst women of African descent 'going natural' when it comes to their hairstyle. The documentary initially started as a final year university project and quickly won accolades for the documentary presentation work done by Manchester student, blogger and Blackgirl Flow co-founder Mundia Situmbeko, who joins artist Selina Thompson for a Q&A after the screening.
In Kickin' it with the Kinks Mundia Situmbeko investigates the theme of beauty to answer her own questions on wearing natural hair. The film explores the complexities of haircare among women and especially among women of African descent. While many have opted to be part of the growing trend of 'going natural,' others continue to expend enormous amounts of time, energy and money to achieve unnaturally long flowy hair.
Mundia also meets with specialists who are able to give insightful points from the history of afro-textured hair and the booming hair product and extension industries. This journey enables her to have insights and give her the strength to embrace her own beauty.
Selina Thompson is an artist born in Birmingham, and based in Beeston. She creates work that is joyous, participatory, based around ideas of change and the marks that this leaves on your environment and body. In the last year, she has developed her first Arts Council commission, a full length theatre show Chewing the Fat, that will be touring throughout 2014. She has also been selected by York Theatre Royal to lead their On Our Turf project for Easingwold, where she will be curating and facilitating a community-led Live Art festival in Summer 2014.
Dark and Lovely is a new one-night performance and week-long installation from 15th February. The project is inspired by Selina's research of what black hair is and means today. Rooting herself in Chapeltown's salons and beauty shops since August 2013, Selina has been exploring afro hair: its politics, its connotations, and what it tells us about being Black, British and young in the UK today.
This event is supported by East Street Arts and Leeds Inspired.