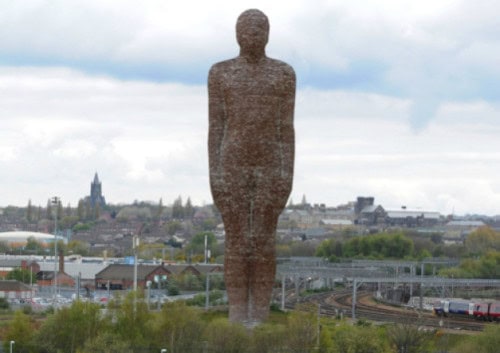 It's not often I get an urge to read a council report let alone review one. To me the language of local democracy is as unfamiliar and mysterious as Aramaic or a car maintenance manual, but this document about Leeds' possible bid for European Capital of Culture is a bit different.
It talks about encouraging a city conversation over what the bid would mean for Leeds – the issues, the opportunities, the potential risks – which I think is a great idea. Let's get people talking – actually, they already are. And it makes the very sensible point that Bringing the city together to bid is almost as important as winning. I couldn't agree more, let's have more of this civic enterprise stuff. There's even the odd joke, like this absolute howler: Leeds is arguably not currently even the best city for culture in Yorkshire! … I know, that one had me roaring into my whisky all evening. Great gag, which I've used a couple of times since and it hasn't failed to raise a laugh.
I'd even go so far as to say I agreed with the economic/tourist/investment argument that A bid could help us build an international image of a 21st century Leeds in Europe and beyond, a vital creative 'can-do' city for future generations with an associated increase in jobs, skills, technological and business capacity; and accelerate improvements to the environment and public realm. Fantastic. And I've got some great ideas about public realm too, so can't wait to get cracking.
Altogether it's a great report and you all should read it and support the bid. As someone in the audience at the Town Hall meeting said, it's a no brainer.
But there are a couple of things in the report that did cause my brain to light up and go, "whoa, wait a minute!" A couple of things that may need our collective brain power to sort. So in the spirit of "city conversation" here's my two penn'oth.
First the minor quibble. The report says,
A bid also offers an opportunity to develop a clear narrative and cultural identity for the city, clearly and consistently articulating the offer to residents, businesses, investors and visitors and raising the profile of the city internationally.

Leeds itself does not really have an identifiable cultural profile outside of retail. It is notable that hardly any of our major arts institutions have a titular Leeds identity. Think of Opera North, Northern Ballet, West Yorkshire Playhouse, Yorkshire Dance, Northern School of Contemporary Dance. Currently, is Leeds much less than the sum of its remarkable parts?
This makes us sound like a cultural Frankenstein's monster – lots of "remarkable parts" and loads of energy, but uncoordinated, unlovable and unable to make a good impression. The City of Culture bid will be just a monster makeover. We'll get Leeds to learn a couple of chat up lines (a "clear narrative") to help the city pick up investment, business and tourists, then kit it out in some fetching clobber (a titular rebrand for all those cultural institutions to make sure they are all going in One Direction?) … but at heart won't we be just the same old place, no matter what new "cultural identity" we try to don? What if we simply don't suit the cultural identity that is developed for us? What if, beneath the shiny, happy new cultural identity we are still the same lumbering monster we always were? Can we as a city change that much, and would we still be "Leeds"?
The second point is much more important. Read this remarkable paragraph:
A major consideration is the question of how would achieving this award make any difference to those living in poverty in the city? How could bidding for the title make a difference to a 10 year old living in poverty now who will be an adult in 2023, or to a young woman of 20 not in education, employment or training now and who will be 30 in 2023? We know that in general, and despite excellent programmes of education and engagement, our cultural riches do not always serve everyone equally, or make a difference to their lives. If our proposal for European Capital of Culture did not directly address this question and involve every community in the city, we should perhaps not bid.
Perhaps the best thing you could do for that ten year old kid would be to make sure he never got interested in the arts and culture, else by 2023 he'd still likely be living in poverty.
Joking aside there's so much wrong with this it's hard to know where to begin. Putting it bluntly, if that last sentence is meant seriously then, no, we shouldn't bid. If the sole priority is to eliminate poverty and involve every community (whatever that means) then there are more effective and efficient ways than bidding for the European City of Culture. We are kidding ourselves if we think the bid would "directly" address that sort of question. I'm willing to spend a day or two anytime with the authors of the report in any community of their choice knocking on doors asking people what they thought of the idea that cultural stuff has the slightest impact on their levels of poverty, let's find out what they say (and let's not ask arts/cultural organisations this question because of course they will say it does – they are getting the grants though, not the communities.) If we did put all our resources into tackling poverty, however, that ten year old kid would reach 2023 and bugger off to Manchester, where there's bound to be something going on. There has to be a reason to stay in a place beyond economic equality.
Why should "our cultural riches … serve everyone equally" anyway? Out of the five "major arts institutions" mentioned in the report I personally attend one regularly. I find dance a bore, opera a chore, and I'll thump the next know nothing young poet in Nike trainers who wants to assault my ears with a foolish rant about American imperialism … I couldn't give a hoot about those things. I do give a damn that Leeds only has one bookshop (that's where my cultural identity comes from) and that the magnificent lion sculptures on our Town Hall have deteriorated almost beyond recognition (a strong indication of the level of genuine civic pride in the place.) We're all different and need different things from the city. I do want opera and dance and poetry … but I want them for other people. In a civilised city I think that everyone could have their cultural needs catered for – but that doesn't mean you'll ever get me along to a poetry slam. Glad it's there but I don't want to go. The only difference it would make to my life would be to add homicidal rage. Most cultural stuff is minority taste. There's a set point for interest and involvement, and it's not "for all" no matter what the Arts Council ideology would like us to believe.
So, let's bid for European City of Culture, but let's do it honestly, fully facing the facts. One thing I do know about the "cultural identity" of Leeds is that we can take it and we don't do bullshit. Especially arty farty bullshit. It's just not us.