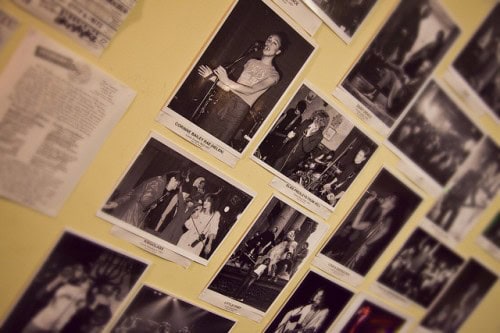 Guest blogger Richard Higgins previews an exhibition of Leeds' musical history . . . he described it to me as a real labour of love. I can believe him!
When it comes to identifying music with cities, one thinks of Manchester and The Smiths/Joy Division/Oasis/New Order/Factory/Hacienda/The Hollies and Tony Wilson all trip off the tongue. For Liverpool read The Beatles (obviously)/Eric's nightclub/The Cavern/Echo and The Bunnymen/Teardrop Explodes/Frankie Goes to Hollywood, OMD and so on. Even steel city Sheffield can muster up a Def Leppard, an Arctic Monkey, a Joe Cocker, a Jarvis Cocker/Human League/Abc etc
But the sound of Leeds…..well there's those Kaiser Pigeon people….Corinne Bailey Rae…and The Who recorded a jolly good live album here but, er that's it really?
Wrong. Leeds has always had a thriving, varied music and live band scene, it's just not been as vociferous as other cities in blowing its own trumpet (or plucking it's own a gee-tar). However a new exhibition at the Leeds Town Hall Crypt hopes to readdress this perceived lack of a musical heritage.
Named after a Mekons song, 'Where Were You?' is a celebration of the bands, the labels, the gigs and the venues that helped put Leeds on the musical map. Some may be wilfully obscure, others such as the aforementioned Kaiser Chiefs and Pigeon Detectives represent the current crop of local Leodis talent.
A wide range of memorabilia has been graciously donated including actual Q and Grammy awards for Corinne Bailey Rae, a guitar and amp representing the Sisters of Mercy from 1980 to the current day plus an amazing array of gold and silver discs, instruments, gig posters, flyers, photos and record sleeves that illustrate the DIY ethos, musical diversity and originality inherent in the Leeds music scene.
It's a real memory jolt and offers up some fascinating insights into the past Leeds music scene- who would have guessed U2 once played the Merrion Centre?!
From the Three Johns to Cud, Bridewell Taxis to Jake Thackray, Age Of Chance to Spacehog the exhibition covers the whole gamut of styles and artists synonymous with Leeds including material dating back to the 1950's when Leeds thriving jazz scene played hosts to the likes of Humphrey Lyttelton and the Glen Miller Band.
The exhibition is free, open daily from 9am- 5am Monday to Saturday until 27th August. Lunchtime performances and talks are scheduled with the likes of Boff from Chumbawamba and legendary Leeds promoter John Keenan (F-Club/Futurama Festivals/The Duchess/New Roscoe) due to appear.
The organisers (a bunch of music loving fans for whom this has been a labour of love) are also keen to stress that is an evolving exhibition, organically growing and developing so if you have any memorabilia, photos, posters, sleeves, programmes, tickets etc that you wish to share, please bring it along where it will be carefully catalogued before going on display. You too can help celebrate the city's rich musical history.
For further information and updates regarding performances and talks, check the link
Some pics on Flickr
and some news.