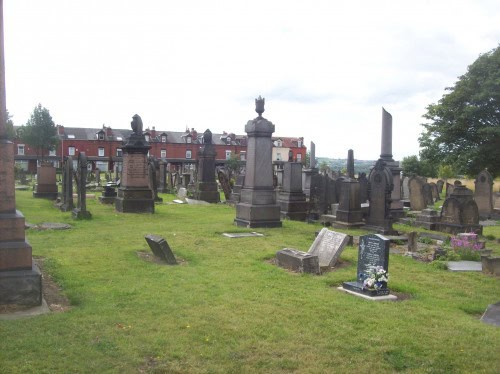 "Beneath your feet's a poet, then a pit.
Poetry supporter, if you're here to find
how poems can grow from (beat you to it!) SHIT
find the beef, the beer, the bread, then look behind."
Tony Harrison hardly features in the entire breadth of the Oxford University English faculty reading list – apart from a cursory mention in a drab preliminary lecture on language variation for 'Them & [uz]'.
But when I had the chance to specialise in authors and poets of my own choice, I read him at length.
His poem entitled simply 'v.' is Harrison's magnum opus, like Eliot's 'Waste Land' or Tennyson's 'In Memoriam' – but for the age of Thatcherism and the National Front, rather than that of Queen Victoria and Empire or of Modernism and World War.
Set in Holbeck Cemetery where his family grave still sleeps, it was made notorious by a Channel 4 adaptation in the mid-eighties.
It is, at once, a political treatise on social division and harmony; an elegy on the passing of time and the changes from one generation to the next; and of course in some modest way the story of a city.
Division has been the key theme in the news over the last week: one side united versus the other; class versus class; generation versus generation; left versus right.
Pitting the poet Harrison in a verbal joust against a skinhead Leeds supporter who lets out his frustration by climbing drunk up Beeston Hill from Elland Road and daubing curse-words on the old shale headstones in Holbeck Cemetery, the riots and vandalism and theft witnessed across the country last week are as appropriate a context as any in which to read it once again.
It expresses the anger (some would say "mindless") of the skinhead on the dole: "what really riles a bloke" is "reading on their graves the jobs they did — / butcher, publican and baker. Me, I'll croak doing t'same nowt ah do now as a kid." But it also expresses Harrison's despair, echoing that of the millions of people who watched on their television sets the scenes unfolding in Britain's cities last week, wishing "on this skin's word deep aspirations", angry at "ungrateful cunts" like the skinhead in whose poetry Harrison himself is trying to lend a voice.
The skinhead declares: "Folk on t'fucking dole / 'ave got about as much scope to aspire / above the shit they're dumped in, cunt, as coal / aspires to be chucked on t'fucking fire".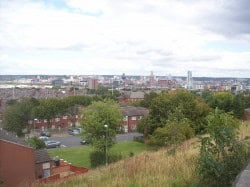 But in the final pair of stanzas, Harrison tells the "Poetry supporter" where to come if "he/she wants to understand": "face this grave on Beeston Hill, your back to Leeds", and read his epitaph: "if you're here to find how poems can grow from SHIT, find the beef, the beer, the bread, then look behind."
I read that poem once again today whilst sitting at the viewing gallery, overlooking the Holbeck terraces, and the city of Leeds rising beyond. I found – back to Leeds – the Harrison grave, and the butcher, the publican, and the baker whose bodies there lie.
I was never a very good English student because I never had the brash, theatrical self-confidence to be able to say with seeming conviction what something "really means". But standing there today, I turned and looked behind me, and saw the city of Leeds rising, glowing beneath the midday kiss of the sunlight.
Just like the futures of all those caught up in last week's trouble could have – and perhaps still can – "grow from shit", perhaps something similar has happened, and still to this day is happening, here in Leeds.
I've written already this month about the ambition of so many who have come to Leeds: building towering monuments; endeavouring to build civic pride and community; always building something new and better.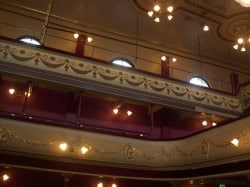 City Varieties on Swan Street stands today amid the arcades which were once the site of the back-alleys and slaughterhouses off Briggate. Lying dormant in recent months whilst undergoing a complete renovation, it is now just weeks away from its grand re-opening. Returning to Leeds from Beeston this afternoon, I was given a sneak preview ahead of its press launch this week.
One of the few Victorian music halls remaining in its old-school grandeur, it was built back in 1865 and has survived almost unchanged. Indeed, during its refurbishment in recent months, much of its original beauty has been rediscovered. Beautiful paintwork – long since overlaid by nicotine stains and redecoration – has been restored, whilst old sweet packets and show programmes long lost beneath the floorboards of the auditorium are now on display.
The addition of a modern glass-fronted reception area, with a lift which rises to the circle and affords an unrivalled view across the rooftops of Leeds city centre, is a sublime finish, complementing sweetly the restoration of its original quality.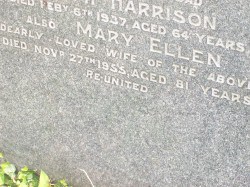 I remember watching Sooty when I was younger, and he was visiting Leeds on one of his many appearances at the City Varieties. Whether or not Sooty shows up again, I expect I'll be back again very soon.
And I hope as many Leeds folk as possible get to see it, and marvel at what the City Varieties – through the centuries – has grown from.  Maybe then it will bless at least some of us who get to see it with "deep aspirations" of our own, connecting us to our past and our future, and to the city around us too. "UNITED" once again, as Harrison would have it.
For further background as to Mark's challenge check out '28 days later'