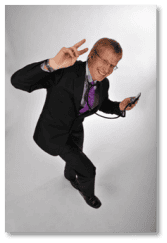 Guest blog post by the whirling dervish behind the new LoveArtsLeeds Festival Victoria Betton. Disclaimer I sit on the steering group, that's not to be confused with being any use or ornament to this amazing team, who have pulled together an amazing smorgasbord of interesting opportunities to get your head around mental in a way which isn't worthy and dull but thought provoking, head scratching and dare I say it…entertaining! Expect a few more blog posts throughout the festival. But don't say we didn't let you know it was happening.
We've got 4 blogger tickets on offer for Tuesday. Let me know in the comments box if you'd like to come along and blog about it.
Here's Victoria
We are delighted to be partnering with Opera North for our public launch event at the Howard Assembly Room.
We have an amazing evening lined up for you. Kicking us off will be the beautiful melodies of award-winning folk duo, O'Hooley and Tidow.
Our headline act is Dr Phil Hammond – a GP writer, broadcaster and possibly the only comedian to have appeared at a public enquiry. He is the Private Eye's medical correspondent and has appeared on numerous shows such as Have I Got News for You and The News Quiz. Phil will be sharing his personal and professional take on mental health, well being and the arts, as well as joining Sue Baker, Director of Time to Change and Cluny McPherson, Regional Director of Arts Council England, for an audience question and answer session.
Described as 'edgy romanticists', O'Hooley & Tidow bring their intensely beautiful, poetic and wryly observant take on the human condition to the contemporary folk scene.
We'll enjoy background music from the wonderful Leeds Concert Band, and if you're very lucky you may even get a Love Arts temporary tattoo for your very own memento of the occasion!
6pm to 8pm, 27 September 2011
Location: Howard Assembly Room, Grand Theatre
46 New Briggate, Leeds, West Yorkshire LS1 6NU
Cost: £12 per ticket, please call 0844 8482727 to book or visit Leeds Grand Theatre Booking