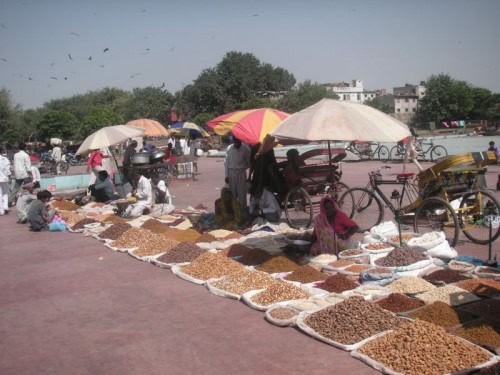 Guest blog from Ashley Mann
I come from an English-Indian background, I bloody love curry and I love the culture that exists around the preparation, consumption and enjoyment of this sort of food. I don't think I have been to any family occasion that hasn't featured curry and indian food in large amounts. So when I heard about the World Curry Festival I was very (very) excited.
This was the promise:
The World Curry Festival was born out of a love of food, culture and community. It's a unique event that's quite simply 'a celebration of all things – past, present and future – curry'.
Foodies from far and wide come to experience the authentic tastes of India, Pakistan, Bangladesh and the Caribbean, to name but a few, and to revel in the party atmosphere.
The reality, unfortunately, didn't quite meet these ambitions. And I was so disappointed. When I first heard about the Curry Festival last year I thought it was a brilliant idea, as the blurb on the Festival's website says: "people may follow different religions or hold conflicting political views, but talk about curry and they'll have something to say to each other.". As it turned out I couldn't make it last year – probably a good thing as the consensus seemed to be that it was expensive and they ran out of curry (not ideal). So this year I was determined to go and see whether it was as it good as it should be, (and hopefully they'd learnt from the hiccups from their debut performance).
The Festival in reality seemed to consist of some stalls selling curry, a big tent with intermittent cookery demonstrations (I think, nothing happened in it while I was there) and an enormous Morrisons tent/monstrosity (fair enough, they were sponsoring the event). You may think this sounds like a description of exactly what you'd expect from a curry festival? But to me it just felt like a tacky and contrived way of selling curry to people, in Leeds City Centre, during the day.
It certainly didn't feel like a celebration of curry, it felt like a trade show. The Festival obvious recognises that curry isn't just one thing, in their blurb they even say "he authentic tastes of India, Pakistan, Bangladesh and the Caribbean, to name but a few" so why not tell people about this, actually flag the differences, explain the differences between Bengali and Punjabi curry, between Bangladashi and Jamaican curry and let people experience that rather than just shovelling out servings for £5 a go. Get people who are passionate about curry to talk to people, entertain people, educate people (I'm sure the people there were very passionate, they just didn't really seem to have the opportunity to prove this!). Looking at the photos from last year it seems that this was perhaps more of a feature last time around (it also seems the diversity of cuisine was wider in 2010). Maybe this was linked to the way the event was charged for? Last year, I believe it was a fixed price for a ticket and then you could eat as much curry as you wanted once you were inside whereas this year tickets were free and you bought curry from the individual stalls, although even with this structure you could surely cultivate a street market/street party atmosphere?
And as for the cultural/party atmosphere, putting up one stack of speakers and then playing very loud dancehall without a break does not equal a party atmosphere, it equals lots of toddlers with their hands over the ears looking upset.
I think my level of disappointment is directly (and unsurprisingly) linked to my initial levels of excitement. I love curry, I love sharing my love of the cooking and eating of curry – it's brilliant, fun, interesting and bloody tasty but this festival just felt like a soulless retail exercise that did nothing to celebrate or seem to enjoy the very thing it was flogging.