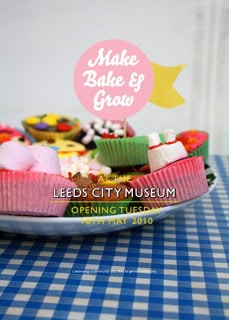 You are cordially invited to the Launch of Make, Bake & Grow at The Leeds City Museum.
Make, Bake & Grow celebrates a community that likes to get it's hands dirty
Every October the Armley Tourist Board presents the Make Bake & Grow festival, a tribute to a collection of like–minded, people from different walks of life who are committed to a greener, more sustainable living. They recognise the importance of the hand-made, baked, grown, reared, decorated, stitched, picked, preserved, distilled, crafted, fermented and brewed.
The physical embodiment of this community's sustainable outlook came in the form of the Charming Armley Make Bake & Grow Calendar, produced by a collective of  Graphic Arts & Design graduates from Leeds Metropolitan University. This exhibition, curated by the same collective, pays homage to the eccentricities and personalities of that eclectic Armley community.
It is the culmination of our conversations and encounters, a forum for sharing ideas, advice and learning.
We would love you to come along to the launch evening where you can share tips, ideas, stories and advice. There will be a exciting range of photography, illustration, animation and objects on display! You might even take a seed of inspiration away with you!
The Launch takes place in :
The Leeds City Museum
Millennium Square
AT
5pm til 7pm
ON
Thursday 20th May.
We hope to see you there!
Refreshments will be provided.