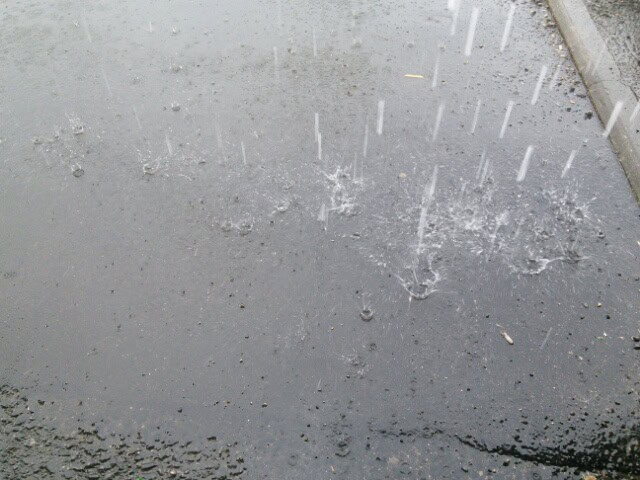 Just before the Tour de France came to Yorkshire – and the only subject acceptable in polite company for a month up North was cycling – I partnered with American Express to recommend the most inspiring hidden (even unheard of) places in Leeds. It was a National campaign, with bloggers from Birmingham, Manchester, Glasgow and London nominating their own favourite spots. Leeds managed to get eleven out of the top fifty; here's the list in the Independent.
One of the things that intrigued me about the conversation generated by the post was the unexpected variety of places around Leeds that people felt were inspiring; from car parks to industrial ruins to beautiful street furniture. Not the most obvious candidates for urban enticement. So I decided over the last couple of days to have a wander to some of the places other people mentioned just to see what was going on.
But first I went by a couple of places that I find fascinating, but which may not be with us much longer Enjoy them while you can.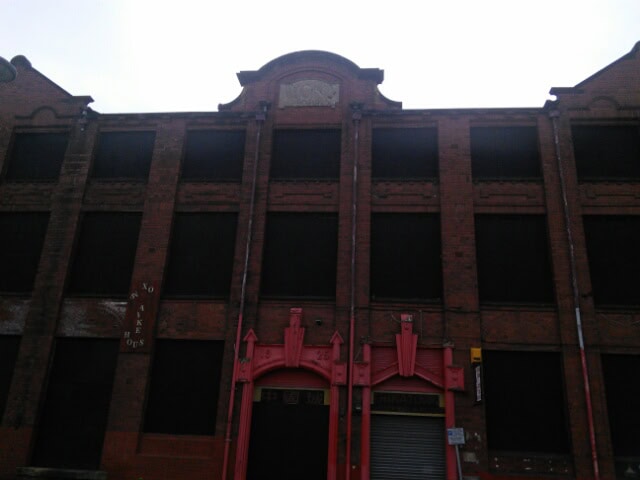 Lyon Works; if you were in Leeds twenty years or so ago this is where you went for a fancy Chinese meal. Right now it appears that the building is safe from demolition (the new Victoria Gate development had wanted to knock it down for a car park) but you never know. If you stand at the corner and look along the front of the building you can see the gentle kink – no building would get away with such an extravagance these days. And make sure you look at the roof …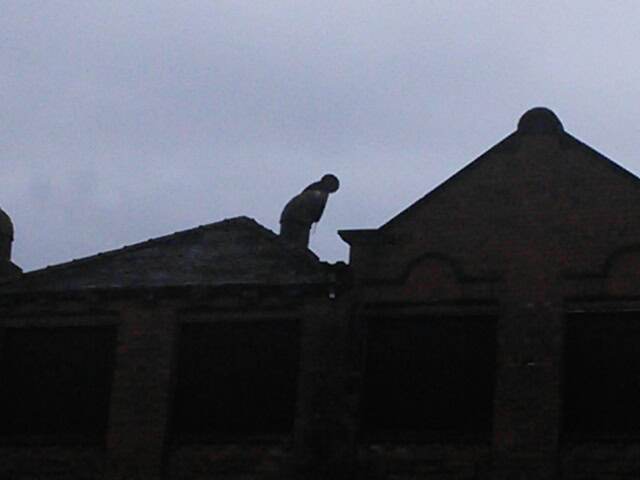 these guys look so much like the Jacob Kramer paintings in Leeds art gallery and the wonderful Stanley and Audrey Burton Gallery in the Uni.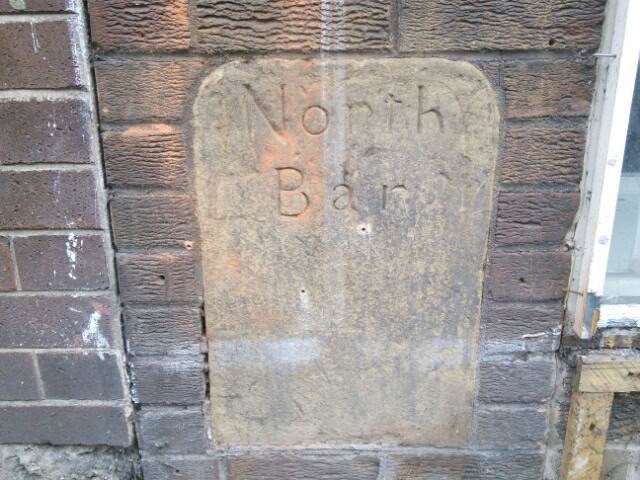 The other thing is this, the North Bar stone. It's only recently (a couple of weeks ago) been uncovered and it won't be here for long – there's a shopping mall to be finished! Go, have a look while you can. There's a long story behind these things.
First stop, Leeds Bridge – and, incidentally the South Bar stone is hidden inside the building on the South West corner.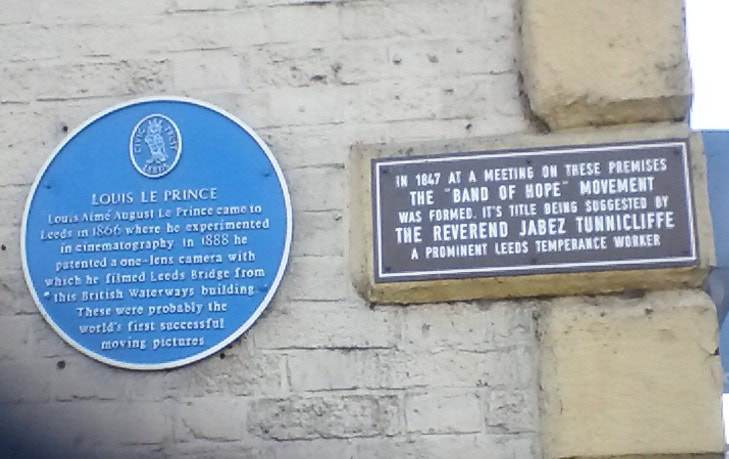 Leeds Bridge is probably most famous for being the place where the first moving images were filmed (probably.) It is also where the Temperance Movement's the Band of Hope was founded by the wonderfully named Jabez Tunnicliffe … which wasn't quite the roaring success that Louis le Prince's invention turned out to be. Apparently the Temperance lot approved of beer – it was the evils of spirits and hard liquor they were opposed to – which was fortunate as this place was in the shadow of the mighty Tetley brewery.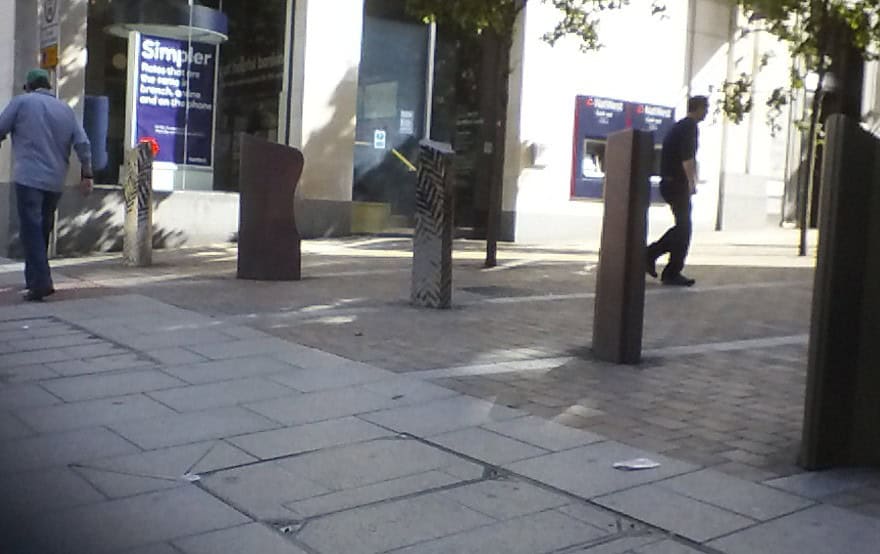 Next stop, the junction of Park Row and Commercial Street.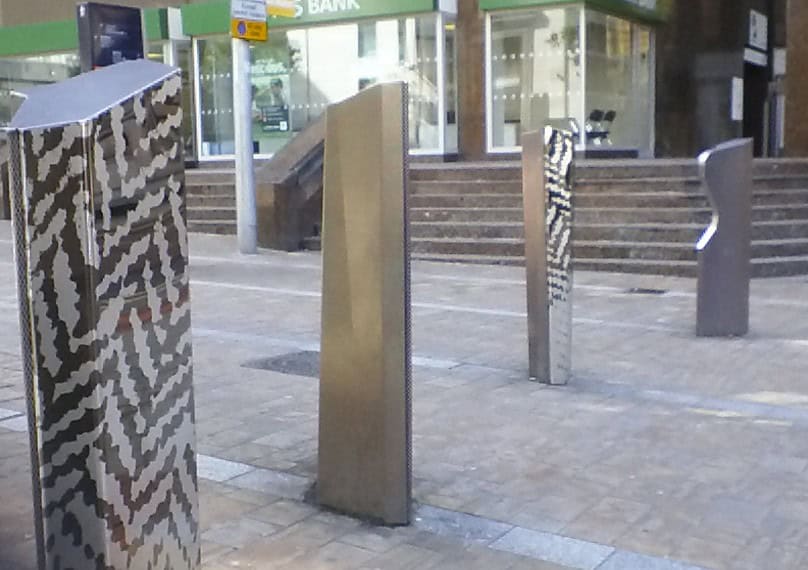 I couldn't put it better than Mr Walter Grumpius, who commented:
"Artist Linda Schwab's exquisite bollards at the junction of Commercial Street and Park Row. The five bollards, collectively known as "Threads" are that rare thing – a really intelligent invocation of Leeds' textile heritage and beautiful to behold. I walk past these every day on my way to and from work and they rarely fail to attract a glance."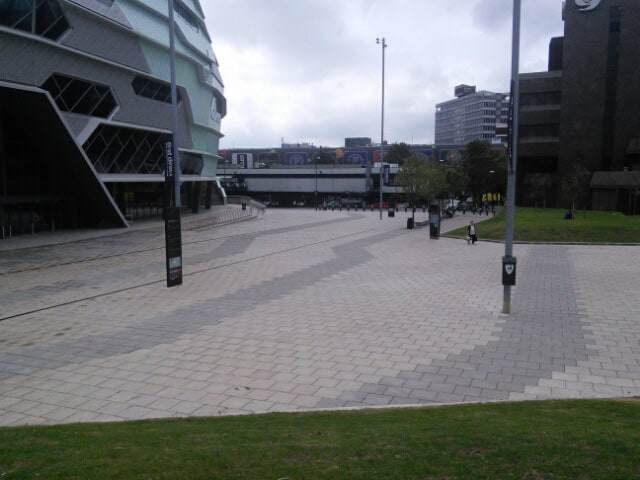 On to the space outside the Arena, which someone commented looked like the set of a Zombie apocalypse film – in the nicest possible way … I couldn't possibly comment. I wonder if the two-tone pavement swoosh was designed or random – either way it's an odd effect.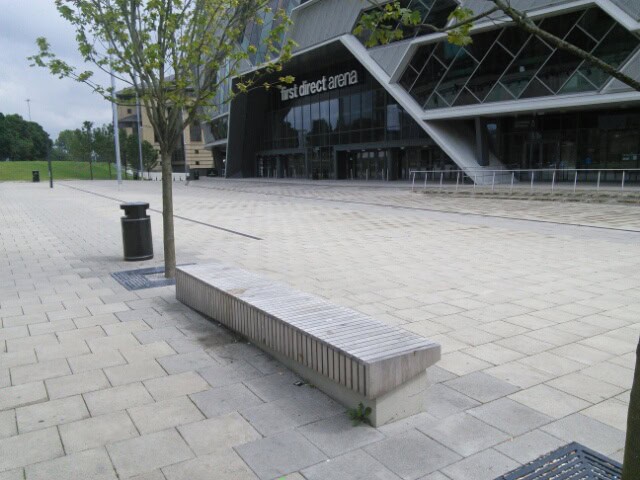 The benches are good, however.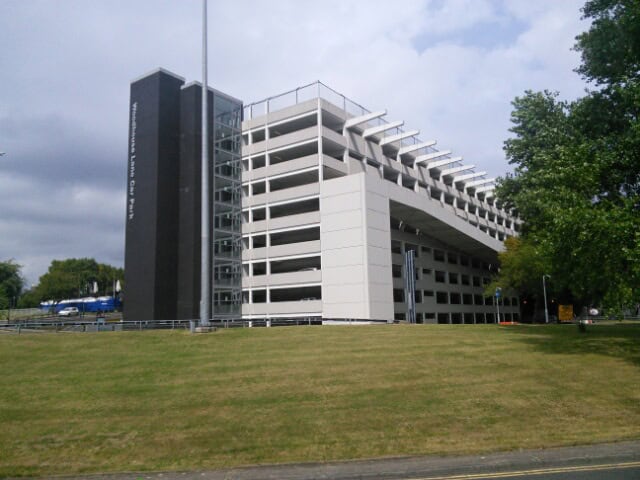 Woodhouse Lane car park; for all my scepticism this actually is an impressive space. Completely the opposite of those cramped, cheerless, cheap places that spoil most city centres – this is almost a temple to transport.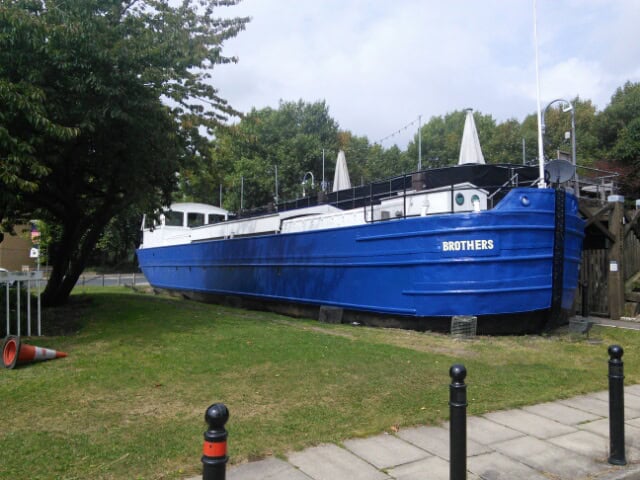 Is this a boat, or is it a pub? Well, it's both. The Dry Dock. Mostly for students, but it's an interesting place.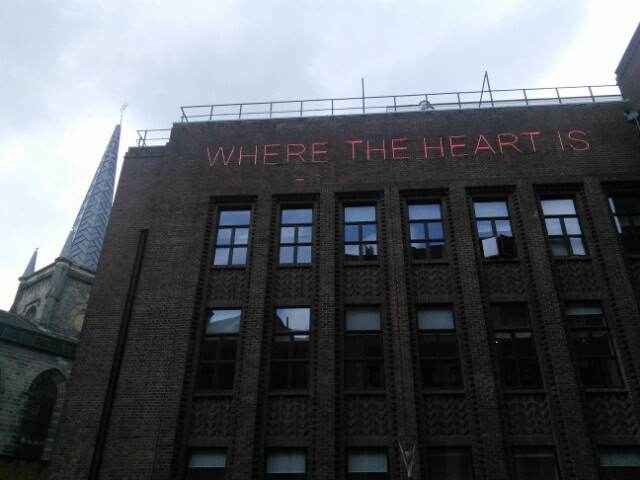 I was curious about Algernon Firth. That neon light art work by Tim Etchells has only recently been installed. Very good indeed!. The building used to be the Institute of Pathology in the General Infirmary, and now it's student flats. We never got to live in the splendours of listed Art Deco accommodation in my day.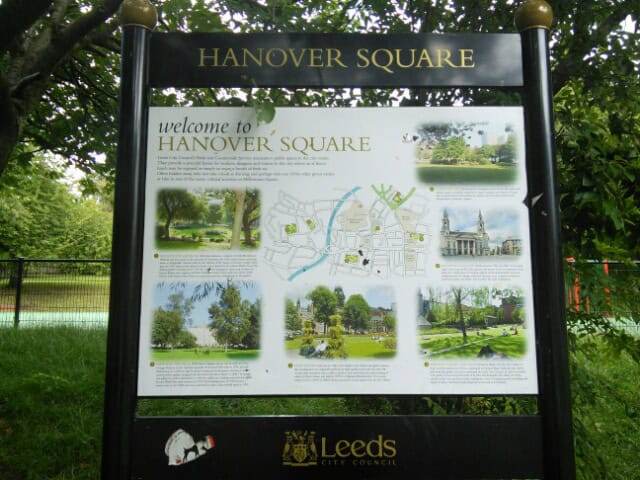 Here's Hanover Square.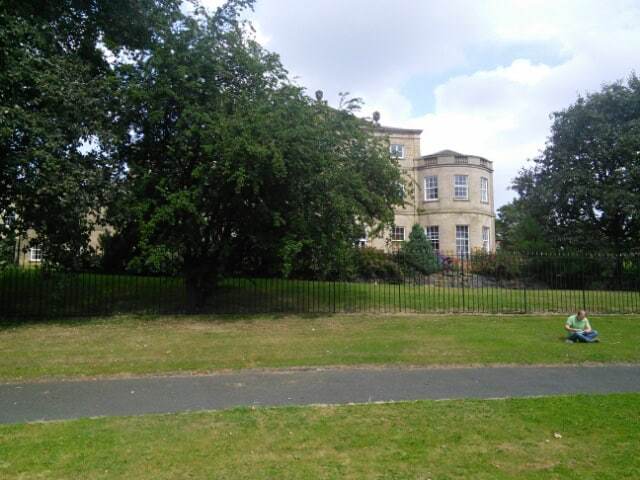 Shabby, seen better days, and ever so slightly twee … but, apart from the very imposing fence which surrounds it, very livable.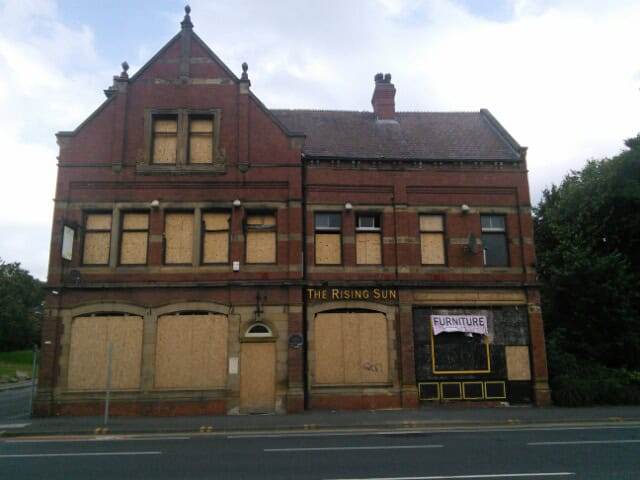 There are loads of derelict pubs. The Rising Sun on Kirkstall Road is a favourite. A reminder of a day when Leeds had thriving suburbs and could sustain a load of locals – there's another couple of pubs within a minute walking distance, both also shut – and when it wasn't so town centre focused.
I completely missed the entrance to Kirkstall Valley Nature Reserve – there's no sign on the side walking from town – and ended up here, in a place I'm not sure how to pronounce.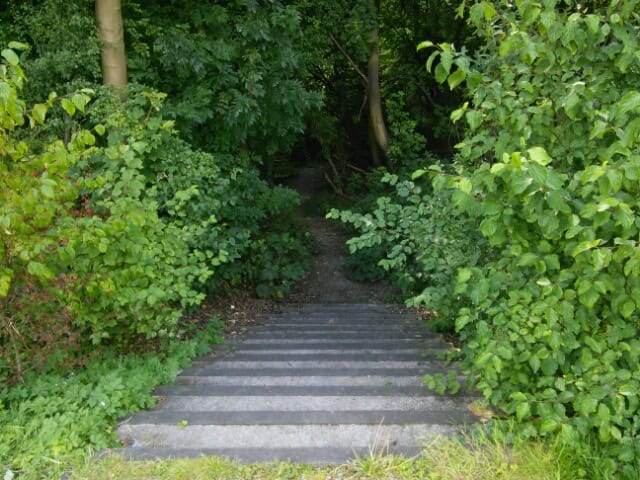 But here goes …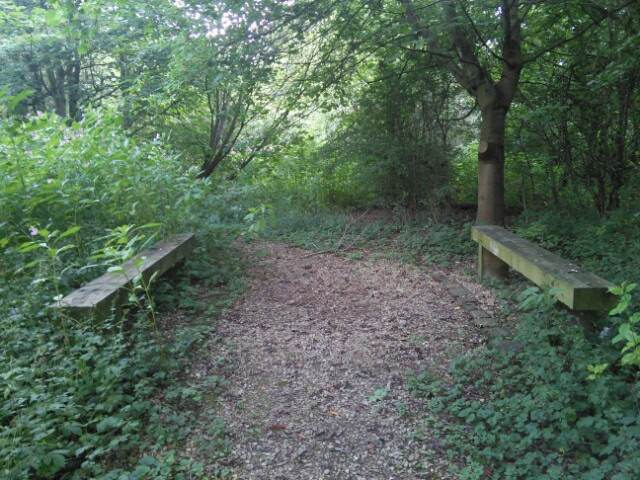 some nice shady benches – less than thirty yards from Kirkstall Road and you aren't in the city any longer. There's no traffic noise, which is eerie at first. Completely quiet except for the birds, the insects, and the river.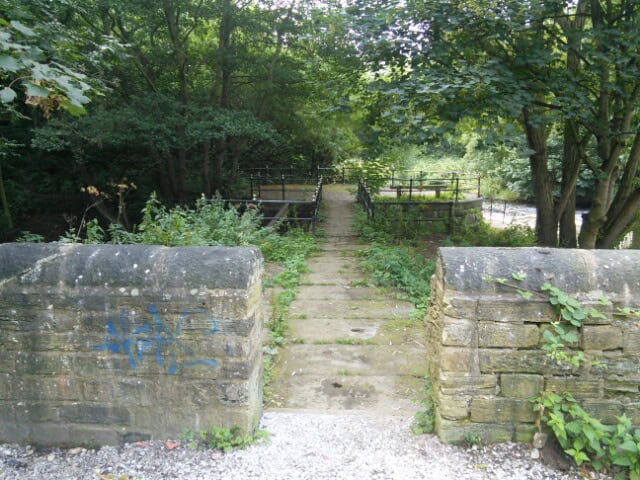 This is lovely. Obviously there was once more to it and it's not in a great state of repair, but it works. And look where it leads.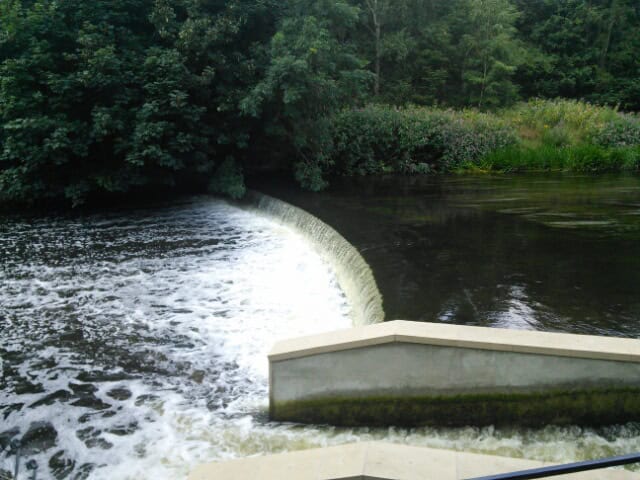 I could have stayed and watched the river all afternoon, but it's only a short walk back to the entrance to Kirkstall Valley Nature Reserve. Hardly a very welcoming entrance, and cars and lorries drive up and down here all the time.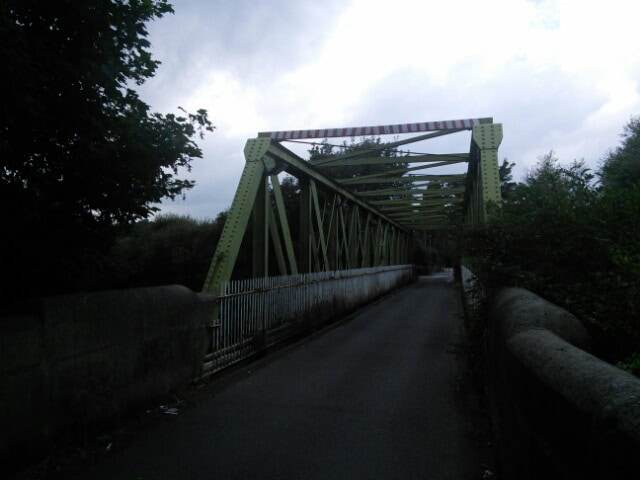 Still, this isn't so bad.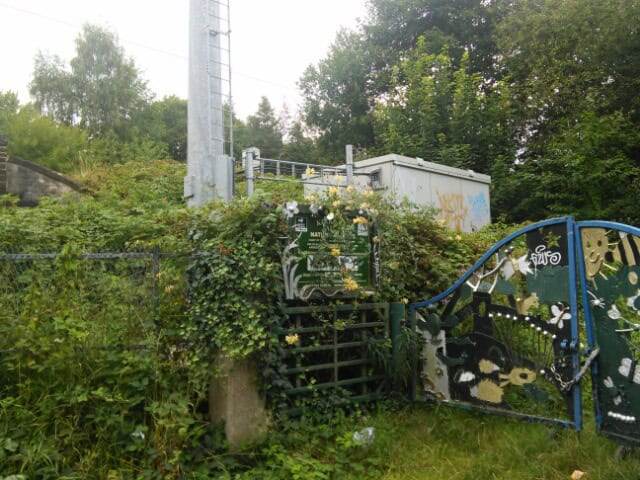 Nice for families and people who like shrubs and herbs and stuff, but a few yards up the road there's something more appealing to me …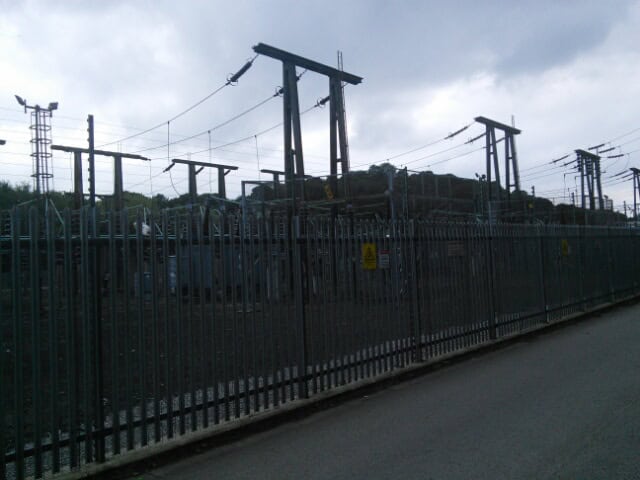 which is huge and monstrous and breathtaking – there's a low hum and a quiet crackle and I almost expected Captain Scarlet to turn up to the sound of the tannoy; "This is the voice of the Mysterons …" It's the sort of place they would hang out plotting to destroy the world. People often say places like the nature reserve are the lungs of the city; well, this place is its metabolism.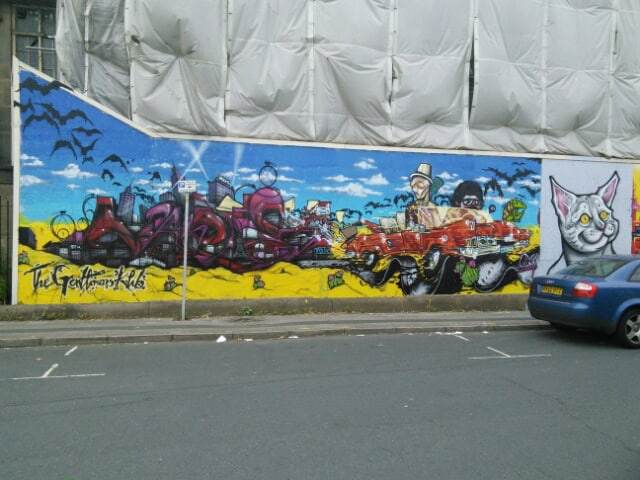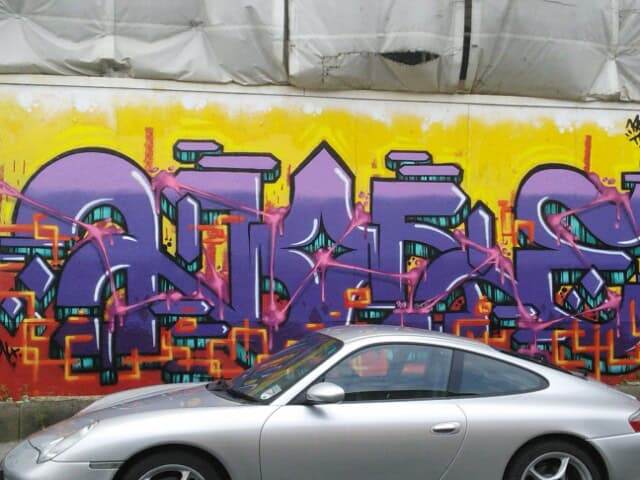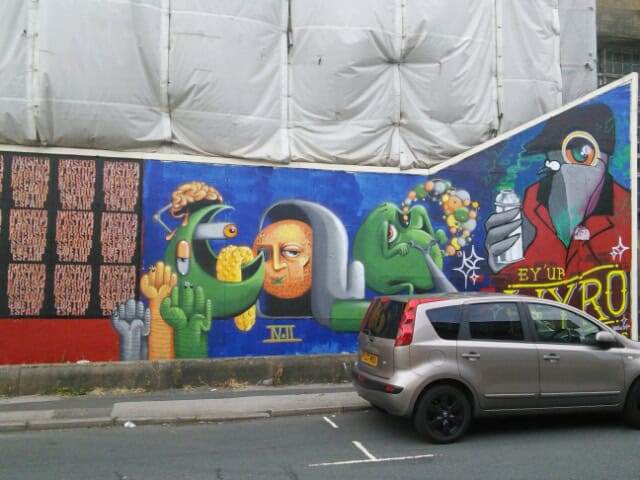 Short walk back to Holbeck and more urban dereliction and art …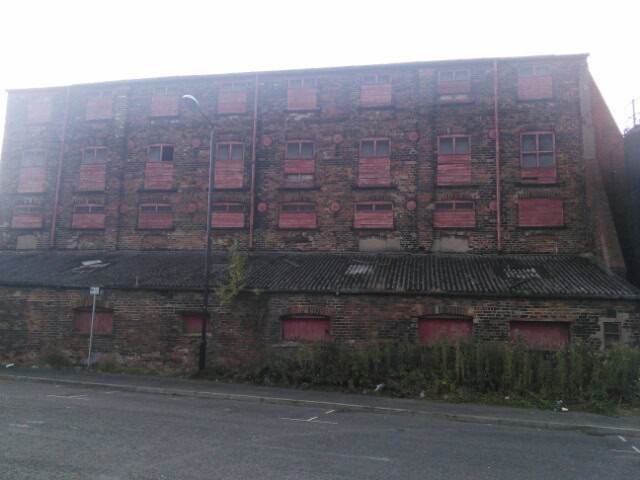 and simply dereliction on Triumph Close, with this Dickensian – though still inhabited and working – factory …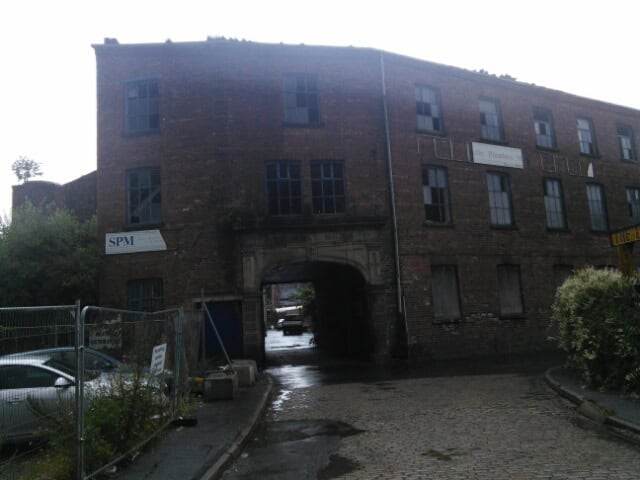 Fortunately it has a covered archway entrance where I could shelter from the rain for twenty minutes while raindrops big as bullets exploded on the ground.
I'm not sure how many of these places will make it onto the map, but there's still time to nominate your own favourite. And it would be good to get some better photos. I managed to drop my Nexus 7 – the only camera I possess – in a puddle as I was taking a pic of the North Bar stone, which explains the parlous quality of some of the pics. I don't think Android do waterproof, do they?