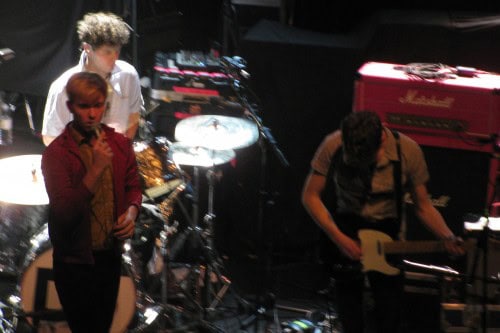 NME Awards Tour / Leeds / O2 Academy / 7th Feb 2010
The Maccabees / Bombay Bicycle Club The Big Pink The Drums
Elly Oracle won the opportunity to review the NME Awards Tour at the O2 Academy by being pretty witty on twitter! Here's her review…
'I'm at the Leeds leg of the sold out NME Awards Tour, the mag's annual showcase of some of the year's trendiest bands to be "into". Predictably it's full of people whose cherubic faces make me worry that policemen are starting to look younger too, but the 4-strong line-up is crammed with much hyped newbies (The Drums –number 5 in the BBC's Ones to Watch list for 2010 and The Big Pink), and established but equally hyped indie kids (Bombay Bicycle Club and headliners The Maccabees), so lots to look forward to (if only I can overcome my insane prejudice against the gut-churningly twee names of the two bigger acts…)
The Drums ' frontman Jonathan Pierce dances on stage in such a gangly way he convinces me he is an inspired amalgam of Neil Hannon , Alex Kapranos and Jarvis Cocker. The Drums are great to watch and their songs are vibrant and toe tappingly upbeat live (if indeed their infectious single I Felt Stupid could be any more catchy). And to my delight they include even the whistling which appears on half the songs on their Summertime! EP (I'll ignore the fact it was through a sampler).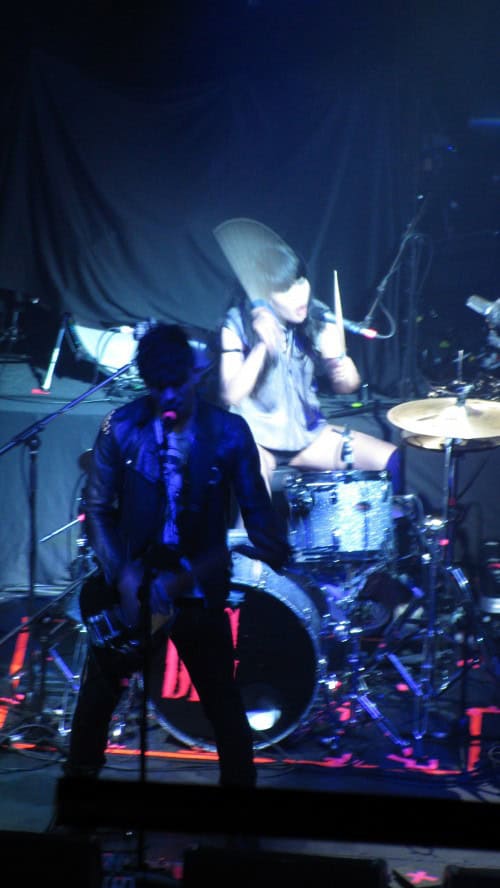 Fortunately, sampled whistling is far from the height of the technological effects in use tonight (I'm not that easily pleased), which The Big Pink prove by unleashing rows of effects pedals giving their sound a massive Nine Inch Nailsesque industrial soundscape quality which I'd never heard on their recordings. Maybe it's that this band are so loud live (and bright! Their dazzlingly relentless light show is very Enter Shikari that they're not allowed to put it on record. Or maybe I just need to get a stereo that goes up to 11.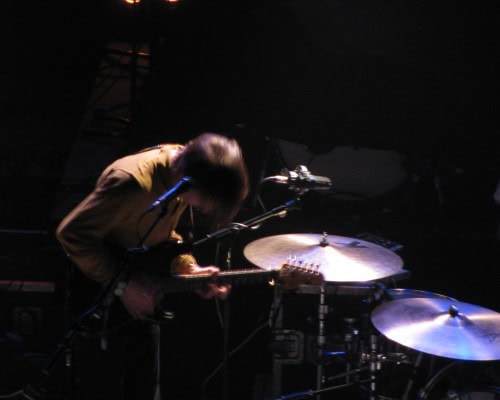 The Bombay Bicycle Club were by comparison visually lacklustre, but despite not really being my cup of tea, they're great crowd pleasers and play with gusto. The kids clearly love them and there were lots of singalong and crowd surfing moments, but I had to wait till near the end of their set for their punchier, sit-up-and-take-notice tunes, by which time I was ready for The Maccabees. Now I've never been able to get into The Maccabees before (see aforementioned nomenclature issues), but they obviously mean business: roadies lay out fresh, whiter than white towels for them on stage – these boys intend to sweat! They are by turns moody (Orlando Weeks' voice is suitably sulky yet velvety) and intensely energetic, with blistering drumming and three sparring guitars. By contrast, Toothpaste Kisses is a beautifully executed, understated anthem and the crowd delight in yelling "whitwoo!" in the right places. But The Maccabees are all about darkly upbeat, moody energy, which they do superbly with singles No Kind Words and finally the anthemic encore-perfect Love You Better, ending the NME show in Leeds and leaving me a chirpy and impressed little punter (even if I do still wish The Maccabees had a less rubbish name).