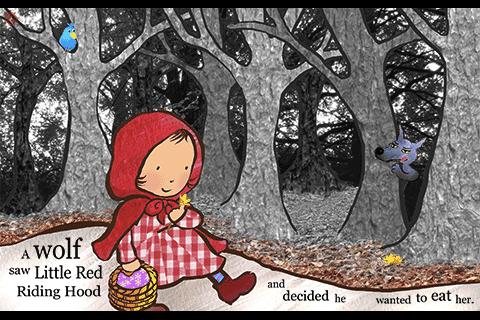 It's no secret that we are a little geeky here at the Culture Vulture and having recently jettisoned the blackbetty for an i-phone we have been adding applications willy nilly! So when we heard that a couple of creatives from Yorkshire had created a great little app, but also gained major 'app-lause'  internationally we cl'app'ed our hands in delight! Fingers crossed they bag the award on the 10th February at MacWorld Expo in San Francisco
Little Red was created for Appily Ever After Publishing by Yorkshire-based illustrator Simone Abel and writer Justine Gaunt, the app combines beautiful illustration with animation and narration to form the perfect children's story. Speaking with Justine recently it was clear that this was a labour of love, a desire to make something beautiful, pleasing and entertaining for young people. Kids can either listen, read, or use  a 'magic' colouring in tool.
Says Justine Gaunt, 'On a long train journey, my six year old daughter was fed up with the books, puppets, colouring and magazines we had brought with us, and in desperation I handed her my i-Phone. She was fascinated and I realised that the i-Phone could also be a wonderful educational tool for children, opening up a whole world of reading and learning.'
Simone Abel says, 'I had wanted to work on an independent project for a while, so when Justine shared her thoughts about the i-Phone, collaborating on an app seemed the obvious next step. I really liked the idea of capturing the beauty of a paper book yet delivering it in a package that would thrill children with its technology. We started drawing and writing straight away! (as well as carrying on with all the usual things we do – illustrating, writing and holding down part-time jobs')
Simone Abel has been working as a children's book illustrator for over 20 years, and has illustrated over 200 books for the likes of Walker Books, Usborne Books and Lamaze. Justine is a writer and journalist and has been involved in publishing, so the combination of their respective skills seemed ideal for setting up a new kind of publishing company.