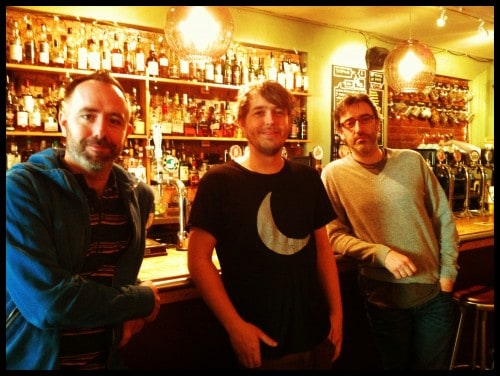 The last couple of years have undoubtedly seen the rise of the UK Beer Bar. With venues such as London's Euston Tap, Craft Beer Co and the 'Taps' in York and Sheffield creating waves upon waves of excitement for the more avid Beer Hunters out there, it's easy to forget that we've been doing this sort of thing in Leeds for years.
Well, North has, anyway. With its encyclopaedic mix of Beers from around the world, cocktails, home-grown art and laid-back atmosphere, it's hard to imagine a beer scene in Leeds without it. Sure, we have a legacy of Pubs to be proud of, but many (particularly younger) beer drinkers have had jaded palates revived – and surprised – in North over the years.
Once signified only by a black pub sign swinging enigmatically above Briggate, North has become a keystone in the now-thriving Beer Scene in the UK.  For many outside of Leeds, North alone is a reason to visit.
John Gyngell and Christian Townsley were working behind Leeds's bars in the early nineties when they had the notion to open North for the same reason many, many proprietors do. 'We just wanted somewhere nice to drink. There were a few options but there wasn't really anywhere that we really liked to go. So we decided to do it ourselves.' reveals Christian.
For John, North's early blueprint was a little more specific. He'd had seen the rise of bar culture in his native Manchester (with the infamous Dry Bar being a particular influence) and realised that Leeds was missing a certain something. 'You'd get the bus from Headingley straight to a club. There was nowhere in between to have a beer, except Pubs'.  For John and Christian, pubs were not really the type of drinking den they were craving.
There was nothing special about the space they've inhabited on Upper Briggate for so long. 'We looked for a site for a very, very long time.' John smiles. 'Years, actually.' When the Briggate premises became available, it turns out that the duo were simply in the right place, at the right time. 'This place was available, and no-one else wanted it!' laughs Christian.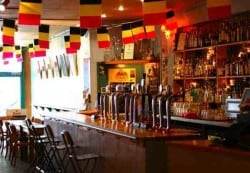 As strange as it might sound now, North was established without beer in mind. Christian elaborates: 'The beer "thing" simply arose from the excellent relationship we had built up with James Clay (the Elland-based Drinks importer).' I ask whether they felt – or knew – that by putting such unknown beers on the bar, that they were taking risks. It turns out that the young bar-owners simply didn't know any better.
'We were really quite naive. We personally liked the beers; they tasted great and were different. We didn't really see it as a risk – we've never bought anything in for any specific reason other than that we like the beer, or the spirit, or the wine in question.' Says John.
The pair plowed on in much the same fashion; doing what they liked and hoping that their growing band of customers would, too. As the years went on, North's reputation ballooned and exactly what John and Christian set out to do became reality – a buzzy, friendly place where you could meet friends late at night; but now with genuinely interesting beers on the bar.  With the fledgling bar now spreading its wings, working in synergy with the likes of James Clay and the Leeds-based Vertical Drinks to bring a new kind of Beer to their customers – a level of confidence bubbled to the surface and the eclectic drinks stock – in most cases – became North's calling card. A number of 'Firsts' were claimed; North were the first bar in the UK to sell the now-ubiquitous Erdinger Wheat Beer on Tap; premieres for Sierra Nevada Pale and Brooklyn Lager followed.
Looking back, the decision to take Guinness off the bar in order to stock locally-produced Stout was a pivotal moment. Nothing like it had been done previously, and although seemingly a small act, it had repercussions. By this point, I was drinking regularly in North, and remember being pleasantly surprised at North's chutzpah.  Christian reveals that this was actually one of the biggest leaps of faith they've taken.  'There came a point where you admit that you've got to sell products that you believe in.'
John joins in. 'Personally, we were working at the coalface a lot more at that time, so we knew there were customers – loyal, regular customers – who only drank Guinness in here.  Combine that with the fact that at the time there were not that many local stouts or porters available at the time on a regular basis…It wasn't something we took lightly at all.'
The decision paid off, despite a rocky start. Beer-themed weekends and festivals popped up with more regularity, and to increasing acclaim. North were making waves, without fanfare. That changed when, in 2007, North won 'Best Bar' in The Observer Food Monthly's annual awards. For many in Leeds, the award felt like vindication, as well as exposing Leeds' best kept secret – the fact that it was voted for by the UK public underlines the achievement.
North expanded their family by opening The Cross Keys in Holbeck. Markedly different to North, the cosy pub feels like North's older, more homely sister, rather than younger brother.
'As we got older, we really liked the idea of a pub; it felt "us" to do one.' Says John.  A few sites were mooted, but Holbeck seemed like the place to be. Matt Gorecki (North's current manager) started working in The Cross Keys, and remembers the initial atmosphere around the area. 'Holbeck was buzzing. It was going to be the next big thing; then the recession hit, and everything stopped.'
Well -not quite. The Cross Keys (and its neighbour, Leeds Brewery's The Midnight Bell) remain thriving flagships there. It hosts Seasonal Markets, Whiskey tastings and Beer Dinners every quarter; a testament to the excellent reputation it has for food.  Throughout the years, new bars Alfred and Further North (Meanwood) have furthered North's reputation for moving into areas and bringing a touch of North with them.
Of course, this doesn't mean that the process of opening bars is without hiccups. John and Christian still remain perplexed at the amount of opposition they get when submitting a licensing application to a new area. Current plans are going through the motions for a site in Otley.
'Maybe the opposition comes from the fear of the unknown.' Says Christian. 'When you go back to our original idea in 1997, it was to create somewhere where nice people can hang out together.  That's all we want to do with all of our bars.'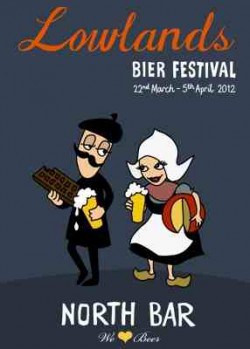 Matt reinforces the message as we turn our attention to where North sits in the current trend for "Beer Bars". It's clear that as far as Matt is concerned, it's not even really about beer.  'First and foremost, we are a bar. Beer is massively important to us; but it's as important that we have good coffee, cocktails, spirits, wine and music. We like to hold interesting events and provide the same excellent experience to our customers no matter what they are drinking. A lot of bars – especially the beer bars – don't quite get that yet.'
Matt is clearly excited at what lies ahead during 2012. The team have been hard at work collaborating with various brewers across Europe and producing 15 different, one-off beers for the people of Leeds to enjoy during the summer.  Matt's most looking forward to a Smoked Barley Wine, which was produced Norway's Nøgne-Ø .  'It's delicious, and is only available elsewhere at The Copenhagen Beer Festival', beams Matt.  '…Leading up to the actual birthday, we'll be releasing one beer a day. We'll have a Barbecue, and we've got a couple of other things going on too.'
North may have gone about their business in the last 15 years with quiet assurance, but one thing is clear; this summer, North are ready to really celebrate and remind themselves – as much as anyone else – how important it is to the Leeds social scene.
'It's amazing, really.' Laughs Matt when I ask him what he thinks of the current interest in Real Ale and "Craft Beer". 'People are getting into beer, but in different ways – like through food. There's stuff happening all the time now, all for beer. That's not to say that you can just offer the same stuff as everyone else. We try to offer as much variety as possible; from locally-produced ale for £2.90, or a bottle of Barrel-aged stout from another part of the world, we'll try and do it all. There's got to be a balance there.'
John has the final word on that point. 'You have to be inclusive. Places that are not will come and go. You need to have great beer…but also knowledgeable, friendly staff, great spirits and great music.'
I think it's safe to say that North have achieved that goal admirably.