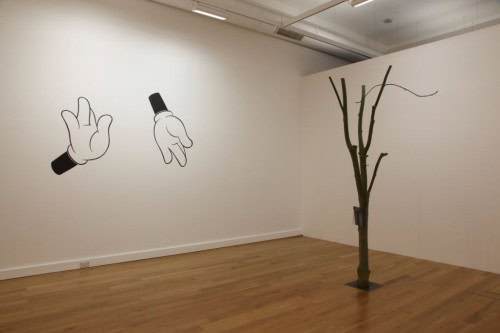 Leeds Art Gallery bravely opened their doors to a few inquisitive art aficionados ahead of the Northern Art Prize exhibition which opens to the public this Thursday 28th March and runs until 16th June.  Here's what guest blogger Katie Fabri has to say about the event, exhibits and a role art can play in our lives…
Tip-toeing through striking, giant doorframes whilst they were being painted in preparation for Wednesday's private view was nerve racking. Open paint pots, ladders and draft artist statements on the floor of the gallery indicated how fresh this new exhibition of work is. I am grateful to have been able to see the final stage of the art process in action and listen to curator Sarah Brown talk about the artists' work.
The doorframes are by Joanne Tatham & Tom O'Sullivan and lead from the art gallery's large entrance hallway to the historic collections and temporary exhibition rooms. The brightly coloured shapes and bold stripes liberate the space from its 19th Century roots and provide a refreshing contrast to the gilt frames and traditional oil paintings in the gallery of permanent collections.
 Margaret Harrison's work educates on the 1980's women's peace movement that emerged in protest to the nuclear weapons kept at RAF Greenham Common during the Cold War. Every day objects attached to a barbed wire fence give an impression of the kind of life these women lived and the resilience, persistence and commitment they gave to their cause.
'Architectural furniture' by Emily Speed invites the audience to interact with the moveable installation by inhabiting the space and exploring their body in relation to it and will become the stage for a weekly performance piece once the exhibition is open. Next to this is work by Rosalind Nashashibi made during Cairo's revolutionary uprising in early 2011. Northern Art Prize project manager Amelia Crouch explained how the work is developed from an earlier installation that was inspired by the image of male youth in a post 'Arab Spring' world and a lively conversation began about the role of art in our lives.
Inspired by a recent public debate titled 'What is good art?', a member of the Leeds Salon team who set up the platform for the discussion, asked us our thoughts on the importance of beauty and aesthetic judgement in relation to the arts' political or social message. Such a subjective topic is bound to bring about a healthy spectrum of emotion and thoughts. The woman next to me loved Rosalind Nashashibi's tree with the picture of a man's 'denim clad crotch' on it. On further inspection, it made me feel uneasy, reminding me of the threat I sometimes feel whilst walking alone outdoors at night. In contrast, her film 'Lovely Young People (Beautiful Supple Bodies)' filled me with delight.
Whether you consider the exhibits to be beautiful or not, art can help us transcend our every day feelings and thoughts, see the world from another viewpoint and show us some of what lies in our sub-conscious. Like a mirror into our own internal world it can take us to places within that we didn't know were there and give us opportunities to progress, perhaps even evolve. What do you think?
The Northern Art Prize exhibition held at Leeds Art Gallery opens to the public this Thursday 28th March and runs until 16th June.