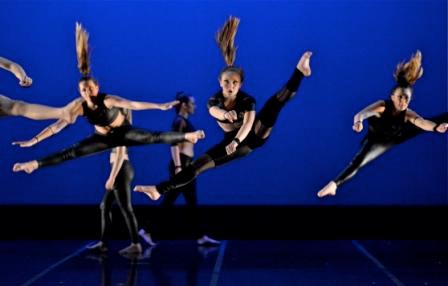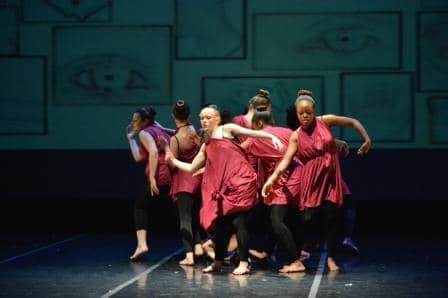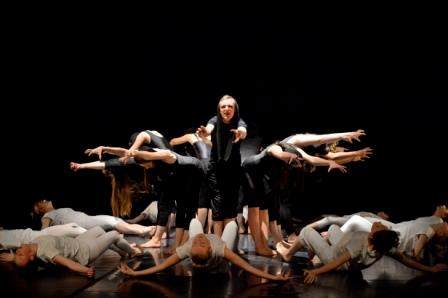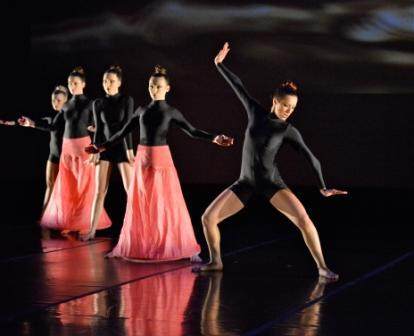 * photographs copyright Brian Slater, kind thanks to Yorkshire Dance
Despite snow blizzards and hazardous conditions besetting the region this saturday, Yorkshire Dance, the regional dance development agency, managed to gather 200 young dancers to perform at their annual youth dance showcase Fresh. This took place at West Yorkshire Playhouse and the Loft at Yorkshire dance to an audience of over 650 people! Three dance groups; North Yorkshire Dance, RJC Youth Dance Company and Hull Youth Dance Company have been selected by judges to represent Yorkshire at the national U.Dance 2013, and it's happening here in Leeds.
U.Dance 2013, the national dance festival that champions the best young talent across the country are working with Yorkshire Dance to bring this much celebrated event to venues in Leeds this summer, with performances at West Yorkshire Playhouse, The Stanley and Audrey Burton Theatre, and The Riley Theatre. Fresh is one part of Yorkshire Dance's work to create opportunities for young people who love to dance and nurtures the next generation of professional dancers.
Wieke Eringa, Chief Executive and Artistic Director of Yorkshire Dance said that one of the best things about Fresh is that it demonstrates just how much talent there is in Yorkshire, and how professional young people can be when given the opportunity: their confidence grows when they experience the energy of a live performance in a professional theatre- proof that young people need these opportunities to perform to a wider public and experience a professional working environment."
I have to agree – these young dancers demonstrated energy and talent in bucket loads. Their was a palpable excitement in the audience as group after group wowed us with their moves, professionalism and 'fierce' skill. I could 'wax lyrical' about the success of this event, but why not judge for yourself. Here are tweets from audience and performers from the #Fresh2013, that capture the event in their own words…
@JollGosnold "Setting off from Glasgow to get to #fresh2013! Will be so worth the hours in the #snow when I get there"
@CharlotteTTcat "Burns on my feet and bruises on my knees as usual, shows it was a good performance! #fresh2013"
@ChloeJaneMorgan "Never enjoyed performing so much in my life!"
@Chelseabaker_ "So buzzing from tonight's performance…"
@SeanThomas "I want to go back to #Fresh2013 so badly!"
@tonypbarker "Don't envy the judges after that. Nothing short of amazing all round tonight. #Fresh2013"
@Livsophiee "Nothing's a better feeling than dancing on stage, well done guys it was amazing!"
@Laura_Ferrin "And to top it off NYD are through to U dance!! Yes boys!!! #fresh2013 #doingitforyorkshire #Smashit"
@evaswifty "Had an awesome time at #Fresh2013 soo much fun- just a great experience overall, even if we don't win."
@Jade_March " We did it 🙂 #fresh2013 @InkDanceUK #amazingnight"
@shaniasterling #fresh2013 "Well done to everybody!!! Was such an amazing atmosphere want to do it all over again"
And the press said…
@CathyReports "Congrats to all dancers. I'm really enjoying the show. So much talent in Yorkshire."
@RadioAndrewE "Inspiring, invigorating, energetic, creative, wonderful evening of dance: young Yorkshire stars"
If you would like to share your thoughts or special moments from this performance, please feel free to comment below!
The U.dance events take place in Leeds 19th -21st July at West Yorkshire Playhouse, Riley Theatre and Audrey and Stanley Burton Theatres – click to book.
Zoe Parker ( @Zoe_Parker) is a dance artist and choreographer blogging about dance, culture and well-being. She is one member of @YorksLifeAqua a dry land synchronised swimming team coming to a water feature near you.