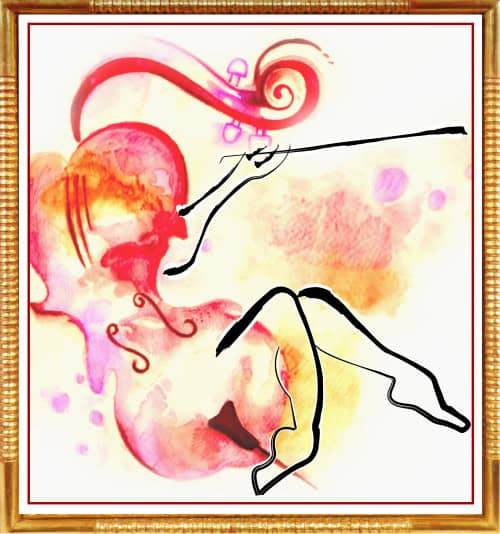 Coward's Bravura Wit: 'Nude With Violin' in Leeds
As Adel Players bring Noël Coward's hilarious 'Nude With Violin' to Leeds, Jon Holmes savours the playwright's delicious dialogue and superior style …
Noël Coward never took theatre critics particularly seriously. Even their most pointed barbs didn't discourage him, and their put-downs never appeared to persuade people to stay away from his plays.
A true polymath of the performing arts, he was deservedly known by his admirers as 'The Master', although his self-deprecation led him to shrug off that sobriquet. "Why am I called it?" he replied, when asked by a journalist. "Oh you know… jack of all trades, Master of none…"
Coward was in his early fifties when he began to write Nude With Violin, a trademark class comedy of English manners and cultural differences which is being revived in Leeds by Adel Players (Wednesday 23 to Saturday 26 October, 7.30pm) – and the words of a critic were the trigger. However, in this instance, it was not theatre but art which provoked the playwright.
Like many members of his generation after the war, Coward had a distrust for anything "modern". The changing nature of popular poetry was regularly skewered in his own lyrics and prose, but he saved his greatest suspicions for modern art. In 1954, he was reading a weighty tome on the Impressionist movement by the respected art scholar R H Wilenski, who had previously written reviews for the London Evening Standard. Coward enjoyed Wilenski's analysis of the works of Manet, Renoir and Cezanne but he couldn't agree with his unfettered praise for Marc Chagall, Jackson Pollock and their ilk. In his diary, he noted:
No burlesque, however extravagant, could equal the phrases Wilenski uses to describe the 'Abstract Boys'. Quite a lot of it is completely unintelligible. He talks a lot about 'emotive force' and 'lyrical colour' and 'constant functional forms' etc, and after he has described a picture in approximately these terms, you turn to a colour plate and look at a square lady with three breasts and a guitar up her crotch.
Coward even went so far as to describe Wilenski's musings in the second half of the book as "unmitigated bollocks" (of course, these private thoughts went unpublished until years later) – but he certainly didn't regret reading them. "I am grateful to him for giving me a lot of hilarious material," he continued – and two years later, his response was ready for its opening night. Set in Paris, Nude With Violin paints a picture of the events that follow the sudden death of an imagined impressionist called Paul Sorodin, as the startling secret behind his success is revealed.
Crucially, Coward was not attempting to start a crusade against modern art; he wrote to entertain. "I'll go and see anything so long as it amuses me, or moves me," he said. "If it doesn't do either, I want to go home." West End audiences loved Nude With Violin, which starred John Gielgud in the lead role of Sorodin's valet Sebastien and the play ran for almost 15 months; it transferred to Broadway, then came a US tour, continued on to Australia and by the end of the decade, it was selected for an ITV 'Play of the Week' broadcast on national TV.
Those quintessential qualities of Coward's work – light manners, an eye for English eccentricity and wit that is never too acerbic – have ensured that his plays remain greatly loved by audiences of all ages to this day.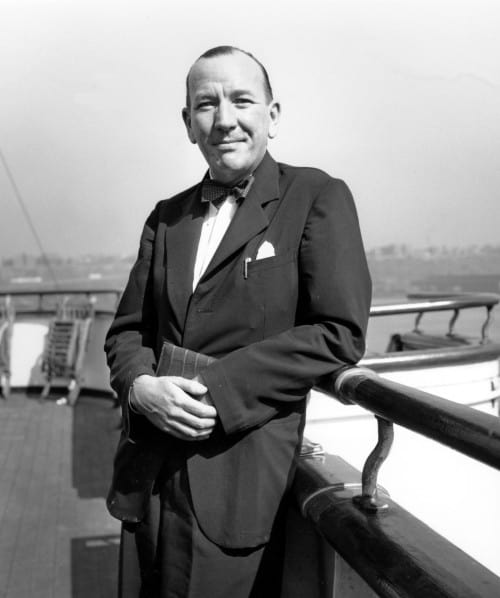 Coward's best-known offering must be Blithe Spirit, in which the ghost of a novelist's deceased first wife manifests back into his life aftter a seance conducted by the clairvoyant Madame Arcati. Its original West End incarnation reached just shy of 2,000 performances – a record for a comedy at the time, since surpassed by The Mousetrap. Twice previously performed by Adel Players (most recently in January 2012), the play was adapted by Coward into a 1945 movie starring Margaret Rutherford – and is now considered a classic.
But a film released that same year proved Coward wasn't just a comic genius – he possessed great sensitivity too. His screenplay for Brief Encounter, based on his own one-act play Still Life, captures the middle-class conscience of the time, a moral backbone which would prevent two people falling helplessly in love, such as the central characters Laura and Alec, from pursuing their affair. Coward's involvement in the picture even stretched as far as voicing the platform announcements at the station where they meet – Carnforth, less than two hours by train from Leeds. In April, Brief Encounter even beat off competition from Casablanca to be named the "most romantic film of all time" by a Time Out panel of 101 industry experts.
The Albery Theatre on St Martin's Lane was renamed the Noël Coward Theatre seven years ago – a fitting legacy to a true Master of the arts, for whom creating a night of comedy at the theatre was a chance to bring his natural joie de vivre to others. In his own words: "Grab it while you can – grab every scrap of happiness…"
Noël Coward's 'Nude With Violin' is being performed by Adel Players at Adel Memorial Hall, LS16 8DE, from Wednesday 23 to Saturday 26 October (show starts 7.30pm). Tickets are priced at £8 and can be reserved by calling (0113) 275 5585, or by emailing tickets@adel-players.org.uk. More information about the play, the venue and Adel Players can be found on their website – www.adel-players.org.uk.