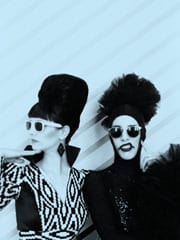 Seen the publicity for Transform? Looks a bit groovy, doesn't it? Understand what it's about? No, me neither.
Having read the programme, some of the events sounded really interesting, but I felt a bit overwhelmed by the sheer number, and which to choose. I also felt I couldn't grasp whether a particular play was 'my kind of thing' and assess what the quality might be. But, I guess that's the whole point of 'Transform'; it's to look at what a theatre is for, what it can be, how it can change, 'transform'  the way we think about and interact with the Playhouse.
I went along with 3 friends on Tuesday 7th June. The first half of the evening was '21 Writers' , the collective results of a 5 week writing course run by the WYP for writers with little experience. Individual plays (really, sketches), were performed by different couplings from 6 actors. The theme was 'Transform' , and with 3 male, 3 female actors and 3 minutes, every play was going to be different. Some had created an entire mini-play, which stood alone and complete of itself. Others felt like a small part of something bigger, an insight. The plays that succeeded within the 3 minute remit focused on the small, the mundane, the argument over a breakfast table between a married couple.  The ones that were not as good were the plays that had grand themes or historical contexts that had needed too much further factual knowledge for the audience to bring to it etc. This is in no way to denigrate those writers whose plays didn't succeed tonight, in this context. I know nothing about playwriting and could in no way judge from these mini sketches who is particularly talented. A 3 minute sketch is clearly nothing like a 90 minute play. There were a couple of highlights for me. Small Talk by Daniel Meyers was a funny episode in grandma versus daughter in law competitiveness. Two Things by Wayne Lettice, was another amusing play of a man practicing announcing to his tough, manly father that he was gay. Many of the plays were a little bit predictable in their conclusion, but again, I put that down to the necessity of telling a story in 3 minutes, and that doesn't take away from the humour and language skills many of the writers displayed. 4 of us went, and the indication of an interesting evening is we all had different favourites. The acting was excellent in what was quite challenging circumstances. Yes, some plays I thought were better quality than others, but I thoroughly enjoyed the whole thing.
The second production was 'Mad About the Boy' by Gbolahan Obisesan, featuring a black man, his teenage son, his school counsellor, and their attempts to communicate. Parts of the play saw all 3 stand facing the audience under a spotlight, and almost talk-fight, a 'lyrical tussle' as WYP described it. The wordplay and the actors timing was extraordinary.  Throughout, the way we perceive others, the way family think about loved-ones, and the different ways outsiders can challenge our thinking was a central theme. Each was struggling to reveal their true meanings and true character, sometime because of language, sometime societal constraints or a desire for status.
This really did feel like a remarkable production although  I wasn't certain about the conclusion, it felt like a tragedy, and I wanted a redemption earnt or a lesson learnt. It was hard hitting, clever, challenging, but also affectionate, and understanding.  Acted as well as this, it deserves to be seen by as many as possible.
After the 2 shows, we hung around the bar which has been redecorated, and listened to an excellent band (if someone would like to comment who they are, that would be great, because they really were good), and felt like we were down with the kool kids. Or something. Try Transform out. It's not going to be everything for everyone. There's a slight chance you might not like what you go and see. But, on the experience of 1 night, you might see something you would never normally try, and enjoy a completely different theatrical experience. Which I think is the point.
Alexandra (@sewhipfolkie)
 Transform is on at the West Yorkshire Playhouse until 18th June, and there are many different things happening. Details found here: www.wyp.org.uk