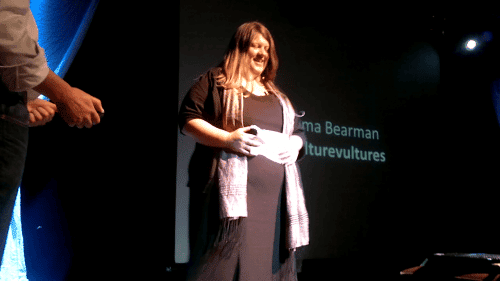 Disclaimer: The following press release is the opinion of the Betakultcha organisers, Richard Michie and Ivor Tymchak. Bettakultcha attempts to have a policy of free speech at all costs. As un-moderated presentations are given during the show, all future events will be publicised using this disclaimer.
Any offence given by previous presentations was unintended and we apologise if anyone was unexpectedly given offence.
The only question worth asking is: how should we live?
Back-story: Robert St John Smith had presented at the first Bettakultcha. He talked about another film that he is still making in the gothic-horror style and that is still stuck in post-production hell. When Richard and I were invited to make a cameo appearance in his latest film, which was based on the Betakultcha format, we were happy to help out. Robert is an independent filmmaker living in Leeds trying to make things happen, so we thought it would be another Bettakultcha innovation to have a world première of the film and a presentation about making films independently. All I knew about the story was that it was about a madman who kills a girl and that it was in the schlock-horror genre (hence my bizarre makeup). On paper, it looked like an interesting idea to use Betakultcha to promote the efforts of an artist working in Leeds. But it was a mistake.
It was a mistake for many reasons.
Firstly, we should have given a warning about the content before we showed the film.
Secondly, disregarding any philosophical debate about free speech, we simply misread the context. We know many Bettakultcha regulars are campaigners for social justice. Anything that could be perceived as overtly discriminatory or politically incorrect could get a reaction: a bad one.
Thirdly, I had not seen the film before we screened it at the event so I didn't actually know what the content was or how it was portrayed. Some might say that this is no excuse and no kind of defence for Betakultcha, but here is where it gets terribly confusing.
Although we see the slides beforehand, neither Richard nor I have any idea what the presenter is going to say. This raises a terrible dilemma. Do we ask for a script beforehand and censor anything we don't like? What if our sensibilities are from a different culture? Who are we to make such judgements about someone else's views anyway? Which subjects are taboos? If a white supremacist wanted to expound the philosophy of Ayn Rand at Bettakultcha do we allow them on stage?
I remember one presentation by @burnyourbones that showed how the images of Moors murderers Ian Brady and Myra Hindley had been used for promotional purposes in commercial enterprises. I found the presentation disturbing, as it seemed to trivialise crimes that were horrific beyond imaginings. The audience, however, laughed heartily. Was I wrong in my reaction?
As organisers of the event, Richard and I avidly listen to the audience's opinions and recommendations for improvements and one of the key things that people say they enjoy about the event is that absolutely anybody can be allowed to get up and speak. Should that opportunity be preserved?
Do you want an anodyne, pleasant evening being entertained and informed by pre-vetted and censored speakers, or do you want the unexpected, outspoken, challenging ideas of the minority, disenfranchised, disadvantaged and passionate?
What is the manifesto of Bettakultcha? To be honest, there isn't one. We've deliberately kept it loose, unquantifiable, dangerous, and commercial-free. The one rule we were adamant about — and still are — is no sales pitches. We want better culture — to further understanding, expand knowledge, and increase confidence… We want to promote activism, collaboration, localism, and real debate.
For my own part I feel that the heckling of presenters at Bettakultcha should be prohibited. Some of our presenters are incredibly nervous first timers who have spent a deal of their time putting their presentations together. They have put the effort in because they fiercely want to say something. The least we can do is have the courtesy to listen to them. Also, heckling is not critical thinking, it is emotion. On the other hand, anyone who is prepared to speak about their passion should be prepared for (and welcome) a response from the audience. The opportunity to engage with the presenter is in the break or after the event when specific objections or insights can be discussed in a rational and sympathetic manner. Clearly, we are in need of a bigger forum if a presentation exceeds 'normal' sensibilities.
We didn't acknowledge the incident on the night because many people missed the film and I didn't want to say anything unconsidered that I would later regret. I accept the criticism that something like this was going to blow up at some point and we should have had a strategy in place to deal with it.
We apologise to Robert for the discourtesy of being heckled and we apologise to the audience members who were offended by the film. I spoke at length with the woman who heckled, and the film genuinely distressed her. This is not a frivolous issue and a solution needs to be found.
We do listen, we do care and we will act on meaningful suggestions.
We've got an elephant in the room now. What are we going to do about it? The floor is yours…
Ivor Tymchak