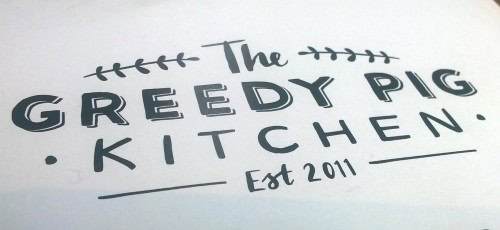 In 2011, my (now) husband and I created the first of what would be many Mease Family Traditions; early Saturday morning brunch at The Greedy Pig on North Street in Leeds. Come rain, come shine, come hangover, come house-guests it remains our favourite start to the weekend. To the point where when I was in labour, I sent him out to pick up a veggie sausage sandwich for me (because, priorities people!) and one of my son's first words was genuinely and hilariously "bacon."
Jo and Stu, proprietors of t'Pig, are both two of the most outrageously lovely people you could ever hope to meet and the ultimate creative force. They are so passionate about great ingredients and good customer service and are such big supporters of the Leeds food scene. Over the years we have been delighted to follow their adventures in everything from street food to supper clubs and in addition to partaking regularly of Stu's exceptional breakfast, brunch and lunch offerings and Jo's fabulous baking (oh my god her chocolate chestnut cheesecake and her tipsy brownies. I have not sufficient words) they expertly catered my surprise thirtieth birthday party last year, much to the utter rapture of our guests.
A hop, skip and a jump across the road from the home of Stu's famous breakfast burger, The Belgrave Music Hall and Canteen arrived to provide a new place for The Hipsters to call home. With truly magnificent pizza, squishy sofas of sheer delight and a spectacular roof terrace that almost makes me wish I was a smoker in order to have a reason to hang out up there, it's definitely the hottest venue in town right now.
This weekend Jo and Stu created a wonderful Sunday Brunch for the Belgrave crowd:
Spicy Cornbread / Crispy Pork Belly / Cornmeal Crusted Shrimp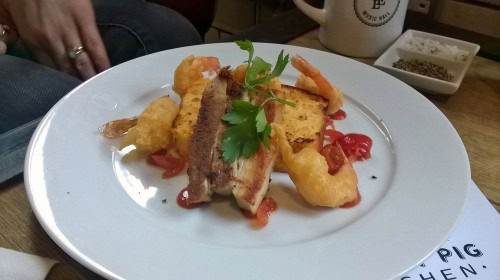 Labneh (v) / Beetroot / Fennel / Nigella / Toasted Sourdough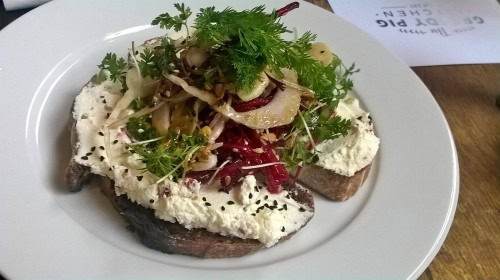 The GP Blackpudding / Soft Poached Egg / Shallot / Mushroom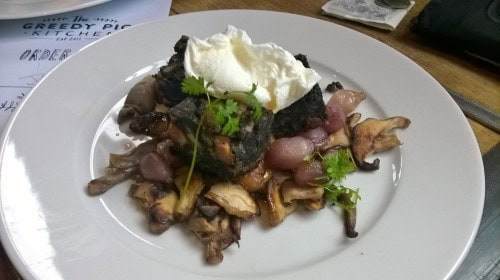 Pancakes / Poached Yorkshire Rhubarb / Champagne Rhubarb Syrup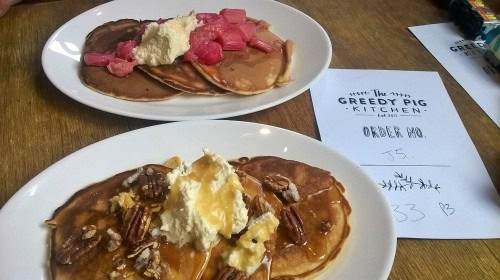 Be honest, how badly are you drooling right now? Not half as much as I was whilst I was troughing my way through it  I can assure you. The praline pecan pancakes were sublime, inspiring stuff!
You can follow @The_Greedy_Pig on Twitter, like the Facebook page and until the next Pop Up Pig, sample their marvellous food in person just across the road from Belgrave 6 days a week. And by the way, the cheapest places to park in Leeds happens to be the car parks just behind North Street, much to my frugal husband's delight. £1.20 for 3 hours compared to £6.50 in, say, The Light would save enough for a pulled pork sandwich, some triple cooked chips and a very good cup of tea or coffee. Just saying…