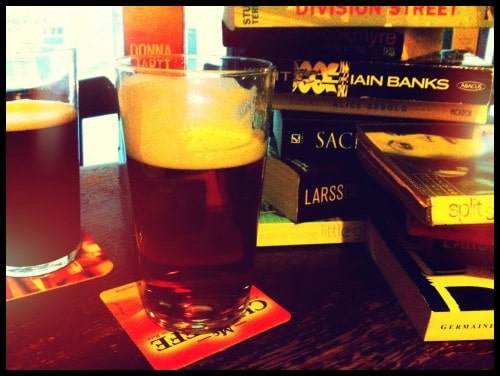 The Quiet Pint. Something I've partaken of many, many times. The quiet however, is on the outside; I'm very rarely on my own in the pub when I have a book to hand. To be honest, I'm one of those people who will read the back of a shampoo bottle when I'm in the bath; I'll read anything. And that's no different when I'm having a drink.
Combining two of my favourite pastimes is a no-brainer for me. It's probably no coincidence either that the majority of writers that I like liked to drink. The works of Bukowski & Thompson inspire me – albeit to write, rather to inhabit the BarFly lifestyle.
Looking around though, I'm not seeing that many people following suit. People seem more at ease jabbing away on Mobile Phones that reading even a paper. Neither is Jess Haigh, which was one of the reasons she set up the Travelling Suitcase Library, a wonderful little event where you can turn up and simply take a book away. More importantly – It's held at a pub;  Arcadia in Headingley . Granted, the location started simply as a matter of convenience. 'I used to work there!' laughs Jess when I ask her why she chose a pub. 'But it's worked so well.'
I ask Jess whether she thinks the TSL would work anywhere other than a pub. 'I have held it at literary events but it really wouldn't work in a church hall or somewhere like that'. As we share a few pints, she details how she's seen people – complete strangers – meeting up, pint in hand,  and chatting over books – and how rewarding it is when people who "Don't read" take a book away and enjoy it.  The team at Arcadia have been massively supportive of the project, and in many ways it fits in the Market Town Taverns' (Arcadia's owners) ethos; a quiet place, no large groups, no music. Perfect for a good reading session.
Jess feels even stronger than me about pubs and prose. "I love reading in pubs or bars. Although drinking alone as a young (ish) woman can look either a little sad, or have an air of soliciting about it – but you're never alone with a book. Plus, as we all know, readers are well sexy, and drinking a decent stout crossed with reading an interesting looking Tome gives one the air of sophistication that staring into the middle distance whilst idly dangling an olive in your martini just doesn't bring."
TSL is a wonderful idea. What's more, I think that in many ways it proves the pub is still the 'Third Place'. Yes, alcohol is a 'social lubricant' – it loosens the tongue and contributes to camaraderie,  but if it takes a pint for someone to confess their love of F Scott Fitzgerald to someone, then better that than to keep their passion hidden away.  So Jess and I urge you, young (and old) readers out there: Don't relegate that book to the beach, bedroom table or handbag. Take it to the pub, and sink into the story and the beer. Obviously there's a little etiquette: avoid lunchtimes unless you know it's going to be a quiet one, sit near the window for light, and avoid Fridays in city centre bars (trust me).
But what book to choose? Well, that's up to you and your tastes, but we have some advice if you're dithering.  Jess says; 'Firstly, the size of the book must be taken into consideration. War and Peace might be the book of choice for millions of satisfied readers, but it ain't gonna fit in your handbag, and unless you fancy a course of intense physio, hardbacks are probably safer relegated to a Bed Time Read. So it needs to be short. It also needs to be gripping. There is nothing worse than settling down with a nice little half of Rudgate Ruby Mild and some Cajun wedges only to discover you've picked the most simpering piece of toss since Wendy Holden's Beautiful People.'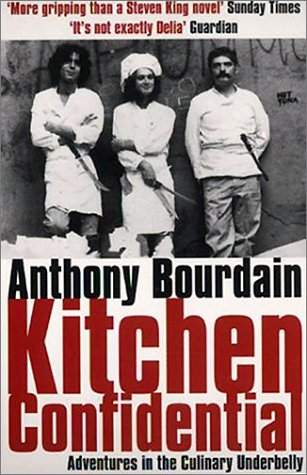 I agree entirely.  Despite there being literally too many to mention here, Here are some recommendations from me for some pub-reading:
Kitchen Confidential by Anthony Bourdain: Even if you're not into cooking, this warts-and-all autobiography of a fantastic chef, brilliant writer and gifted storyteller is a great read.
The Bear Comes Home by Rafi Zabor: It's about a Jazz-playing bear. Really. But I can't really explain this melodrama in this short paragraph. Life, Love, Loss and Jazz. Lyrical storytelling at it's best.
Collected Stories by John Cheever: A master of the short story. Perfect pint-sized tales of Americana. A big book, but easy to dip in and out of.
Travels with Charley by John Steinbeck: One of his most underrated works; a journey across America with a faithful dog and a campervan. Steinbeck's insight into life on the road and the social landscape is equally perceptive and inspiring.
A Scanner Darkly by Phillip K Dick: Not just for Sci-Fi nerds. One of the best books about reality and drugs ever written. Kaleidoscopic, satirical and surprisingly tender in places.
Man Walks Into A Pub by Pete Brown: Keeping it on subject, MWAP remains the benchmark for a social history of drinking and Pub history in the UK. Endlessly interesting and easy to absorb.
And from Jess:
The Long Walk by Slavomir Rawicz– recently made into the film 'The Way Back'; this is a not-so-true story of a group of prisoners in Siberia escaping to freedom in India. This is really simply told, yet incredibly moving in places (though not as good as One Day in the Life of Ivan Denisovich by Aleksandr Solzhenitsyn, which is just so good I can hardly speak). Like reading The Road by Cormac McCarthy, books about Horrid Things must be read whilst surrounded by happy lovely people in order to fully appreciate how lucky you bloody well are.
A nice little murder mystery always goes down a treat. As well as your usual Christie's and Dexter's, try A Miss Silver Mystery by Patricia Wentworth, set in the 1940s, one of the delightfully twee Daisy Dalrymple mysteries by Carola Dunn, or one of the trillion Viking Invasion thriller writers, Jo Nesbo (excellent work, loved The Snowman), Yrsa Sigurdardottir, Jussi Adler-Olsen (the first in his Department Q series, which were massive in Denmark and Germany, is released in the UK in May), or even the original and best:  Henning Mankell's Wallander (think Morse, but Swedish and lefty).
I love YA, and it usually makes for great pub reading. This year I'm ranting heavily about The Cry of the Go Away Bird by Andrea Eames. I'd also recommend Delirium by Lauren Oliver, which has been raved about all over the shop. Of course, you could always go for a classic. The two funniest books in the world: Cold Comfort Farm by Stella Gibbons and My Family and Other Animals by Gerald Durrell.
Let us know what books you can recommend to others for pub-reading . Also, what pub is your little peaceful retreat? Rest assured, we'll be watching! You can follow Jess Haigh on Twitter at @BookElfLeeds and me via The Good Stuff.