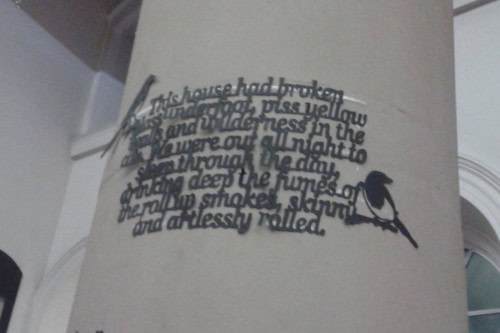 A Room With a Pew
What do religion and art have in common? Samrana Hussain went to the Place and Memory exhibition to find out how artists are using one of Leeds' oldest places of worship to showcase their very modern work …
The lighting is subdued and the air cold as we wander past the empty church pews towards the writing on the pillar. Black writing curls around the cement inviting the viewer to read and understand.
Wrapping itself around us is an eerie silence, suddenly broken by a northern accent belonging to a volunteer. We're handed a piece of paper inviting us to view the artwork set inside the sanctuary. A warmer welcome couldn't have greeted us at the preview for the 'Place and Memory" project in a church in the heart of Leeds city centre.
For me Amanda Burton's audio recording of a wander through the centre of the city was the highlight of the event at Holy Trinity Church on Boar Lane. A cacophony of noises juxtaposes itself with mellow music which melds with voices and traffic outside Harvey Nichols, on Briggate, where the recording begins.
Closing my eyes I'm transported from the 280-year-old Anglican church to the streets of Leeds. The sound of cars and people brings back memories of youthful wanderings through the shops in a city which sits very much at the heart of my childhood. Men shout out to each other and cars whizz past as we move towards the market to familiar noises. With the ability to take us back to a time and place hidden in the recesses of our mind, it's no surprise sound is our second strongest sense.
Drifting back to the present, my eyelids flicker open and my gaze wanders to a group of upright plastic cylinders which catch the fading light. Adorned with inky maps of Leeds and birds resting on branches and in flight, Amanda's 'No man is an Island' 3D installation is a perfect study of light, reflection, distortion and colour.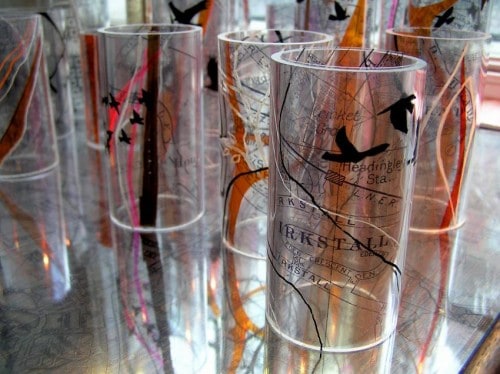 Amanda and seven other Leeds-based artists were mentored through group criticisms, one-to-one portfolio sessions, workshops and collective site-research to develop new work for the exhibition between July and October 2013.
"I felt extremely proud to have been a part of this creative development of seven fellow artists. The work on show was all astounding, each piece reflecting our personalities and journey we had made.
"The greatest thing I will take away from this experience so far is the ability to slow down and to use the many different skill sets I do have, to not be afraid to experiment and feel confident enough to step out of my comfort zone.
"To take time to think and research; to conceptualise an idea before leaping into creating a finished piece," she writes on her website wiremoon.co.uk.
The art is nestled all around me. Upon removing the headphones of the black walkman, I turn to find Sandy Holden's seed pods hanging from the ceiling like leaves floating on the wind. Written words swirl around, too quick for the eye to catch. An apt reminder that leaves, like memories, evaporate into dust …
The location is eerily effective, giving a calm and contemplative feel to the exhibition, which centres on artists, writers and filmmakers sharing personal and collective memories to examine the hidden and overlooked corners of the city
Exploring graveyards, wastelands and cityscapes, they use drawings, installations, photographs, video, poetry, sculpture, and sound to highlight the beauty which exists in the most unexpected of places.
If you like original, local art which makes you think you won't go far wrong with this exhibition, which runs from 12 – 19 October. Also on display are the works of Donna Coleman, Sarah Deakin, Charys Ellmer, Lorna Johnstone, Morticia, and Nigel Stone.
'Place and Memory' is part of the Love Arts festival http://loveartsleeds.co.uk and additional information can be found on http://placeandmemoryblog.wordpress.com.