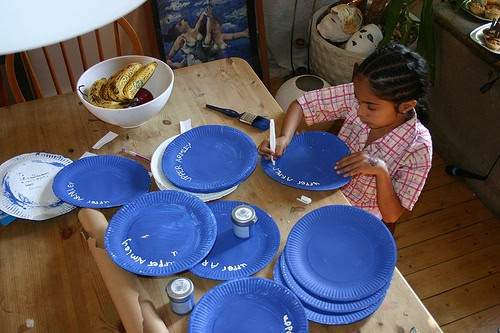 You can just jump straight to the bit out Talk About Arts, Culture, Place event, or if you have 5 minutes and the slightest desire to know why I think it's the best thing in the world to share stories about where you live then read on below.
The story of why I'm up in Teesside this winter starts in 2005, or maybe actually starts from spending my first years in a pub.
When I started the Culture Vulture – as a newsletter – back in 2009 it was off the back of a running a blog called The Armley Tourist Board into the ground.  It had been the most amazing, creative fun for 4 years to run a quirky site extolling the virtues of a place that in those days ranked highly in the search engines for Chav Towns.
The site was born out of some amazing street parties we'd initiated and it seemed simpler to connect the stories of the people who lived in the hood via this personality called the Lady Mayoress of Armley – oh and her coterie of dopplegangers. She had a saucy PR agent and a number of gentlemen admirers. She was devastated to learn Armley-born Alan Bennett could not be persuaded of her charms and come join the 'Jam Up the Back Passage' street parties. He sent his polite decline by way of a bookmark, saying 'Armley is still a good old fashioned place', which she had preserved in aspic.
Over time the community spirit, cake competitions, love of Google Analytics ended up with parties, calendars, charity connections and lots of good times. Pre-Twitter I learnt how to use blogs, analytics, email marketing software, text campaigns, some small amount of code, and how to galvanise a gathering, or mobilise a mob. Actually I ended up getting paid to talk at Tourism conferences about that time, extolling to the leisure and tourism industry how they could embrace the residents' voice to create a distinct offer when they marketed to visitors.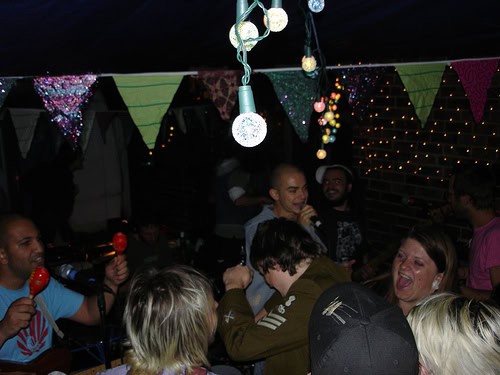 Then it started to get serious. People wanted me to intercede in their children's education problems, close factories down, open fetes and do ALL their work for them in promoting their events online. So I thought why not set up a website where people could upload their own….Well no bugger wanted to, and I started to feel resentful… Truth be told my interest was waning and I had a new baby due so it gradually petered out.
Now my daughter's at primary school, I feel the need to invest some of that energy back into where I live. I spend less time being curious about Armley as my work takes me all over the place these days, oddly doing more of what I'd started out with as a passion is now how I make my living – some call it community development, some call it blogging and social media, I call it 'working out what makes you give a shit about where you live and doing something about it'. This might even be called Civic Engagement in Leeds, because my interest has gone beyond just where I call home to a fascination with how the city I live in operates and how we can find commonality of purpose together, businesses, schools, organisations, individuals, ie People! I love to create things that can bring us together to have a conversation, to then do stuff, then reflect, keep talking, and doing more of what makes us feel good. I think of this as weaving. I don't know much about anything in great depth, and there are a lot of people who do, I like to discover how we bring the deep and the narrow together. Do we have a sense of what matters more than our own individual concerns?
This blog grew from a newsletter to what it is now, less of a what's on, more like a what's important. Phil Kirby is the editor and I'm trying to take a back seat and bring some dosh in so we can spend more time helping people contribute and develop their connections with an ever increasing community of readers.
So blogs, content, twitter, social media, are a means to an end to me, I don't love technology for it's codey sake. I love it for what it can enable us to do. For me it's about
Trying ideas out cheaply. A blog costs nothing to set up, the biggest cost is your time

Testing the water for your ideas, is there any interest in the stuff that's in my head or is it tumbleweed time? You may find a very narrow community of interest and that's fine. Better to get that thing out there rather than nurse it like it's your precious…

Being critical friends. Not being cruel, but not being submissive either. Thinking about the impact of your thoughts and actions.

Being part of a bigger picture. We're not the only blog in town, there are loads of great sites out there, and we're chuffed to be a part of this vibrant cacophony. It's not about being a dominating the market, it's about being one of many doing our bit.

Musing on stuff. Sometimes I don't know how I feel about things, I quite like the wisdom of crowds. But not filter bubbles and echo chambers.

Dissolving hierarchies. My experience is that everybody is a human being, let's find out what matters to people and not think of them as representing organisations.

Subverting people's perceptions. It's easy to knock stuff, why not try and discover the good in people and places and reflect that back?

Being provocative. It's okay to ask questions, but people switch off if I am relentless or a one track record.

Weaving across sectors and tickling away at silo thinking. Social media is great these days for all sorts of sector or cause based conversations. Sometimes they seem interesting but impenetrable. I tend to jump in and discover if they are relevant to me  and then try to connect the conversations to those outside the sector that they may be relevant to

Encouraging people to get stuck in. That's what we (note I met our editor Phil Kirby via Twitter some 4 years back) love at the Culture Vulture, which is asking 'fancy a go' at writing, at putting on events, responding creatively to stuff.

Cheerleading. Doing anything which involves a bit of energy and commitment needs some positive backslapping from time to time. People like to be recognised, and more importantly when it comes to creating an authentic sense of place, surely the interesting stories are about those people?

Making connections. There are literally MILLIONS nay Gazillions of people out there doing interesting things. I love to play SNAP…connect people up together, see what happens. Not just in a local sense but globally. What if there were two fans of Patagonian Nose Flute lovers in the world?

Synthesising disparate things: Sometimes I enjoy lurking on social media and find it pays dividends from just listening and checking in. Who knows you might just spot something if you take a step back and watch stuff unfold
So a basic ability to use tech can be a great thing if you want to share your story, or be positive about where you live. You may not be the artist with all the skills, you may not be a HTML hound, but you may have enthusiasm and pride, or something is bugging you and you don't think the local media will care two hoots  well we've found that you can have a degree of influence because of your perceived readership. So much so we've developed events such as Does Leeds Need  a Mayor? to a packed Rosebowl Lecture Theatre at Leeds Met, at a time when all the political parties were saying 'Vote No' to a referendum.
I cannot stress strongly enough how blogging can give you a licence to learn and to knock on doors. It's a route to creating a platform when you don't feel listened to. You don't have to create a blog or platform like this, it's a personal thing. It's great as long as it's fun for you.
That's why I'm passionate about it. And hopefully if you join us at Talk About Arts, Culture, Place in Teesside you'll consider what purpose you have, and what tools and technology you need to make your ideas come to life. You'll also find a host of other people equally desirous to get cracking too, all with their own skills to share. Our job is to help you to get there!
PS I don't actually 'blog' so much any more, and when I do I really need Phil Kirby our editor to cut my waffle back down to something worth reading
PPS: Alan Bennett now thinks Armley has a Mayor. How's that for myth making?