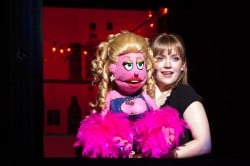 Imagine if Big Bird started cussing or Elmo extolled the joys of Internet porn and you get an idea of what this twisted take on Sesame Street is all about.
Watching a talented young cast wandering round singing and acting through the puppets on their arm you wonder why no-one came up with this unusual concept earlier.
The book is a bit corny as unemployed English graduate Princeton wonders what to do with his useless degree as he pitches up on Avenue Q in a rundown outer borough of New York. There he meets an identikit cast of quirky characters and finds love.
But somehow watching the clichés all unfold as the actors not only sing and dance, but deftly manipulate their puppets makes it fresh and fun,
Avenue Q has a reputation for being filthy – and it is risqué at times – but it is really a frank and irrelevant look at human relationship, racism and homophobia. With added puppets.
Songs like the heartfelt 'If You Were Gay', 'Everyone's a Little Bit Racist', 'The internet is for Porn' and 'Schadenfreude' all made this audience of hardcore devotees roar with laughter, and the rest of us think a little as we channel our own inner puppet.
It's always good to see a show making stars of young performers and fresh out of drama school – with a useful degree – Sam Lupton is charming as Princeton. His equal is another newcomer Katharine Moraz as the naïve Kate Monster and her powerful bluesy voice is a showstopper.
Matthew J Henry works hard as failed child star Gary Coleman, and Chris Thatcher is very funny as the porn obsessed Trekkie Monster.
Avenue Q was one of those surprise Broadway hits that has become a stable of the touring circuit because it tackles the big themes with great humanity using a bit of fur strapped to an actor's arm.
* Avenue Q is at Leeds Grand Theatre until this Saturday 21st July. Book by calling Box Office on 0844 848 2705 or online at www.leedsgrandtheatre.com.
Photo courtesy of Nick Spratling.