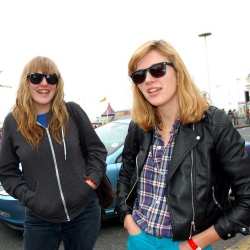 Review by Penny Brazier (@tokaipenny)
There should be more hair in rock music. Excessive, untamed, unrepentently frizztastic hair in rock music means rebellion. It implies you're an outsider (or, better still, a girl). It implies that the spirit of rock is in you.
Whatever it means, hair is back, and tonight it's at the Brudenell.
Paws front-man Phil starts the ball rolling with a classic slacker mop, periodically unleashed from underneath his hood to flip furiously back and forth atop his Scottish bonce when he gets to the loud, exciting bits. This is nuts and bolts lo-fi punk – songs build from simple, heartfelt verses into full-on spasms. The drummer is the real highlight though, a King Kong of a man beating sixteen shades of crap out of a drum-kit that seems comparatively tiny.
Olympia's Milk Music, on the other hand, could carpet a house with their luscious tresses. Still riding the buzz of their Beyond Living EP, this band pride themselves on their outsider-freak status – music nerds who should by all right still be in their bedrooms dusting their SST back catalogue, not blowing audiences away with their wall of messy punk guitar sound. Their music is pure, impassioned Hüsker Dü/Dinosaur Jr hero worship, and it's big, hairy fun. Every song bursts at the seams with the joy of the records that inspired it. It's just a shame they don't make more of an effort to interact with the audience, seeing as we're all as excited to see them as they clearly are about the music they play. I guess the world of the hairy nerd is an insular one, as they don't even feel confident enough to banter with the crowd during a five minute string-change. It's a pretty uncomfortable wait in an otherwise enjoyable set.
Last up are LA girls-and-a-boy Bleached (presumably to reflect their – yes you've guessed it – bleached hair), featuring sisters Jessica and Jennifer Clavin, formerly of noisy punk band Mika Miko. This new direction is much more poised – a kind of Ronettes-in-a-tin-can affair that seems to be doing the rounds at the moment. It's fun and foot-tapping, but the vocals are lost somewhere in the fug of effects, which is a pity. Every now and again a 3 part harmony comes shimmering to the forefront and sounds great, and then it goes away again, which is disappointing. There are many problems with the current vogue for swirly-whirly effects on guitars/vocals – it can sound muddy, it can sound samey, it can necessitate a lot of 9 volt batteries, but the biggest issue of all is leaving the audience wondering whether they just saw something brilliant or something utterly crap. I suspect Bleached are somewhere lurking midway on that scale, although we may never know for sure. Halfway through, Jennifer abandons her guitar and it feels like the band finally let go and start enjoying themselves, which lifts the slightly tense atmosphere and gives her a chance to strut with a bit more emphasis. Whatever they sound like, by the end of the set Bleached are coming across like a gang you want to be in – and isn't that how all the best bands are? Best keep those split ends trimmed then.