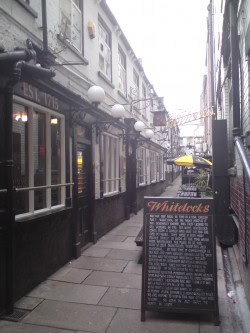 The best way that I can describe my feelings toward Whitelocks is this; a few months ago, a friend of mine came up to visit Leeds and we spent the afternoon trawling our fair cities' pubs, catching up over leisurely beers along the way. Realising he hadn't been to Whitelocks, I proposed visiting it on our afternoon. I did so by saying:
"Yeah, let's pop in. You should see the interior, at least."
Damning with faint praise, perhaps, but the fact of the matter is that Whitelocks had let me down so much in the past; it simply wasn't on my radar anymore. A pub cannot survive on the praise of Betjeman alone; drinkers are a canny lot and will happily vote with their feet. Poor beer quality and indifferent staff topped the lists of reasons to avoid and Whitelocks, for me, became 'just another pub.' The jewel in Leeds's crown? Sorry, but no.
So it was with keen interest that I noted the takeover of the pub by Mason & Taylor earlier this month. I was aware of M&T's flagship bar in London; brimming with independent beer and keen staff, and accolades all round as simply another great place in the city to drink. So what about Whitelocks? How does that fit in to Mason & Taylor's plans?
Ed Mason explains why he chose to resurrect Leeds' very own sleeping beauty. 'I lived in Leeds for 20 years. I first moved to Leeds to go to University in 1989 and me and my friends used to drink there in the late 80s and early 90s. I've been going in off and on ever since.' Ed kept his hand in Leeds setting up The HiFi Club in 2000, and at one point he was involved with other long-running Leeds venues as The Faversham and Art's Cafe – although now he has no involvement in those watering holes after relocating to London.
It's certainly reassuring to know that Ed knows Leeds and seems to agree with my gripes about what Whitelocks should be.
'It's a Leeds institution and a beautiful pub; it should be a Leeds landmark – the one pub that everyone wants to go to, both residents and tourists.  It has a tremendous amount of potential and we really want to realise that.'
So far, so good. It seems that Mason & Taylor are acutely aware of how the pub needs to improve, and I'm pleased to hear that a focus on Yorkshire ales and beers is high on Ed's agenda, along with honest food and a little more than a lick of paint – where they can, of course.
'Whitelocks has been Grade II Listed since the 1960s, but we've already given it a good clean. At the moment it's about making gentle but important improvements; we will make the outside beer garden/yard far more appealing with better lighting, some heaters and canopies, and then we will be giving important areas an overhaul and refurbishment such as the toilets. There is an upstairs room that we would love to bring back into public use at some stage.'
In terms of beer, Whitelocks will support locality and making sure those beer miles don't rack up, much as the original Mason & Taylor bar has. 'We've overhauled the range of real ales (he names beers from local heroes such as Rudgate, Kirkstall, Revolutions, Saltaire, Ilkley and Ridgeside as what we can expect on the bar), increased our support for local breweries, and improved the food menu. We're looking at improving staff training and product knowledge, and improving the range of wines and spirits as well as the beers.'
Ed talks about such pubs as The Adelphi and Garden Gate, The Palace and Mr Foley's when thinking about the pubs that he sees as Whitelock's peers; and he's on the right track. The last thing Whitelocks should be is an identikit London Beer Bar, dripping with screaming neon and fashionable piercings. Whitelocks should be a pub where the light is refracted through the warm tones of polished copper and lettered mirrors; where conversation is king and bobs along, easily, on the chime of clinking pint glasses.
The summer will be a key period in the pub's history; and one that – I sincerely hope – will stop people talking about it in past tense and makes it an essential stop on any Leeds Pub Crawl.
It's over to you, guys.