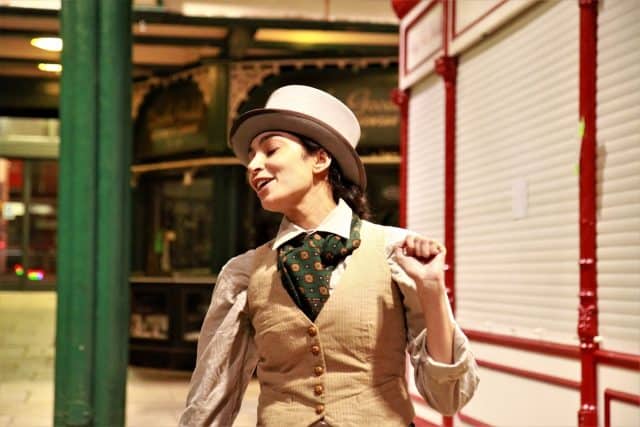 I loved this production, despite not being a fan of Dickens; there's something about the Quality-Street-tin costumes and working-class Cockney dialogue that grates.
But take Dickens and stage him in Leeds Kirkgate Market, and suddenly it feels different. The action happens all around you, and it feels authentic because these larger than life characters believably belong here.
OK, you've got to squint a bit to get the illusion. The amazing 1904 hall wasn't built until 60-odd years after Charlie boy hacked out the tale of Oliver Twist in monthly instalments against a publisher's deadline. And if Fagin was into many scams, mobile phone unlocking wasn't one of them.
From the moment we first see Oliver (emerging from behind Oliver's fruit and veg stand, obviously) the setting feels right.
Nancy makes her entrance as a flower girl alongside a real florist's stall, cajoling fine gentlemen in the audience to buy a flower for the lady.
Bill Sikes lurks and looms ominously in the narrow alleys between the stalls, alleys the audience are urged to scuttle along, twisting and turning with Oliver as he and the Artful Dodger flee following a botched pickpocketing. It all works very effectively.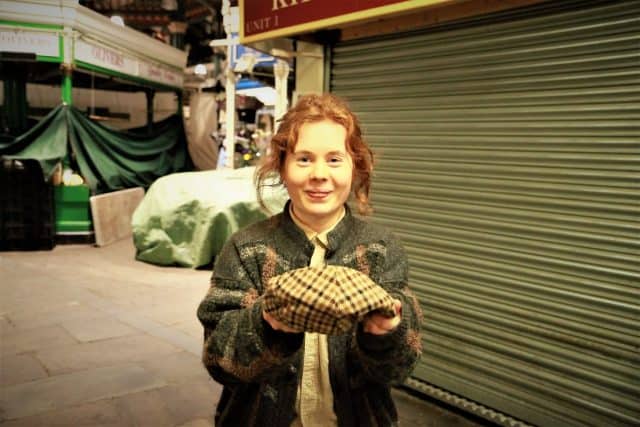 The casting is brilliant. Georgina Franklin is vulnerable yet resilient as a ten year old boy in the title role (and looking far more convincing as a young lad than the picture above would suggest).
Riana Duce (main photo) pulls off the fragile confidence and dandyish poise of the Artful Dodger with charm and wit, whilst Leslie Davidoff's Fagin is a terrifying essay in amorality, a stubble-faced man in a ridiculous hat all too aware of his age and failings.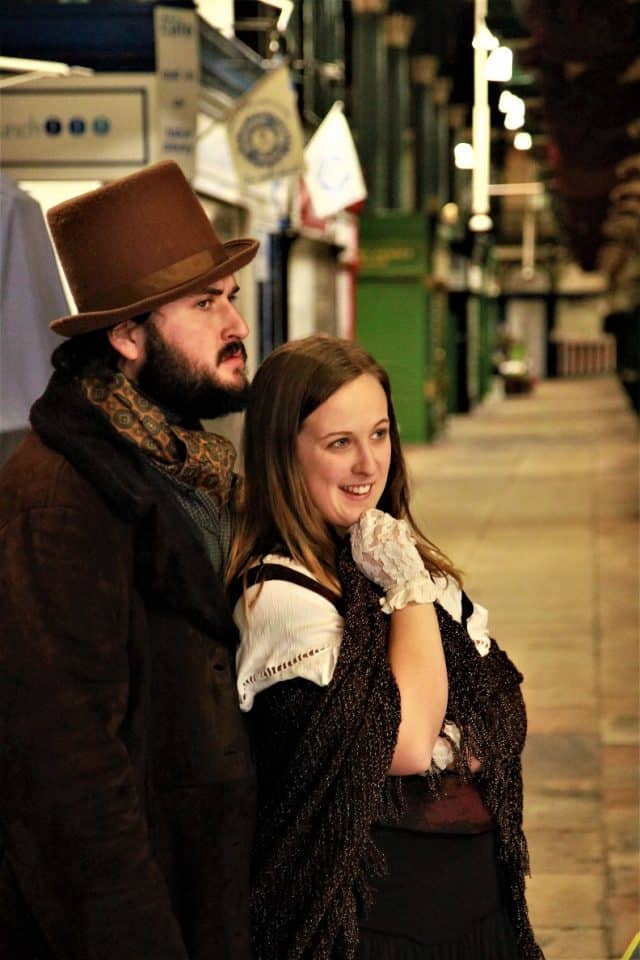 Far less cartoonish are the menacing Bill Sikes (James Barrett), a man you can believe holds human life cheap, and the conflicted Nancy (Olivia Race, who also directs) whose kindness to the young Oliver is at odds with her doomed love for Sikes. She brings a subtlety to the part which draws in the audience, and which makes her death all the more poignant.
The real star of the show, however, has to be the 1904 Market Hall itself, enhanced with music from three costumed performers who follow the action as the audience promenade to locations round the building … Dodger lounging against the Marks and Spencer's clock, Fagin's den in one of the entrances, a pub by the Crepe Hut.
The market provides a unique atmosphere that brings the story to life in a way a static theatre stage never could.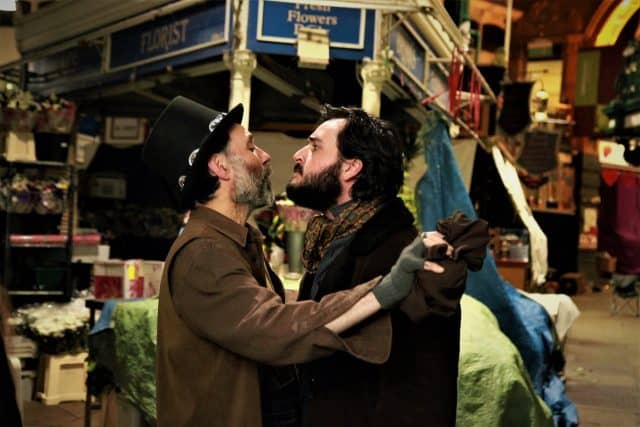 This is the second outing for Oliver Twist to the market after a sellout run in January.
West Yorkshire based Front Room Productions perform two shows a night from now until next Saturday (28th), and the company will be returning to Kirkgate Market in December with another Dickens tale – A Christmas Carol (what else).
Tickets for Oliver Twist must be purchased in advance from the company's website – details here
A Christmas Carol will be touring to York, Bradford (Playhouse Studio) and Manchester after opening in Leeds Kirkgate Market – details here
Production Protography: Front Room Productions