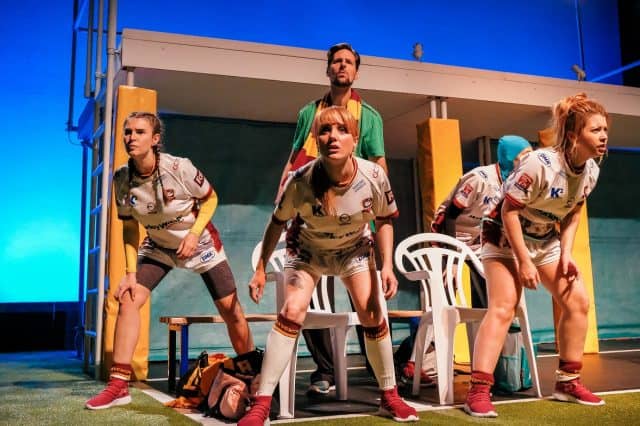 There can surely be no greater accolade for any writer than to be mobbed by the subjects of your work. That was the fate of Kevin Fegan at the end of Friday's world premiere of The Ruck in Huddersfield.
He emerged from the gents at the Lawrence Batley Theatre to be surrounded by a scrum of teenage girls, one of whom swung on his arm exclaiming "Kevin .. you made us all cry!"
The young women in question were real former members of the Batley Bulldogs under-16 girls, who made history as the first British girls' team to tour Australia. The personal stories Kevin created for them are fiction, but the warmth, ambition, deep friendship and love for the sport of Rugby League his characters demonstrate throughout the show is clearly very genuine.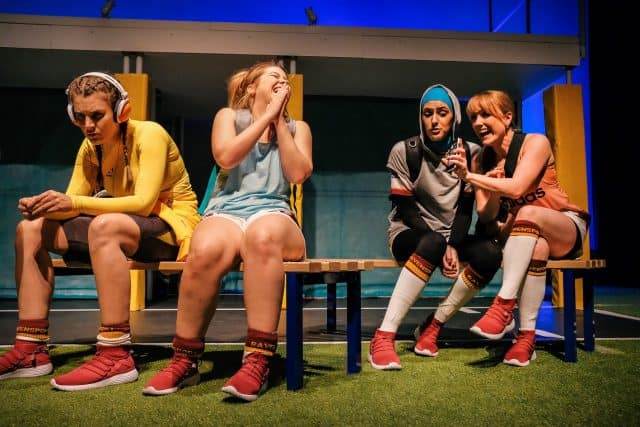 It's a game of two halves. From the opening, with a Greek chorus of fans on a windswept terrace giving a poetic history of Batley, the fast-moving first half sets up the action to come, with the narrative passed deftly down the line between Shelley, Emley and Heaton – these are West Yorkshire lasses through and through – under the professional and caring guidance of coach Spen.
This training session they're joined by Iffy, a Muslim girl with an hijab and a burning ambition to be a scrum half.
It's clear the young women all have individual back stories, and it's no real surprise to find a bunch of adolescents confronting issues of relationships, sexuality, stereotypes and family. But what's different for these girls is that they all have a passionate loyalty to their second family, the team, and that team has a once in a lifetime opportunity to visit the Gold Coast of Queensland where all the tensions come to a head .. after half time.
There's not a spare word in the dialogue, and neither is it all high drama. There's real humour in the writing too, and plenty of local references which were appreciated by the Kirklees audience on opening night.
Joyce Branagh's direction neatly combines words, music and stylised movement that brings the physicality of the game alive. "Touch and pass, kick some ass …" there's poetry (of a kind) in a training exercise, and this show clearly demonstrates sport and theatre are not mutually exclusive interests.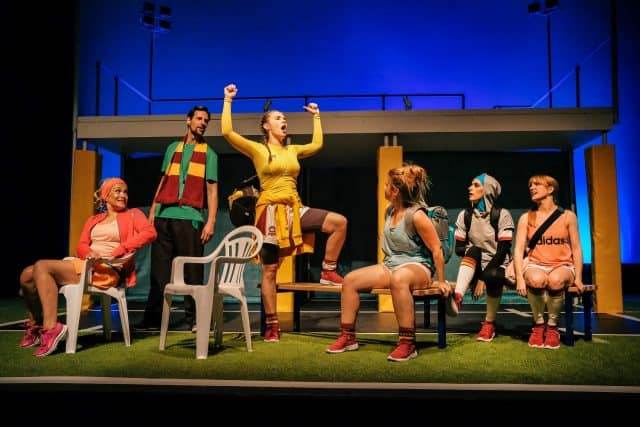 The cast work together brilliantly throughout, not only in throwing and catching but in helping each of their characters' personalities to shine through. It's a champion team effort.
Josie Cerise plays Emley, Esther-Grace Button plays Shelley and Sophie Mercer portrays Iffy as an Asian Muslim, despite herself coming from a very different background.
"The day I first put on the hijab, the rest of the cast looked at me differently" she told the after-show Q&A.
Emily Spowage wins woman of the match from me for her portrayal of moody teen Heaton, whose vulnerability stems from a long-hidden family secret, and Richard Hand as Spen comes across as the perfect coach for this particular team – professional yet caring, inspiring but apprehensive of the task, a dad himself with a daughter in the side and all the challenges that brings ten thousand miles from home.
There are strong supporting performances from Emma Ashton, Robert Took and Sam Winterbottom.
The play was commissioned by Creative Scene, who set up the residency for Kevin Fegan at Batley Bulldogs.
After last Friday and Saturday in Huddersfield the production now tours to the Theatre Royal, Wakefield (Monday 18 and Tuesday 19 September), CAST in Doncaster (Wednesday 20 and Thursday 21st) and the final performaqnce of this first season is at The Civic in Barnsley on Friday 22nd.
Production images by Andrew Billington Photography